Reading Time:
4
minutes
Two dangerous escaped criminals appear to be holding a doctor and his wife hostage in their own home, but an unexpected visitor complicates the issue. RICHARD PHILLIPS-JONES on the Thriller episode, The Crazy Kill.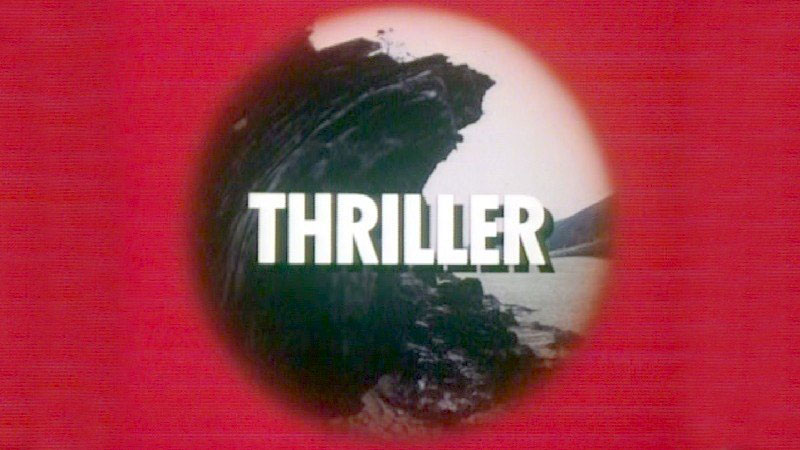 TITLE: Thriller – The Crazy Kill
BROADCAST: 3 May 1975
STARRING: Denholm Elliott, Anthony Valentine, Tandy Cronyn, Claire Neilson, Juan Moreno, Alan Browning
WRITER: Dennis Spooner (from a story by Brian Clemens)
DIRECTOR: Dennis Vance
Garard (Valentine) and Filton (Moreno) are two escaped convicts on the run. It appears that Filton is relatively small-time, albeit with the suggestion that he may have been convicted for a sexual assault – Garard, however is clearly a cool, calculating and very dangerous psychopath.
Taking flight, the two manage to gain entry to the remote home of a heart surgeon, Dr. Frank Henson (Elliott) and what the two take to be his somewhat nervous wife (Neilson). The occupants are left in no doubt that Garard will not hesitate in physically harming them if they don't do what he says.
Garard is unaware that American journalist Tracy Loxton (Cronyn) is on her way to the house, having arranged to interview Mrs. Henson about her collection of rare poster art, an appointment of which Dr. Henson was also apparently oblivious. With his partner held upstairs by the threatening Filton, the doctor has to cover for her absence, act as Tracy's surrogate interviewee, and all the while try to figure a way out of this mess whilst Garard (posing as the family butler) observes his every move…
Dennis Spooner's second Thriller script provides an altogether more satisfying outcome than the preceding Won't Write Home Mom, I'm Dead, one which shares its basic premise with the Humphrey Bogart-starring The Desperate Hours (1955) but turns it on its head by adding in an unwanted visitor, not to mention an unexpected additional turn of events near the episode's conclusion.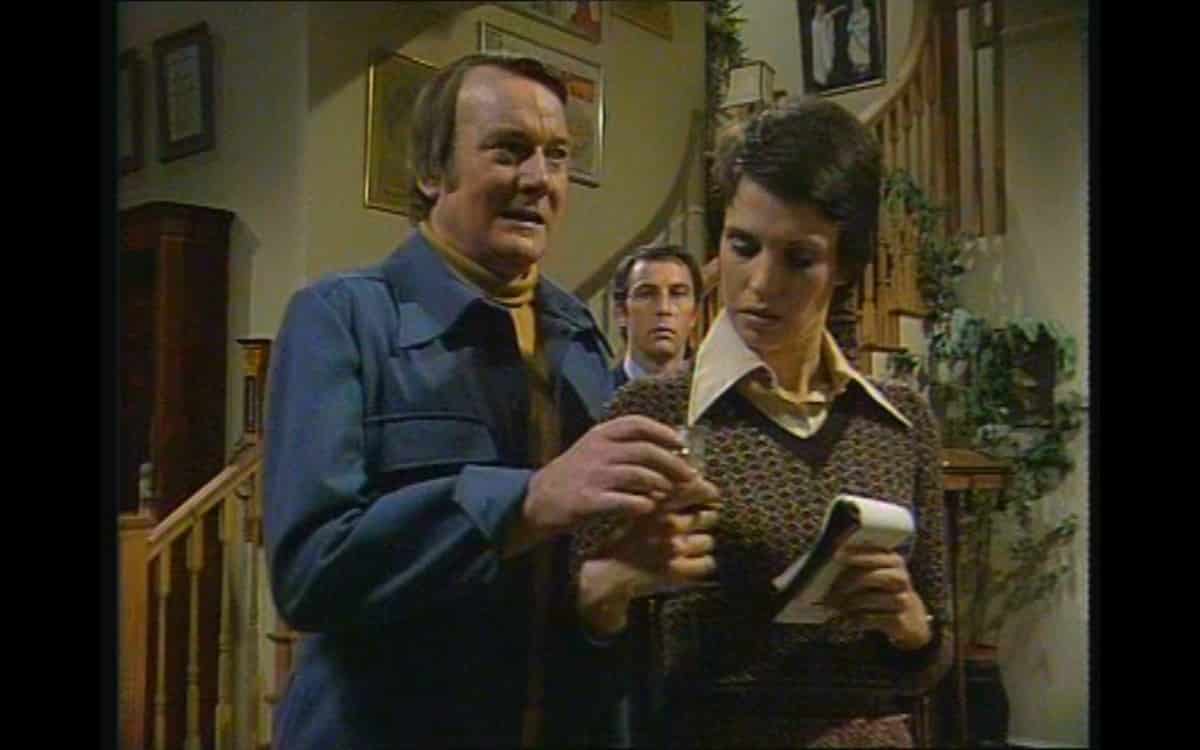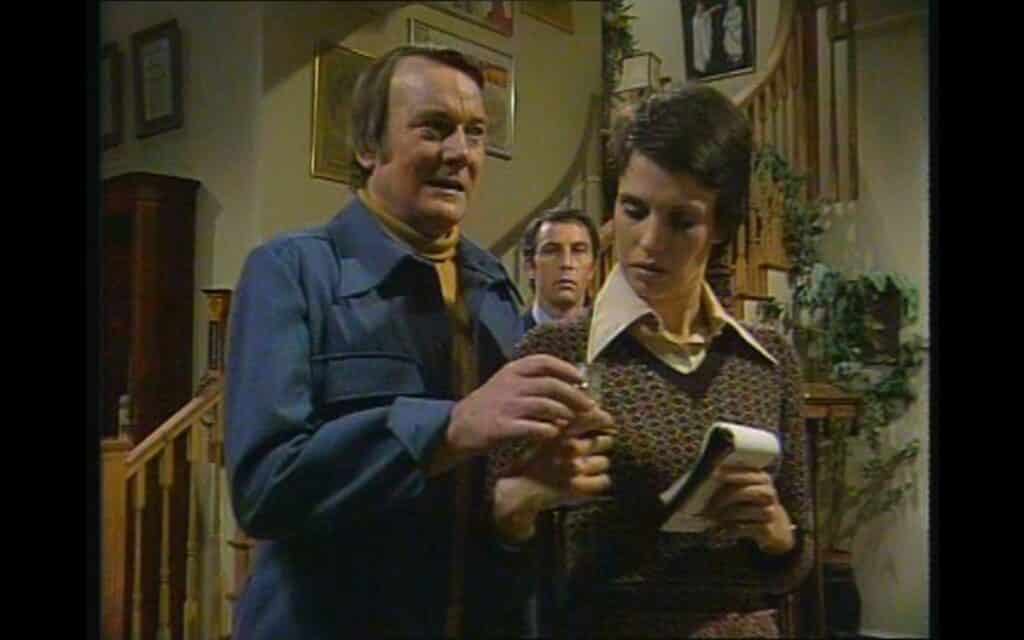 Juan (later credited as John) Moreno makes his second Thriller appearance, following series one's A Place To Die as the memorable Mad Nick. He's a very different brand of sinister here, but no less effective, his unruly and savage act making for an interesting contrast with Garard's very calm, measured approach to thuggery.
The police are shown to be a disparate bunch, with very differing approaches and far from infallible. Only Alan Browning's no-nonsense Supt. Brook seems to have a real handle on the case, and I'll go as far as to say he makes for one of the most interesting police characters in the series' entire run – I wouldn't have minded seeing him spun off into his own series pilot.
Whilst the extra revelation and twist at the end might be a step too far and perhaps keep The Crazy Kill from the highest ranks of Thriller episodes (my personal take, of course – see the spoiler alert at the foot of this article for my reasoning), the interplay between Elliott and Valentine alone makes this an absolute treat – the two bounce off each other quite brilliantly.
TRIVIA NOTES:
The later US TV-movie titles (re-named The Fear Is Spreading) are a hoot, with the main giggles coming from two figures shot in silhouette. They're supposed to be running, but look like a particularly bad mime act: Think the Legz Akimbo troupe from The League Of Gentlemen, and you'll get the idea.
A more unusual Hitchcock nod in this episode, in the shape of Tandy Cronyn: Her parents both had Hitchcock connections, with Jessica Tandy appearing in The Birds (1963), whilst Hume Cronyn not only appeared in Shadow Of A Doubt (1943) and Lifeboat (1944) but undertook writing duties for Rope (1948) and Under Capricorn (1949).
A fine actor, Alan Browning was then best known to UK audiences as Alan Howard in Coronation Street, where he met wife Pat Phoenix (aka Elsie Tanner). He would follow this Thriller episode with an ongoing role in ATV's The Cedar Tree (1976-78) but sadly, as a result of alcoholism Browning died in 1979, aged just 53.
Interesting comparison of a similar vintage: Check out the episode of Steptoe and Son from 1972 which also took its premise (and indeed title) from The Desperate Hours, with Leonard Rossiter and J.G. Devlin playing the escapees to much more comedic effect.
Look out for a brief appearance by a very young, uncredited Robert Lindsay as a police officer.
SPOILER ALERT!: Look away now if you don't want me to give the game away…
At risk of besmirching a very fine episode of Thriller, I do wonder whether it might have made for a more satisfying conclusion if (with the doctor's misdemeanour revealed to the audience) the two escapees still copped the blame for everything – after all, a precedent for such an ironic conclusion had been set as far back as series one's The Colour Of Blood.
Having said that, in general it was still not that common for criminals to be shown to get away with their crimes, at least not on British television so letting the doctor get away with murder may well have been a non-starter.