Amicus Productions take their second trip through the EC Comics catalogue. RICHARD PHILLIPS-JONES visits The Vault Of Horror (1973).
TITLE: Vault Of Horror
RELEASED: March 16th 1973
STARRING: Daniel Massey, Anna Massey, Terry-Thomas, Glynis Johns, Curt Jurgens, Dawn Addams, Michael Craig, Edward Judd, Robin Nedwell, Geoffrey Davies, Tom Baker, Denholm Elliott, Terence Alexander.
WRITER: Milton Subotsky (from stories by Al Feldstein and William M. Gaines)
DIRECTOR: Roy Ward Baker
In a tall office building, five men from different floors enter the same lift, expecting to make their exit. Instead, the lift malfunctions and the group find themselves in what seems to be some kind of club room in the sub-basement.
Assuming that someone is bound to come to their aid sooner or later, the five men decide to make the most of things by pouring themselves drinks. When one comments that this strange situation is "almost like a dream", this leads to the five of them passing the time by relating their respective recurring nightmares…
Midnight Mess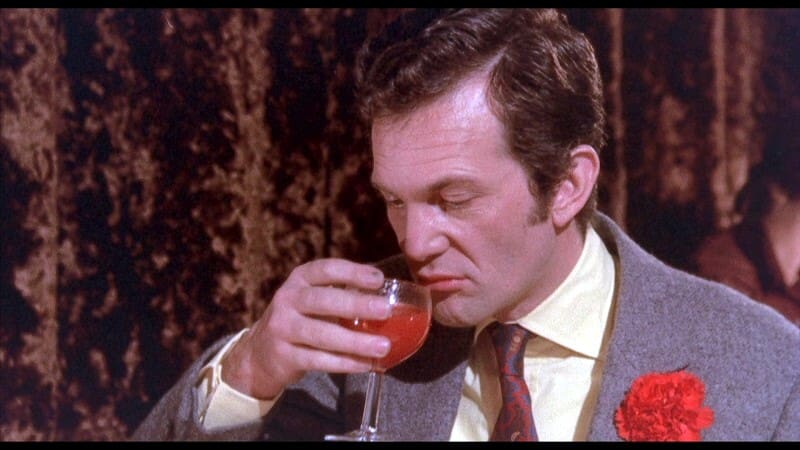 When Rogers (Daniel Massey) finds that his sister Donna (Anna Massey) is the sole beneficiary of their father's will, he decides that his sibling needs to be removed from the equation, so that he may claim the legacy for himself. When he tracks her down in a mysterious town, he soon finds that many of the locals act strangely and want to be safe at home before dark…
The Neat Job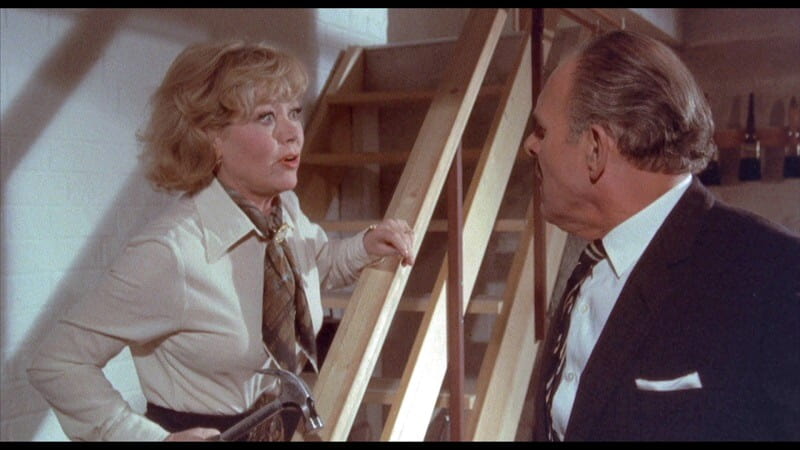 Critchit (Terry-Thomas) is a fastidious fusspot, whose mantra is "a place for everything, and everything in its place". His new bride Eleanor (Glynis Johns) finds it very hard to keep their home up to her husband's meticulous standards, and can only take so much of his nagging…
This Trick'll Kill You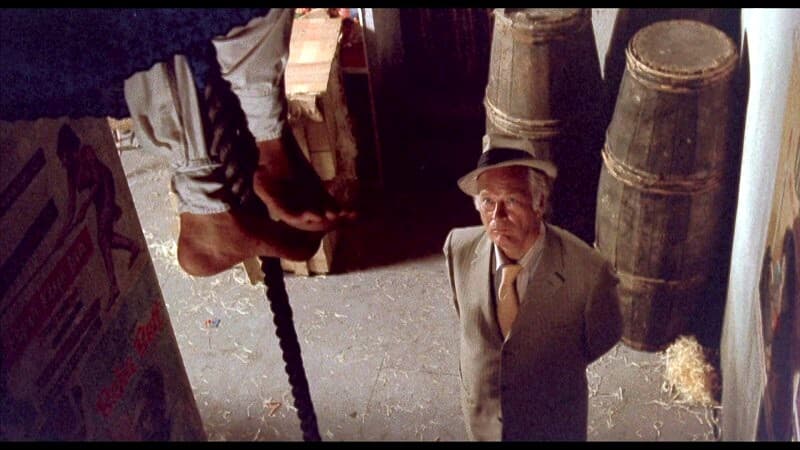 Magician Sebastian (Curt Jurgens) thinks he has found the perfect rope trick on the streets of India. Aided by wife/assistant Inez (Dawn Addams) he uses nefarious means to obtain its secret, but to their misfortune, the two of them find the trick holds more secrets than they imagined…
Bargain In Death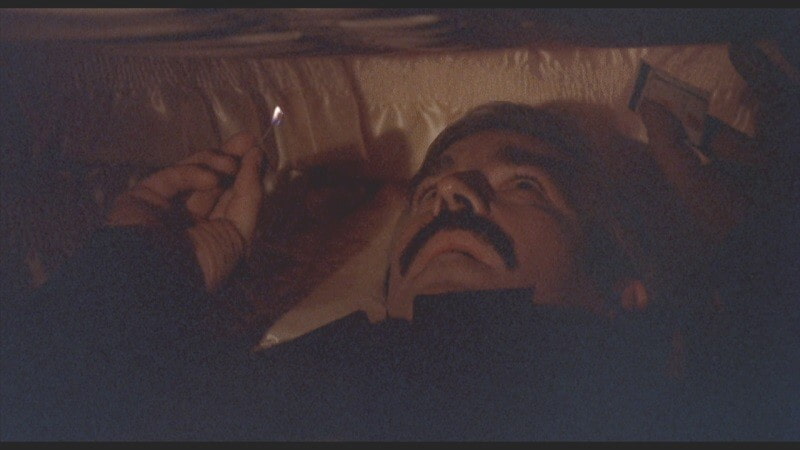 As part of a seemingly perfect insurance scam, Maitland (Michael Craig) uses a drug which temporarily induces a death-like state, but his partner in crime Alex (Edward Judd) might be set to double-cross him. To make matters worse, two neighbouring medical students (Robin Nedwell and Geoffrey Davies) are looking for a freshly dead specimen to practice on, and are called upon to inspect the apparently dead body…
Drawn And Quartered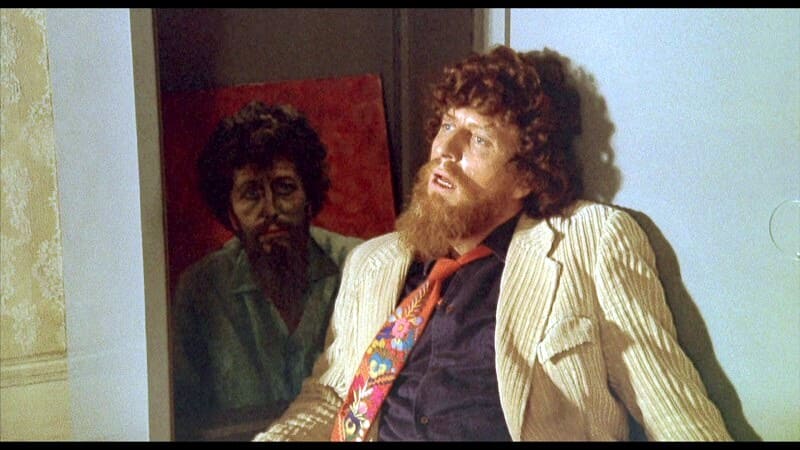 When he discovers that art dealers have been making profits from his work at his expense, gifted artist Moore (Tom Baker) uses voodoo magic to manipulate their portraits into causing serious bodily harm to the subjects. However, Moore's self-portrait may come back to haunt him…
Following the great box-office success of Tales From The Crypt (1972), Amicus took another delve into the EC Comics archive, with Milton Subotsky once again adapting five of their tales. With Freddie Francis unavailable, Roy Ward Baker took over directorial chores on this occasion. Baker's genre work has its detractors, but I'm a bit of a champion of his horror efforts. To me, he always seemed to take a more modern, matter-of-fact approach to the material, making for an interesting contrast to the more classical, nightmarish-fairy-tale treatment of others in the British horror realm.
Baker's approach paid real dividends for Amicus in Asylum (1972). With a notable lack of a bona fide horror star in the cast this time around, Baker turns this in the film's favour and grounds the stories more in contemporary reality, complimented by some interesting, not too obvious casting choices.
Take real-life siblings Daniel and Anna Massey in the opening segment.
Anna's earlier appearances in Peeping Tom (1959) and Hitchcock's Frenzy (1972) notwithstanding, the two would normally be associated with more prestigious television and stage work. If you also consider that they reportedly had a frequently fractious off-screen relationship, it certainly adds an interesting dimension to the action on-screen.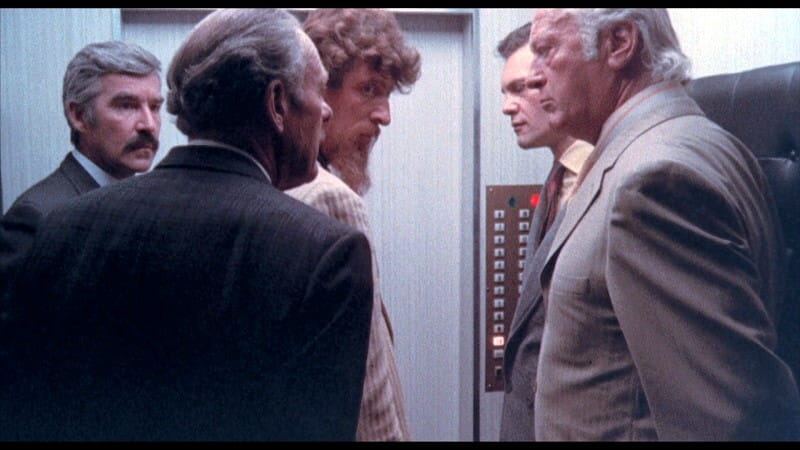 Terry-Thomas gets an opportunity to avoid his usual upper-class cad typecasting, with a genuinely irritating turn as the meticulously neat Critchit, and it's still hilarious to see Glynis Johns (yes, Mrs. Banks from Mary Poppins) reaching the end of her tether with him and blowing a gasket. Then there's Tom Baker, fascinating to see on the cusp of making his debut as Doctor Who the following year.
Whether it quite reaches the high bar set by its predecessor can be debated 'til the cows come home, but that's really nitpicking. With some memorable turns, and story endings which have stuck firmly in the minds of all who watched it growing up, The Vault Of Horror remains a Brit-horror classic.
Trivia about The Vault Of Horror (1973)
The medical students in the Bargain In Death segment were played by Robin Nedwell and Geoffrey Davies, stars of the long-running Doctor series of sitcoms (1969-77) on ITV. A brilliant in-joke at the time, it would sadly have been lost on audiences in countries where the series wasn't shown.
In the same segment, Michael Craig can be seen reading the novelisation of Amicus' Tales From The Crypt (1972).
This is the only Amicus portmanteau film in which Peter Cushing does not appear.
It is rumoured that Dawn Addams was not available for post-production loop work, and so was redubbed by Honor Blackman.
The film was cut to achieve a PG rating in the USA, and it was this version which circulated most commonly for many years. Thankfully, the uncut version resurfaced and is currently widely available on Blu-ray.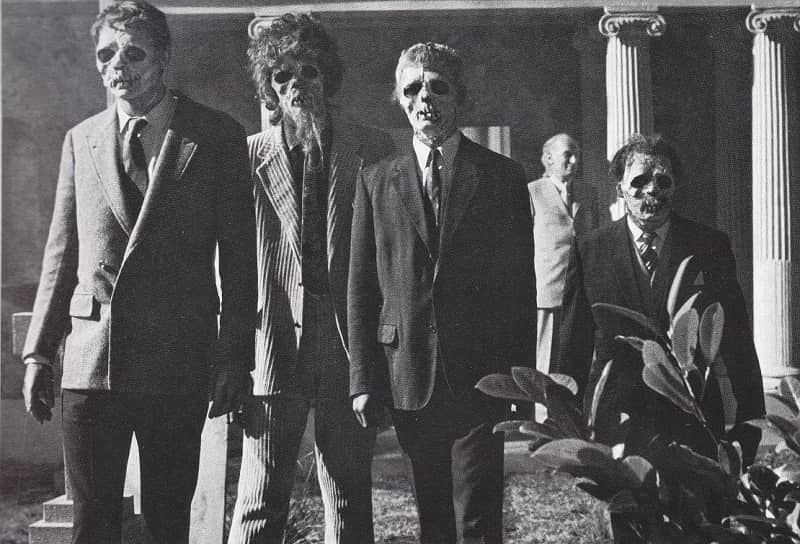 FOOTNOTE: Photos exist of a scene showing four of the storytellers depicted as walking corpses. It remains debated whether the scene was actually shot or just posed for publicity purposes. The fact that Curt Jurgens is replaced by a stand-in suggests the latter, but we may never know for sure.