The Girl 2012 is a dark look back at Alfred Hitchcock's alleged obsession with his leading lady in The Birds, Tippi Hedren. Review by DAVID SAUNDERSON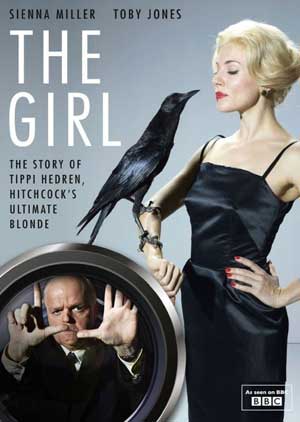 TITLE: The Girl
YEAR RELEASED: 2012
DIRECTOR: Julian Jarrold
CAST: Sienna Miller, Toby Jones and Imelda Staunton
Whether you believe Alfred Hitchcock was a obsessed stalker or not, the fact remains, The Girl 2012 is a tense psychological drama.
Set from the time of pre-production of The Birds in the early 1960s, The Girl follows the intense relationship between the great British director and Tippi Hedren, a model plucked from obscurity to star in the birds-gone-berserk thriller.
Toby Jones, Sienna Miller and Imelda Staunton star in this film that suggests that Alfred Hitchcock was obsessed with his leading lady Hedren to the point of causing her mental and physical harm when she rejected his advances.
We watch as Hitchcock appears to concoct ways of abusing Hedren – including using real birds in the violent attic attack scene from The Birds (1962). The film shows Hitchcock's grip on Hedren, who he has locked down into a lengthy contract and will eventually damage her career.
Directed by Julian Jarrold and written by Gwyneth Hughes, The Girl 2012 is a BBC-HBO joint television movie. HBO makes the most engrossing bio films and The Girl is no exception. The production values are second to none – I was particularly taken with the colour and lighting of The Birds sets – they looked just like the 1962 classic.
English actor Toby Jones was remarkable as the real-life Truman Capote in Infamous (2006) and he is equally chameleon-like as Hitchcock. His likeness to Alfred Hitchcock is uncanny. His voice, looks and mannerisms are near-on perfect and unlike some movie bios, this film is less about "look it's someone impersonating Alfred Hitchcock" than it is being drawn into a tense psychological drama. That we are watching the making of The Birds and Hitchcock's follow-up Marnie (1964) becomes secondary to intensity of Hitchcock's obsession.
Sienna Miller is a gorgeous actress and she is the star of this film. Miller plays Hedren not as a dumb blonde, but a focused, thoughtful actress under immense pressure. Her character is a woman determined to make the best of a bad situation, persevering non-stop sexual advances and psychological torture from her powerful employer.
There has and will be long discussion about how much of the film is true. I understand there has been some criticism from film academics that the film paints Hitchcock unfairly. One can only suggest that unless Tippi Hedren is lying – which I imagine to some point she isn't – then Alfred Hitchcock would be called in this day and age – a sexual harasser and stalker. (I don't claim to be a Hitchcock expert so I will leave that to be debated by those more knowledgeable than me.)
The Girl 2012 is a very Hitchcockian-type thriller. It bares all the hallmarks of an Alfred Hitchcock film, including a hot blonde, an obsessive domineering figure, strong visuals, dark shadows and claustrophobic scenery. There is even a staircase.
I am yet to watch Hitchcock 2012 starring Anthony Hopkins and Helen Mirren. But when I do, I suspect it will be a much less controversial than The Girl. The Girl has set a high bar.
Tell us what you think of The Girl 2012 in the comments section
Watch The Girl 2012 Trailer