RICHARD PHILLIPS-JONES looks at Hammer's tale of murder, a loyal cat and a dash of Edgar Allan Poe, in Shadow of the Cat 1961.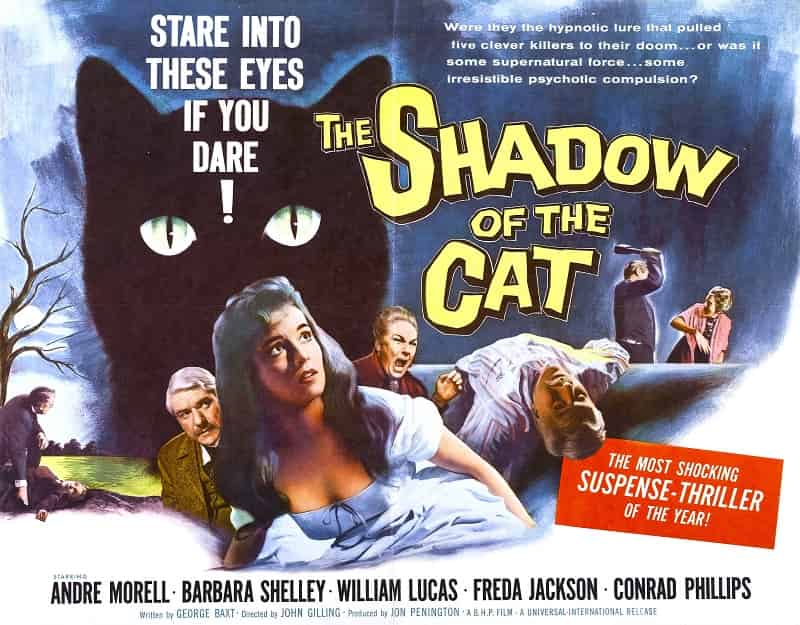 TITLE: Shadow Of The Cat
RELEASED: 1st May 1961
STARRING: André Morell (Walter Venable), Barbara Shelley (Beth Venable), William Lucas (Jacob Venable), Freda Jackson (Clara the Maid), Conrad Phillips (Michael Latimer), Andrew Crawford (Andrew the Butler), Catherine Lacey (Ella Venable)
WRITER: George Baxt
DIRECTOR: John Gilling
Late one night in an old English manor house, Ella Venable is killed in her attic room. The perpetrators are her husband Walter (who is after Ella's Money), butler Andrew and maid Carla. The only witness is Ella's cat, Tabitha.
Tabitha is a very loyal cat, and is intent on exacting revenge. When an assortment of relatives arrive at the house, most of them hoping for a cut of Ella's inheritance, Tabitha sets her sights on them as well. Meanwhile, an alternative will, which cuts Walter out of the picture entirely, is hidden somewhere in the attic.
Released on a double-bill with Curse Of The Werewolf (1961), Shadow Of The Cat might be considered a somewhat unusual bedfellow when viewed today. Hammer had broken down barriers in terms of what the audience expected to see depicted on screen, and yet Shadow Of The Cat harkens back to an earlier tradition.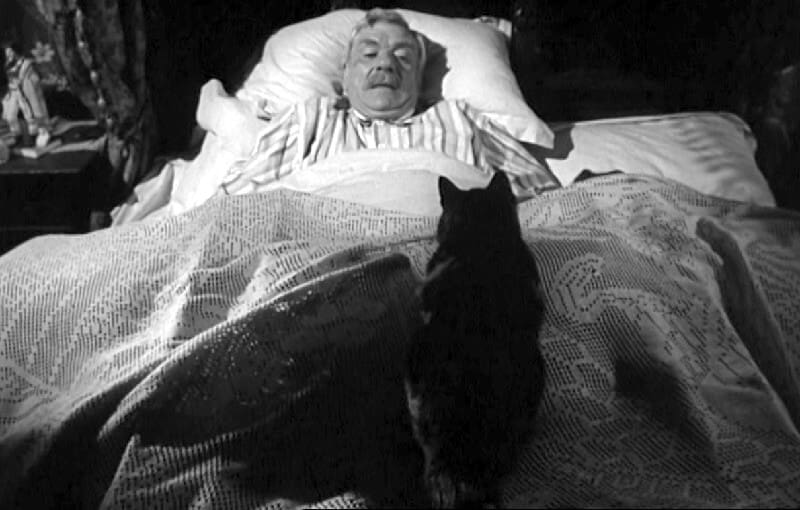 Filmed in black-and-white, this is a movie very much of the old-dark-house style popular twenty years or so previously, but also throws a dash of Edgar Allan Poe into the mix (the only Hammer film to do so), owing a heavy debt to The Black Cat and even opening with some lines from The Raven.
Tabitha the cat (probably the most intelligent character in the film) outsmarts everyone, knows their failings and plays on them. At a stretch, with a body count of six, you might even consider it the first feline-orientated proto-slasher flick.
Shadow Of The Cat is not what you might expect from Hammer, but is still an enjoyable experience, a sort-of cinematic equivalent of slipping on a comfy jumper and sipping a hot toddy on a winter's evening.
TRIVIA POINTS: John Gilling would go on to make a major mark on Hammer horror, helming The Reptile (1966), Plague Of The Zombies (1966) and The Mummy's Shroud (1967).
The Hammer name does not actually appear on the film, which is credited as a BHP film production. Why this happened is open to considerable debate, but it was made at Bray Studios, is brimming with Hammer talents on both sides of the camera and was even mooted in the trade press before shooting commenced as a Hammer production. Therefore, Shadow Of The Cat can be considered part of the Hammer filmography, if a somewhat untypical entry.
Watch The Shadow of the Cat Trailer