Hitchcock 2012, which looks behind the scenes of the making of Psycho, is reviewed by DAVID SAUNDERSON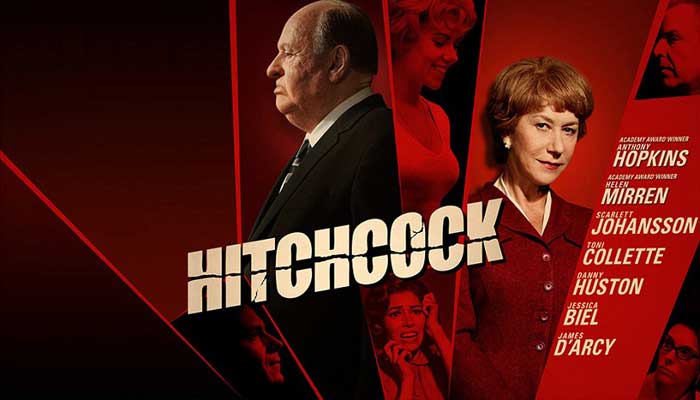 TITLE: Hitchcock
YEAR RELEASED: 2012
DIRECTOR: Sacha Gervasi
CAST: Anthony Hopkins, Helen Mirren and Scarlett Johansson
When it rains it pours. The past couple of months have seen two Alfred Hitchcock bios. I reviewed the BBC-HBO TV movie The Girl and now it is on to the big-screen Hitchcock 2012, starring Anthony Hopkins in the title role.
From the offset, I must say that both films are brilliant in their own way but they are very different. The difference is not just a moment in time. The Girl showed behind the scenes of the 1962 masterpiece, The Birds, while Hitchcock focused on the making of Psycho 1960. Both films try to dig deep into the great director's mind – The Girl was much more about Hitchcock's obsessive and dark personality. Hitchcock 2012 on the other hand wasn't as brutal – it showed him creepy, but not a creep like Toby Jones did in The Girl.
Hitchcock covers the period in the director's life when he decided to create a film based on Robert Bloch's novel Psycho – a fictional take on the murderous crimes of American serial killer, Ed Gein. Psycho was a gruesome book and Hitchcock had trouble finding financial backing to film it. With the support of his wife Alma Reville (played by Helen Mirren), he personally funded the filming with all the stresses and problems that came with it. That is what the film Hitchcock is basically about in a nutshell.
Hollywood bio films are always a lot of fun. They usually show a darker side to Tinsel Town that we remember from the more innocent Golden Year of Hollywood – titillation from a time that was very prim and proper.
There was outrage on the release of The Girl, starring Toby Jones, portraying the famed director as a sexual predator. It should be pointed out the Hitchcock (2012) shows Hitchcock peeping into the women's dressing room through a special hole – not unlike Norman Bates in Psycho. While not the aggressive monster depicted by Toby Jones, it is hardly flattering.
Hitchcock is more of a "star" film – a run-of-the-mill bio and it was never going to be that controversial. It has famous people like Scarlett Johannson and Jessica Biel playing the actresses Janet Leigh and Vera Miles.
And while I couldn't help but think for as fantastic as he was, I was always watching Anthony Hopkins playing Alfred Hitchcock. He didn't blend into the role as well as Toby Jones.
That's not a criticism of Hopkins, it's just he is much more famous than Toby Jones and we are used to his mannerisms.
d to be fair to Scarlett Johannson and Jessica Biel, they didn't have much to do and were they for window dressing. This was in contrast to Sienna Miller, who, as Tippi Hedren, was the driving force behind The Girl.
I can't say I really learned much from Hitchcock 2012 but it has become clear to me that Alma Reville – Hitchcock's wife – was a key ingredient in his success. The film basically reveals how deeply Hitchcock relied on her to make his films. Both films are great fun, but if I had to choose between them – I would go for The Girl 2012.
Tell is your thoughts on Hitchcock 2012 in the comments below!
Watch Hitchcock 2012 trailer