Reading Time:
3
minutes
And Now The Screaming Starts! 1973 was a routine shocker for its time and not worth the price of admission, says TERRY SHERWOOD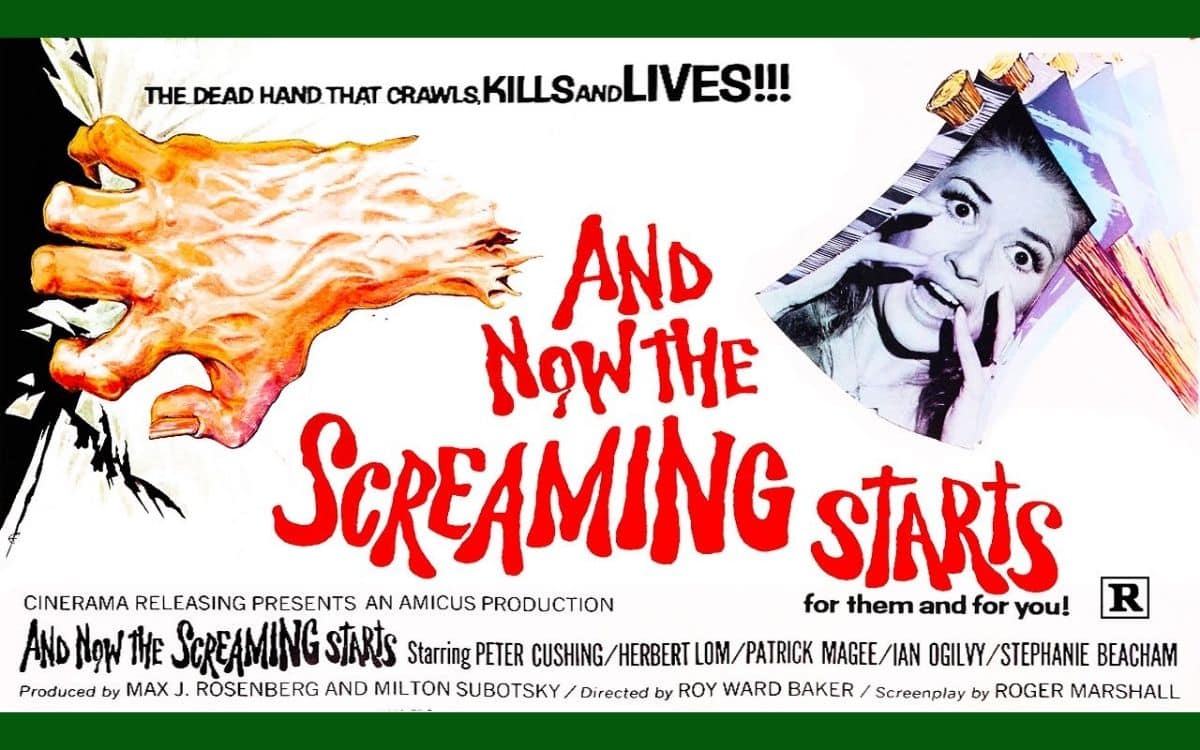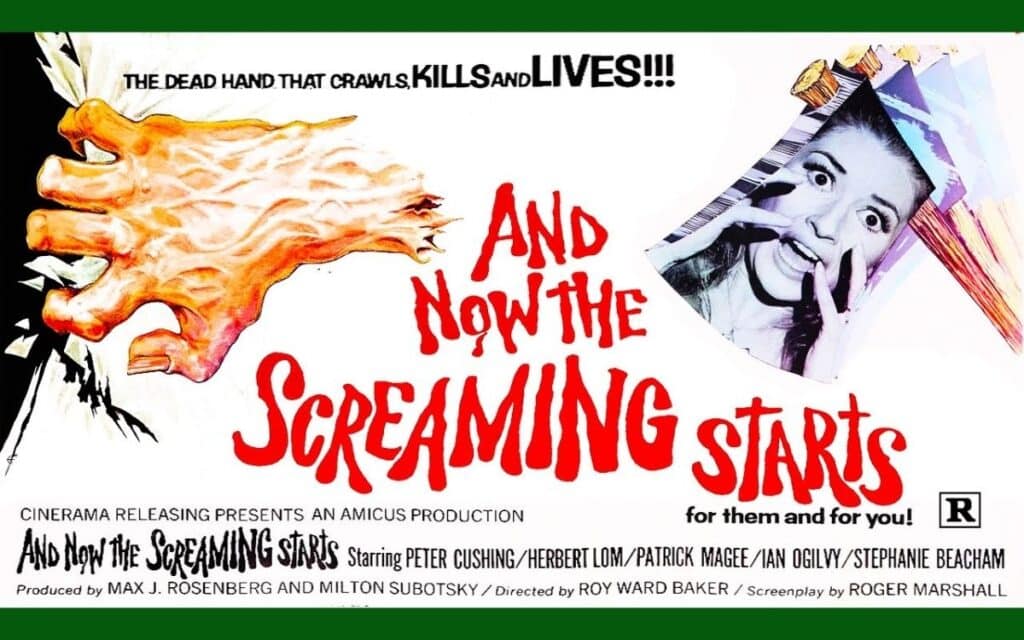 TITLE: And Now The Screaming Starts!
RELEASED: 1973
DIRECTOR: Roy Ward Baker
CAST: Peter Cushing, Herbert Lom, Patrick Magee, Stephanie Beacham, Ian Ogilvy and Geoffrey Whitehead
And Now The Screaming Starts! 1973 Review
How do you write on Gothic Horror that follows a formula? You'd be kind to it. And Now the Screaming Starts! 1973 was routine even for the time.
And Now The Screaming Starts! was made in 1973 and directed by Roy Ward Baker. Its cast included Peter Cushing, Herbert Lom, Patrick Magee, Stephanie Beacham and Ian Ogilvy. The film was produced by Amicus, better known for their "portmanteau" films which they should have maintained. Instead of this one. It comes off as an attempt to move into another market, however, without a story.
Love and Marriage
And Now The Screaming Starts! 1973 is essentially a gothic romance that has lovely settings, and camera movement music that did illuminate a story filled with clichés that would have worked in the Thirties. 
The film begins in 1795. After moving to her fiancé Charles Fengriffen's (Ian Ogilvy) family estate, Catherine (Stephanie Beacham) experiences terrifying visions of an undead corpse with a birth-marked face, empty eye sockets and a severed right hand that comes out of a portrait giving the audience the first scream.
Odd things happen as they always do. On her wedding night, Catherine is attacked by an evil spirit in the bedroom of Fengriffen House, later to find she is pregnant The evil forces at work are all controlled by a disembodied hand that kills.
One For My Baby (One More For The Road)
Roy Ward Baker, who also helmed the portmanteau film, The Vault of Horror 1972 just before this for Amicus, had directed Hammer films and was now concentrating on adventure television series like The Saint, The Champions and others for the lucrative American television market. The directing is pedestrian at best when one is saddled with a script that seems to have been dusted off after sitting for a long time.
Peter Cushing does well in a check-in performance at Dr. Pope who again is the authority figure with echoes of "Gustav Weil' from Twins of Evil 1971. Cushing sports the hairpiece he will wear again in Frankenstein and the Monster from Hell 1974. Herbert Lom, who at this time was enjoying success with the Pink Panther series, might have done this for the money. These actors are all professionals and do their level best with a script that lacks development. Stephanie Beacham becomes little more than eye candy at the time in low-cut gowns and, of course, to be menaced by a male in the Victoria tradition.
High Hopes
And Now The Screaming Starts! 1973 works for what it is, which is a tame Victorian romance 
Contrast this with the output of filmmakers like Michael Reeves and Pete Walker with The Flesh and Blood Show 1972, and the still to come Frightmare 1974 and The House of Whipcord 1974, and you get the sense that time has passed Amicus.
The screaming that started was perhaps the audience realizing they paid admission.
Tell us your thoughts on And Now The Screaming Starts! 1973 in the comments section below!
Watch And Now The Screaming Starts! 1973 Trailer