Reading Time:
7
minutes
From Beyond the Grave (1974) is one of Amicus' finest horror anthologies, says SELENE PAXTON-BROOKS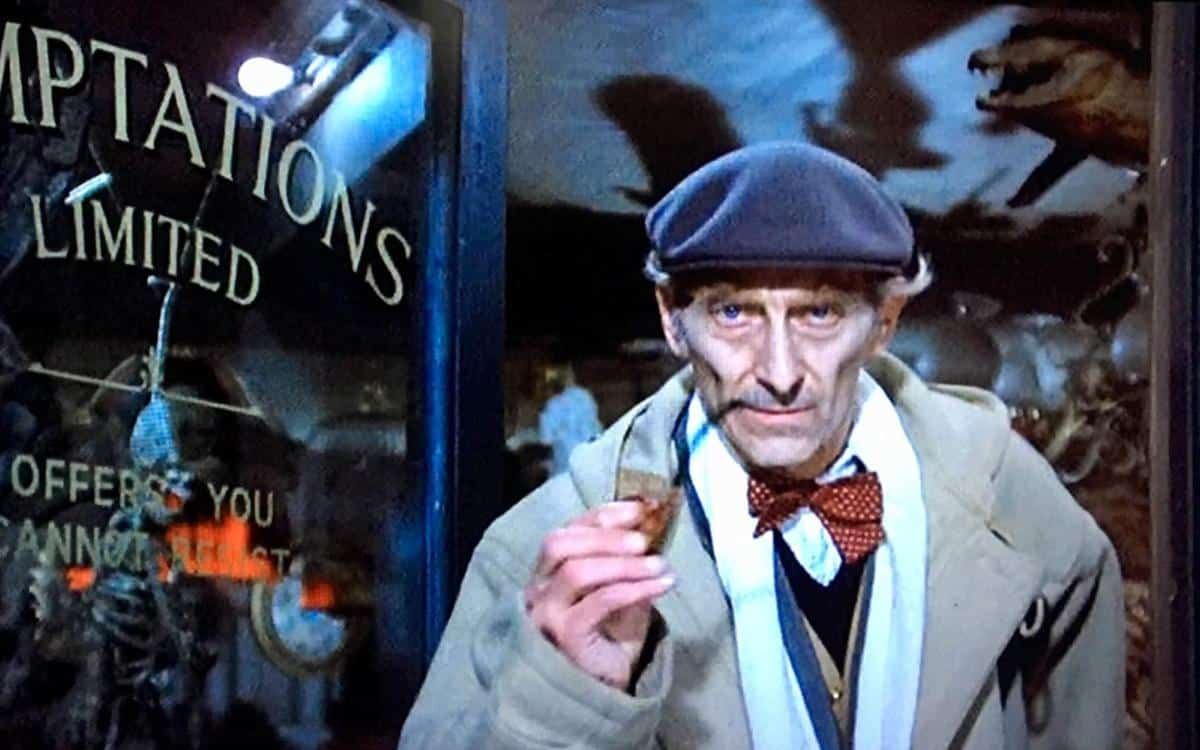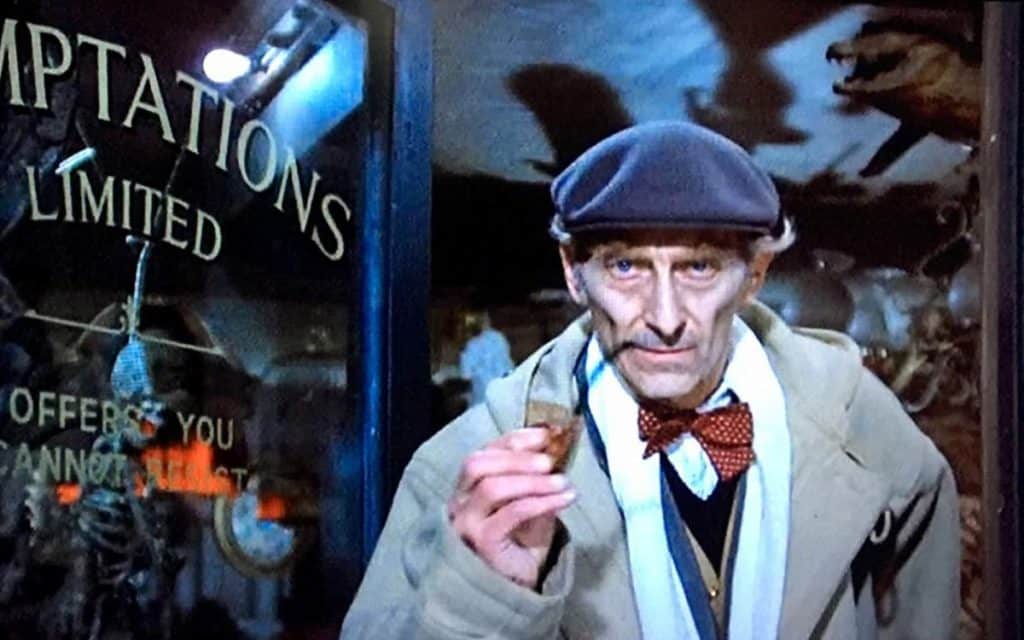 TITLE: From Beyond the Grave
RELEASED: 23 February 1974
DIRECTOR: Kevin Connor
CAST: Peter Cushing, Donald Pleasence, Ian Bannen, Diana Dors and David Warner
From Beyond The Grave Review 1974
In my opinion this is one of the best of Amicus' anthology films, and it seems they were definitely saving the best 'til last!
Based on short stories by R. Chetwynd-Hayes, produced by the wonderful Milton Subotsky and directed by Kevin Conner, who went on to direct a whole range of films and TV in the 1970s, From Beyond the Grave has some really quite scary and gory moments that catapult the film into the 'once seen never forgotten' category.
Not only that, but there are some great actors gracing our screen for this one; Peter Cushing plays the wily shopkeeper; Donald Pleasence and his daughter Angela act side-by-side as the creepy Underwoods; Diana Dors, Lesley-Ann Down and Nyree Dawn Porter play female leads as the 'love' interests; David Warner, Ian Ogilvy and Ian Carmichael all being psychically attacked in some way, and by far my favourite, Tommy Godfrey and his cat as the disgruntled neighbour.
Each story is interlinked with a mini story in itself: What happens when people steal from a not-so-unexpecting elderly shopkeeper? Peter Cushing (as usual) excels in his role as doddery old man, who isn't really as silly as one might initially presume.
His amazingly well stocked antique shop, Temptations Ltd, with 'Offers you cannot resist!' is full of strange and exotic masks, puppets and items of ancient furniture, but funnily enough contains lots of props from other Amicus films of the time. For example, we spotted the Great God Dambala from Dr Terror's House of Horrors Voodoo segment and Christopher Lee's study in The Skull.
The film is split into four stories that all revolve around things that have been 'stolen' from the shop. The final concluding couple of minutes is intrinsic to whole storyline – the shop proprietor comes face-to-face with a burglar who has been casing the joint at intervals throughout the film.
The credits open to an atmospheric pan around the Egyptian Avenue and Circle of Lebanon at Highgate Cemetery with suitably creepy music including screams and chanting, written by Douglas Gamely. I'm not quite sure what this has got to do with the story, but it sets us up nicely for our introduction to Temptations Antiques on the backlot at Shepperton Studios.
The Gatecrasher
Edward Charlton (David Warner) visits the antique shop to purchase something for his new flat. He tricks the shopkeeper into doing a deal for a mirror that he insists is a reproduction.
Bringing his friends back to his pad to see the new edition, the group decide to hold a séance, like you obviously would at any 1970s dinner party, and things start to get out of hand!
The séance candle becomes the focus, bursting upward as the viewer gets to see each member of the gathering's face as the spirit is comes through and a mist rises from the mirror.
Warner meets the dead man in a short dream sequence and the mirror's inhabitant commands him to 'Feed me!'
I love the cadaver's make-up, really quite chilling!
Warner is now drawn to kill – blood flows, mainly down his shirt, over the walls and down the Regency stripe!
It's a mucky job, and a few more dirty shirts later Warner is no closer to satisfying the mirror.
So, where else but a cheesy 1970s disco, would you find more sacrifices, especially with all that groovy dancing by those groovy chicks!
Another dirty shirt and Warner finally thinks he's done it, but alas, with glasses of red still on the table from that initial party, and plenty of red all over the furniture, he is driven to seek out more.
Great suspense now as Pamela (Wendy Allnut) climbs the stairs; will he, won't he… Tommy Godfrey gets it, after complaining about the 'bloody' big patches all over his ceiling, only Tommy could read a werewolf story to his cat at bedtime!
The end of the segment is more like a splatter movie than your average Amicus.
Cutting to some hip and happening music that introduces us to future occupants of the flat, and then… 'I know let's hold a séance!' brings us full circle – and wow, that really is some cool wallpaper!
An Act of Kindness
Cut back to the antique shop and Cushing welcomes in his next customer, not the one we actually expect, but Christopher Lowe (Ian Bannen) looking at war medals.
Bannen is an unhappy man, working as a middle-manager and commuting to work allows him to befriend an ex-serviceman who sells matches and laces outside the station (actually shot at the old Windsor station, Surrey).
Bannen's homelife is anything but happy, with a bully for a wife, played brilliantly by Diana Dors, and a lippy kid, he seeks to impress Mr Underwood (Donald Pleasence) by trying to procure medals from the Antique shop.
Cushing reminds him that the medals can't go 'to any Tom, Dick or Harry' and asks to see proof of Bannen's service.
Ooops, a quick slight of hand and Bannen pilfers the medal – 'Naughty, shouldn't have done that,' remarks the shopkeeper!
Bannen is invited round to the Underwood's for tea, and even though he is unsure to begin with, another evening at home with his lovely wife convinces him that perhaps he should go.
Here we begin to see that something is not quite as it should be, for Dors has had her picture taken that day by an unknown man, which has left her on edge.
Bannen bumps into Mr Underwood and is taken to a small flat above what seems to be an abandoned building.
Mr Underwood introduces Bannen to his daughter Emily (Pleasance's his real daughter in fact, Angela).
This is understated horror at its best! With jaw-cracking words and fruitcake, Emily woos Mr Lowe to her bed after we are treated to an amazing kipper tie and some 'singing was I?'
Witchcraft abounds and Emily is definitely up to something!
The slow pace and atmospheric photography, keep you on the edge of your seat and Angela Pleasence plays her part beautifully.
She is slow and precise and her movements shock the viewer as she manipulates Bannen into giving his orders – the spell is broken with a bead of blood and he rushes home to find both is son and his wife at the top of the stairs.
It seems the Underwood's are now undertakers, but hold on, what's that… the Wedding March!?
We finish with a happy ending, but not for who you think, a twist in the tail, with both Pleasances stealing the show with their deliciously macabre portrayal of father and daughter.
The Elemental
Back to the shop and Cushing watches for the thief, however, Ian Carmichael gets there first.
Snuff boxes were obviously all the rage in the 70s, but swapping price tags, now that's just bad sportsmanship!
Cushing appears from behind a mask holding a stuffed crocodile and says the immortal line, 'Hope you enjoy snuffing it', as Carmichael leaves the shop.
Things start to go wrong on the train home when Carmichael is accosted by Madame Orloff, played by Margaret Layton.
Oh, I love her, sooooo much!
After an in depth discussion about the elemental he has nestling in his shoulder, she gives him her card, offering 'reasonable fees', and tells him to contact her.
Once at home the trouble really starts… as wifey, Susan (Nyree Dawn Porter) is horribly attacked in their big brass bed!
Things get worse; a horrible stench, foul breath, hands like talons… perhaps there was something in what Madame Orlaff said after all?
Enter Madame Orloff to save the day – I wonder if the Harry Potter designers watched this when thinking up the character of Professor Trelawney?
After a great scene, with Madame Orlaff getting down to business, feathers flying and total room devastation, the elemental is removed and the dog returns to the house.
Ah, and relax… but not quite! This segment ends beautifully, and totally unexpectedly, but for now, back to the shop.
The Door
It could be that we are going to finally meet the dodgy fellow, who is still hanging around outside.
Our next customer, however, is the dashing William Seaton (Ian Ogilvy), looking for something 'special' for his house.
The shopkeeper duly helps him remove a variety of objet d'art so that he can get to a beautifully carved door – what a bargain at £40.
The till is left open. Will he, won't he? Cushing begins to count…
The door is used for the… stationary cupboard. Nothing out of the ordinary there?
We are introduced to 'The Blue' room, which incidentally matches their blue glasses!
Upon opening the door, Seaton finds a mass of cobwebs that cover the entrance to an old study with an ornate fireplace, vaulted ceiling, massive stained-glass window, and huge portrait of… well, perhaps, himself.
Seaton shuts the door only to open it again and find the stationery cupboard – how odd?! Of course, this is no ordinary door.
The door opens and closes by itself. The door steals his wife. The door… well, you will just have to watch it for yourself!
Again, we see a lot of blood, it really does flow in this film and the soundtrack echoes the action, helping to create, in my mind, the perfect 70s horror film.
A totally satisfying end. But hold on, the shop keeper has finished counting, and the stationery cupboard is just a stationery cupboard once more.
We finally greet the thief who has been casing the joint, as he enters the shop.
There are obviously, 'offers he cannot resist'! We get a good look at this amazing emporium; with flying bats, creepy puppets, odd heads and even a stuffed bear! What is he after?
Cushing is cleaning a pair of antique handguns, offers them to the thief and, well let's just say, perhaps he is already dead, because, of course, 'Money is the route of all evil'.
If you only see one Amicus film this year, make sure it's this one. If you've seen it before, then watch it again. It is one of the most disturbing and most believable. Can we tempt you?
Tell us what you thought of From Beyond The Grave 1974 in the comments section!
Watch From Beyond The Grave 1974 trailer