Reading Time:
11
minutes
The seaside town and old port of Whitby in North Yorkshire is famed for its Alum and Jet mining, also its links to Bram Stoker's 19th-century novel Dracula. NIA JONES checks out five of Whitby's spookiest places…
Whitby Pavilion Theatre, West Cliff, Whitby YO21 3EN

The Whitby Pavilion Theatre is a traditional proscenium arch theatre, originally built in 1878. A very atmospheric building with an abundance of Victorian character; its architecture inspires plenty of eerie dark shadows.
Over the years there have been multiple unexplained phenomena associated with the theatre, many of the staff and patrons report the sensation of being watched and feel as if they are being followed. Some cleaners working the early shifts have even witnessed the theatre's supernatural resident; no one is sure of the spirit's gender, but he or she seems to enjoy wandering the gallery area.
Green Lane and surrounding areas, Whitby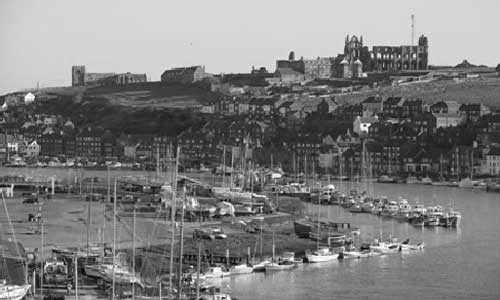 A stunning area of Whitby – a phantom stagecoach and horses has been witnessed and heard thundering up the lane, it disappears as it tumbles over the edge into the sea. At Fitzsteps, walking a path between Prospect Hill and Ruswarp a headless phantom has been seen walking with its head nestled under its arm.
Other residents have reported vehicles and road signs being damaged along the area by an unknown entity. Perhaps this is the handy work of a mischievous sprite called Hob, a goblin-like creature which is also reported to haunt, terrorise and stalk the highways and byways of Whitby.
Arundel House B&B, Bagdale, Whitby, YO21 1QJ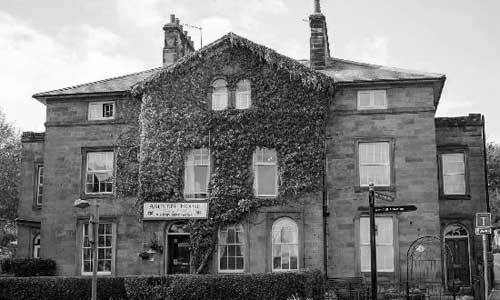 Arundel House B&B is a historic Georgian Manor House built by a shipbuilding family, the Campions, around 1790. Margaret Campion also established herself as the first lady-banker in Britain.
Paranormal activity has been reported in nearly every room in the building, this includes strange bangs, doors moving by themselves, knocking in the cellar, footsteps on the stairs, disembodied voices and the sounds of jangling keys. A vision of a lady has appeared ample times to the guests and staff; electrical equipment has a habit of turning itself on and off, and it has been known for decorations in the dining area to fly from the walls.
Bagdale Hall Hotel, 1 Bagdale, Whitby YO21 1QL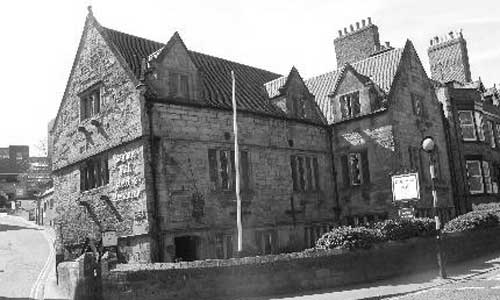 Bagdale Hall Hotel is a historic and charming amalgamation of three historic buildings, one is a Tudor home built in 1516, another is No. 4 Bagdale, a Georgian townhouse, and the last is a large detached Georgian property built in around 1770.
Supernatural phenomenon has been rife at the Hall over the years; the hotel staff and guests have heard disembodied voices, the sound of a crying child when the rooms are empty and strange shape gliding up and down the stairs. Some poltergeist activity has also been reported, footsteps on the stairs, knocking and lights inexplicably being switched on and off.
A former owner of the hotel a man named Browne Bushell was executed with charges relating to piracy – many believe it is he who has returned to haunt the hall after his death.
Whitby Abbey, Abbey Lane, Whitby YO22 4JT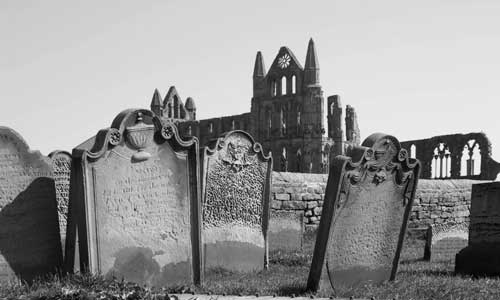 Sitting dramatically on the crest of the East Cliff, Whitby Abbey is a reminder of the power and dominance wielded by the Church in medieval times.
The building of Whitby Abbey began in 657 AD, destroyed by the Vikings in 870 AD and then rebuilt after the Norman Conquest in 1067. St Hilda founded the abbey and the legend goes that St Hilda rid the local area of snakes by chasing them to the edge of the cliffs, striking their heads off with a whip. She also believed that climbing the 199 steps leading up to the abbey was a test of faith.
It really isn't surprising that there is plenty of ghostly activity at Whitby Abbey, the main apparition being St Hilda herself, wrapped in a shroud she has been seen floating in one of the abbey's highest windows – even Bram Stoker mentions the manifestation in his novel Dracula.
Another spectre is a young nun called Constance de Beverley who fell in love with a dashing young knight and broke her vows of chastity. It is said that she was bricked up alive in the walls of the abbey dungeon for her sins, she screamed for mercy until she died. Her ghost is said to haunt the stairs leading from the dungeon where she was imprisoned, still screaming and pleading for forgiveness.
Have you seen a ghost or something strange in Whitby? Tell us about your thoughts in the comments section below!
EXTRA: Is Wicked Whitby a portal to the spirit world?
(Article originally published on Spooky Isles on 24 January 2013.)
Eerie Britain author MATT FORDE asks: Is the picturesque northern seaside town of Whitby, a gothic portal to the spirit world?
The North Yorkshire Moors are an ancient landscape, brimful of fascinating histories and intriguing folklore. This is a land where undulating moorland gives root to wind-bent trees, rocky cliffs jut jaggedly from Jurassic strata and clusters of oak, ash, birch and rowan offer quiet havens to wildlife of all kinds. Venture out to the Moors' north eastern edge and you'll find one of the most enduring and mysterious places in Britain: Whitby—a place long considered a ghost hunter's paradise.
Whitby nestles between two cliffs, straddling the 28-mile-long River Esk as it empties into the cold North Sea. It is a strikingly pretty place, criss-crossed by cobbled lanes that meander between higgledy-piggledy rows of shops and red-roofed cottages.
The town's eastern skyline is capped by the skeletal ruins of Whitby Abbey of St. Hilda. This Benedictine abbey is grade one listed and stands next to another venerable grade one building, St. Mary's Church. Together they dominate the east bank, the Haggerlythe, and are reached by climbing the town's famous Church Stairs, or '199 steps'—something of a trial of stamina for the less athletic visitor.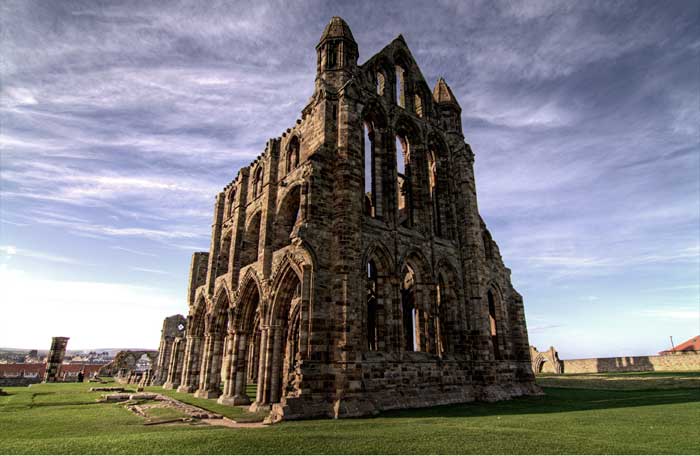 The Abbey dates from 657 AD and has had a rich and turbulent existence, hardly surprising then that it is supposed to be haunted. Its first abbess, Hilda, was a truly remarkable and wise figure whose efforts to spread Christianity and encourage education in the area led to some of the earliest Anglo Saxon poetry and literature. Even now, Hilda is inextricable from the ruins and her shroud-wrapped spirit is said to manifest at different points around the Abbey's grounds and—most famously—in one of the topmost windows, usually during the late morning hours.
Spectral nuns and strange choral harmonies are also experienced near to the Abbey.
Whitby boasts another very old building besides the Abbey. Bagdale Old Hall lies near the town's heart. It is a Tudor manor house that was built in 1516 for the wealthy Conyer family. Now a hotel that retains much of its original features, it was once owned by a rather colourful character named Captain Browne Bushell. He was a fascinating figure who came to a sticky end in 1651 beneath an executioner's axe.
A naval officer under the employment of the King of Spain, Browne returned to England during the English Civil War and allied himself to the Parliamentarian forces for two years. Later, he switched to the Royalists' side, saying "I then deserted the Parliament, being heartily sorry that ever I drew my Sword for such Masters; And (truly) had I as many lives, as I have haires [sic] upon my head, I should freely and willingly adventure them all for my second Master the King."
The executioner lopped off his head in a single skilful blow.
According to some, Bushell might still be lingering on at Bagdale Old Hall. If the tales about his ghost are to be believed, he manifests as a strange, ethereal shape that moves around the staircase and produces clattering footsteps that travel up and down its stairs. One report even stated that his headless torso has been seen silhouetted against a window.
Perhaps it is Bushell who is also behind the poltergeist activity at Bagdale, where pots and pans have been flung around the kitchen and lights switched on by themselves. Is this the reason why the building remained empty for a long time? Or was it because of the disembodied children's voices that have been heard, sometimes whispering, sometimes playing and sometimes crying?
Whitby's historic landmarks continue with its two harbour lighthouses. Standing proudly at the tips of the harbour's piers, the lighthouses have helped to guide mariners into port for over a hundred-and-fifty-years. Both are haunted.
Run by the Port of Whitby, the stone-built, 83-foot-tall west lighthouse is open to the public during the tourist-filled summer months and is still partly in use, displaying a green light when a boat is expected to come into the harbour. This lighthouse is frequented by the one-armed ghost of a local man who "tended the lights" and is thought to have keeled over one day on the stairs inside the lighthouse on the West Pier, soon expiring of a heart attack.
Authors seem divided as to whether the man's arm was severed in life when he fell to his demise, or whether it was an old injury. Either way, he seems to want a similar fate to befall others, because he is supposed to lie on the stairs inside and occasionally try to trip up unsuspecting visitors.
The 1854 eastern lighthouse isn't open to the public. Not to be outdone by its taller cousin, it is also replete with its own phantom. One summer, two brothers were in competition for the affections of a beautiful young girl called Sylvia Swales. For whatever reason, she found it too difficult to choose between her two suitors so her father set them a challenge: a boat race, with the winner taking Sylvia's hand in marriage.
The two boys set out with enthusiasm, but soon a large wave capsized their boats. Both were swept out to sea where they drowned. Their bodies were later washed up on the nearby shore of Saltwick Nab. Sylvia blamed herself and resolved never to marry. Her sad ghost frequents the eastern pier, forlornly staring out to sea.
Whitby has a third and a fourth lighthouse, too. Whitby High Light and the South Light near it were put up in 1858 behind the Abbey. Also in this area a potentially spectacular phenomenon manifests. The Bargheist Coach, a black funeral coach pulled by three pairs of spectral horses, is steered by a faceless driver along Green Lane. It thunders towards the graves of freshly buried sailors and, upon reaching them, reclaims their bodies from the earth before crashing down the cliff and back into the churning sea from whence it came.
The Bargheist Coach is not to be confused with that terrifying spectral hound that is whispered to appear in Whitby; the Barguest.
A definitive spelling for this canine is as hard to pin down as eyewitness reports, with various people having it as any of the following: Barghest, Bargeist, Bargtjest, Bo-guest, Bargheist, Barguist, Bargest or Barguest. Whatever the spelling, he is a fearsome black beast; a hound of Hell in fact, with incandescent eyes, huge teeth and razor-like claws. His hunting grounds were—or perhaps still are—the nearby moors and Whitby's starry night-time lanes. The legend goes that anybody who is misfortunate enough to hear his bone-chilling howls is fated to soon die.
Interestingly, while this demon hound clearly has roots in superstition and folklore, there have been quite a few modern day sightings of a 'Beast of the Bay'. What has been described as a "black panther-like cat" has been spotted on many occasions over the best part of the last decade; once even with a cub. The Whitby Gazette reports it being seen fairly often, with the last sighting in July of 2010. Luckily, the Beast of the Bay doesn't seem to possess glowing eyes or a predilection for announcing impending dooms… so far.
Of course, to the majority of people, Whitby is most famously associated with Bram Stoker's Dracula. And with good cause, for even though Stoker already had plotlines sketched and characters outlined for his book before he visited Whitby, many aspects of the fishing port ended up influencing his writing in some way.
The author and his family enjoyed a three-week-long holiday here during the summer of 1890, arriving in late July. He spent a great deal of time in the town, talking with the old sailors and fishermen and researching in the library, and so are large number of little details of Whitby life made it into his seminal book.
For example, Stoker had originally planned to bring his vampire to England via the southern port of Dover, but once he heard the story of the recent wrecking of a Russian schooner, he was inspired to change his plans and make little Whitby into the gateway for the dreaded Count Dracula. The schooner in question was called Dmitry and its wrecking took place only five years prior to Stoker's visit, so the event would have still been fresh in the locals' memories.
So, the real-life 'Dmitry' out of 'Narva' was transformed into the 'Demeter' out of 'Varna' and became the ship that ferried Dracula to England's shores. The fearsome dog legend of the Barguest, recounted above, might have provided an idea too, as the Vampire Count assumed the form of a beast similar to the Barguest when he first arrived in Whitby, jumping from the stricken ship.
Stoker also took inspiration from the now weather-beaten and jauntily-angled tombstones in St. Mary's Churchyard, with some of the epitaphs recorded in ten pages of his notes and providing character names, both major and minor (such as John Steward which became Jack Seward).
Even the very name of Dracula was discovered in the old library where Stoker found William Wilkinson's verbosely titled An Account of the Principalities of Wallachia and Moldavia with various Political Observations Relating to Them.
While browsing its pages, a passage caught Stoker's eye:
"[In] the year 1444; when Ladislas King of Hungary, preparing to make war against the Turks, and engaged the Voivode Dracula* to form an alliance with him."
And the accompanying footnote:
"*Dracula in the Wallachian language means Devil. The Wallachians were, at that time, as they are at present, used to give this as a surname to any person who rendered himself conspicuous either by courage, cruel actions, or cunning."
From then on, the iconic character that had before been named Count Wampyr now became Count Dracula.
The Dracula that William Wilkinson wrote about was, of course, Vlad III, Prince of Wallachia,and the Dracula epithet meant 'son of the dragon' rather than 'devil' (Vlad Tepes' father was named Vlad II Dracul of the Order of the Dragon). Vlad III would be given another nickname during his lifetime: Vlad Tepes—or Vlad the Impaler in English—for his habit of, well, impaling people.
Whitby's strange and spooky stories don't stop there: there's Hob, a short, hairy and ill-tempered elemental spirit of some kind that deflates car tyres, "makes motorists skid and changes signposts around"; according to Anthony D. Hippisley Coxe in Haunted Britain, there's a decapitated phantom that wanders along a route between Prospect Hill and Ruswarp with its head under its arm; and a ghost called Goosey who haunts somewhere between Sleights and Ruswarp (quite a large area).
Goosey, "a simple fellow", once was challenged to eat a whole goose in a single sitting. He won and thus earned his moniker. He was later murdered. Whether the crime was related to the challenge is unclear—in fact, most details about Goosey are unclear. Finally, a strange, intangible mist has been sighted drifting down the West Cliff. Nobody knows what it could have been.
What is utterly tangible is the 'Hand of Glory' in Whitby Museum—perhaps a little too tangible for some people. For the Hand is exactly that: a real human hand, severed at the wrist.
The legends say that a Hand of Glory must come from a hanged man—an executed criminal—and its lifeless fingers bent to grip a candle made from the fat of the same man. In some places, the hair of the man was thought to be necessary to form the wick. The candle was then lit and would do several things for the bearer: send those around it into a deep slumber, unlock any doors that might bar entry to the holder of the Hand and, of course, light the way: an excellent tool for would-be burglars.
Whitby's Hand of Glory is a mummified example where the fingers are not coiled around a candle, but outstretched with the idea that the fingers would be lit instead of a central candle. It is thought to be the only one of its kind in existence and was found walled up in an old cottage in Castleton. It was then donated to the Museum in 1835. To illustrate an example of the Hand's use, the Museum offers this story, first published in Edwin Sidney Hartland's English Fairy and Folk Tales.
While some of Whitby's many tales must be taken cum grano salis, the town is undeniably rich in folklore almost to a degree beyond compare, and it unquestionably deserves its high status amongst the country's most macabre and mysterious sites.
MATT FORDE has written copy, scripts and poetry. He is the author of many short stories, a novella or two, both Eerie Britain books and countless published articles. To date, he has written two short films. When not writing, he enjoys history, reading and house-training his toddler. His books, Eerie Britain and Eerie Britain 2 are available from Amazon.