"Walking into the Tower within Dreel Halls is like a Step back through the centuries," says ALLY REID, in this exclusive extract from The Haunted Scotland Cookbook (including recipe!)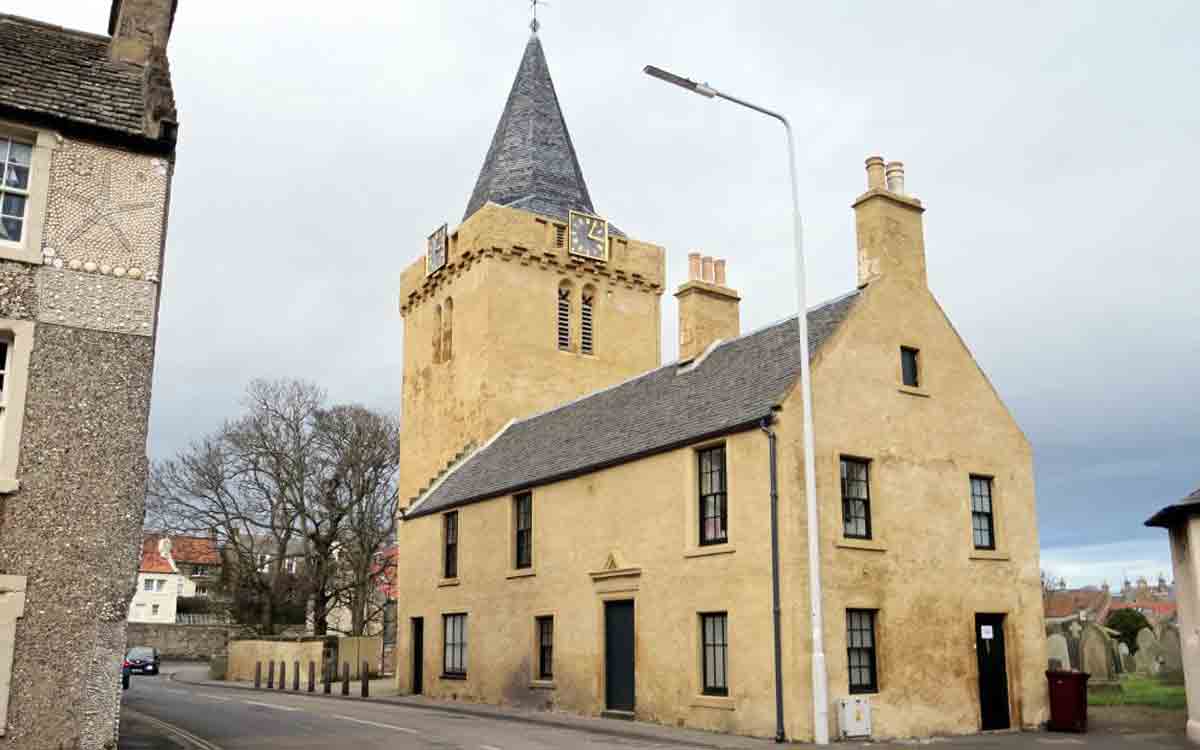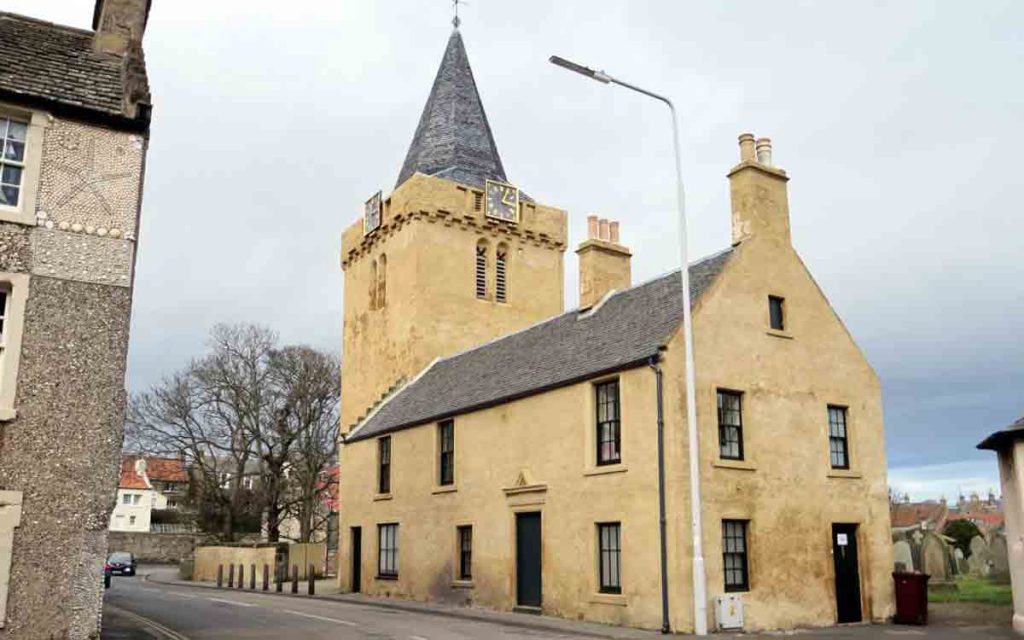 The Dreel Halls sit on the shorelines in the heart of Anstruther, Fife, Scotland. There has been a parish church sited on this historic and holy site for at least 10 centuries!
This site was first dedicated to St Ethernan of May; his name was later Latinised from Ethernan to Adrian.
Saint Adrian was believed to have been murdered by Vikings around circa 870. Local legend has it that his body floated across the sea from the May Island in a stone coffin and landed on the shores that the Dreel Halls now sit.
His coffin is still visible today in the graveyard sited beside the Dreel Halls and is visible through a glass lid chamber. It's believed he might have also been a bishop of St Andrews, he is commemorated on 3 December. Very little is known about the life of Ethernan or Adrian but he may have been an Irish Monk or Bishop. He possibly left St Andrews to seek the hermitage he preferred and set up new monasteries including on the May Island. He possibly fled St Andrews during the Viking raids, which would eventually catch up with him, and his monasteries on the island where the Vikings would slaughter the entire population and leave the Island abandoned for centuries.
The land the Dreel Halls now sit developed out of many other churches. One of the original churches was founded and built around the time of 1243. The church was extremely large and was sited over the existing graveyard we see today. The original church tower had a brazier that blazed on the roof to navigate ships into the harbour shores: this was one of the first of its kind in Scotland. It was later replaced with a replica tower on May Island. Damage followed the church in a fiery sermon from notorious preacher John Knox in 1559. It also suffered vandalism from English soldiers in 1651. During a horrific storm in 1670, part of the surrounding grounds gave way and made the harbour unusable.
Without the harbour, the importance of the burgh declined and the church was gradually made much smaller but it remained in use. The surrounding graveyard still contains much interest in Scottish history. Although much smaller than its original size, noticeable gravestones and burials can still be found including the grave of George Dishington, one of a local family descended from King Robert the Bruce's sister. Also buried here is Mathew Forster Conolly a local author, lawyer and was responsible for the first bank to be founded in Anstruther.
The result of the importance of this burial site in previous centuries was that when the Sexton would dig a new grave he could uncover as many as six skulls at any one time. The well was uncovered during excavations and building work in the 19th century. The Dreel Halls is now in community ownership and is used for many social events and clubs its currently in phase two of its refurbishment and is due to reopen in late 2019.
It's, therefore, no surprise that the land and building hold so much energy for potential paranormal activity. Saint Nicholas Tower within the Dreel Halls has seen its fair share of activities. During recent research and investigations, Scottish Paranormal found an interesting witch connection. It was our very own Gregor Stewart who would first visit the Dreel Halls on business to do a historical talk in early 2016. Greg asked out of curiosity if he could place one of his devices at the top of the 16th century tower to see if he could record any possible paranormal activity.
With a fully charged battery, he placed his device down and pressed record only to return a slight time later to see the device completely drained of energy and no evidence captured. This is a common occurrence in the field of paranormal research. It played on Greg's mind for the next couple of years until one day Ryan O' Neil was driving past and mentioned the Halls to Greg. It was then that Greg decided we would try contacting the Trust to allow us access to the ancient church site.
We would not be disappointed – upon entering the 16th century tower, you are blessed to see the original stonework and spiral stone staircase. Immediate cold spots, temperature fluctuations, and EMF spike detection hit us. During a live-recorded ICT test communication session using one of our FM sweep radio devices Coultus Box, we had contacted what we believed to be a male spirit. After asking for formal validation and what he did, we would be left speechless and gobsmacked and in stone-cold fear! Bear in mind we had been in the tower and were surrounded with thick stone walls. This made it extremely difficult for any radio reception to be received. The response we would get in a clear broad Scottish accent, "Killed her" confirmed our beliefs that a young accused witch had been held within the towers cells and murdered by this man.
For the rest of the investigation, we would feel the energy of an intimidating presence surrounded by mixed emotions of fear and extreme sadness. It's believed that up to three known accused witches had been held at Dreel Halls during the notorious Scottish witch trials of the 16th century onwards. Further analysing and research followed this investigation and we would find the following names who we believe might have been held in the tower at the Dreel Halls. They are as follows: Agnes Melville, circa 1594; Agnes Anstruther, 1613; Isobel Dairsie, 1643; and Elizabeth Dick, 1701. During further research and communication, we heard words such as "witch", "prick" "marks" – all words used during the witch trials. We also believe there to be a young child present, along with a former minister who is still perhaps performing his ceremonies. Records state that Anstruther Western Tollbooth was, in fact, the Dreel Halls.
I've decided with the "East Nuek of Fife" being so famous for its fishing that it's only right I do a fish-based recipe with fish being also smoked locally what better way to celebrate a recipe of such localness, fresh and homely
This recipe was created and inspired by Alister Reid in dedication to St. Adrian and the accused Witches of Anstruther West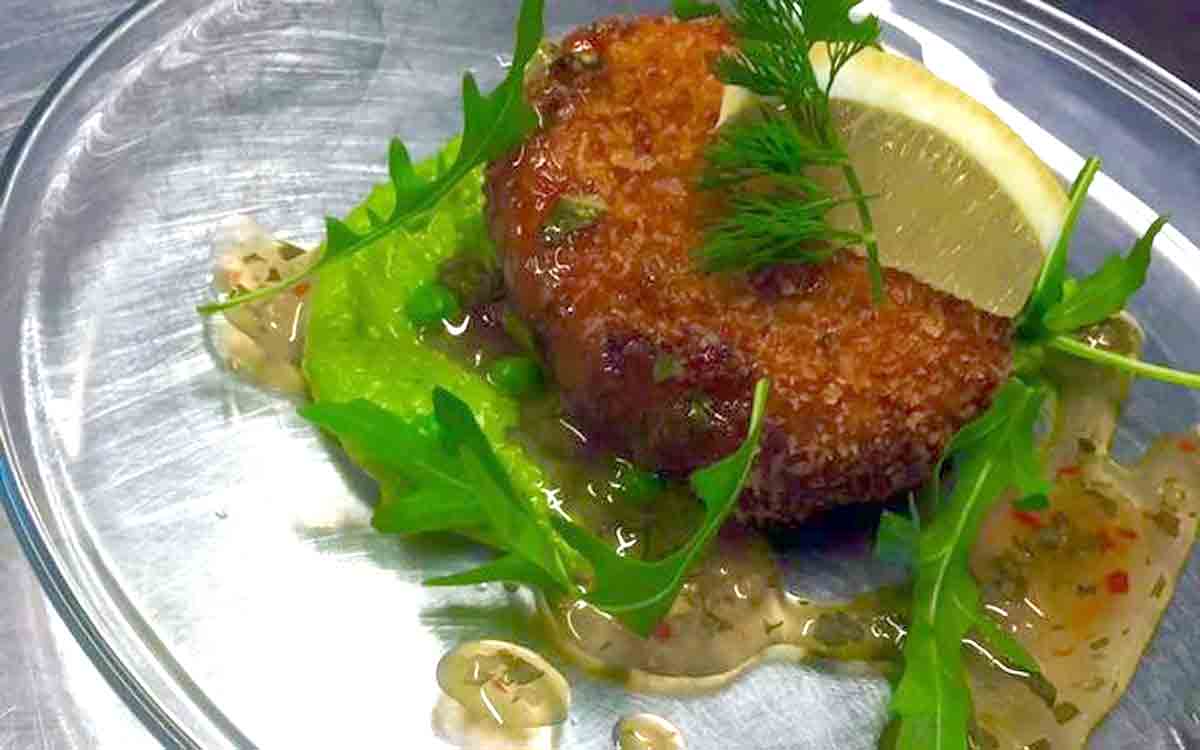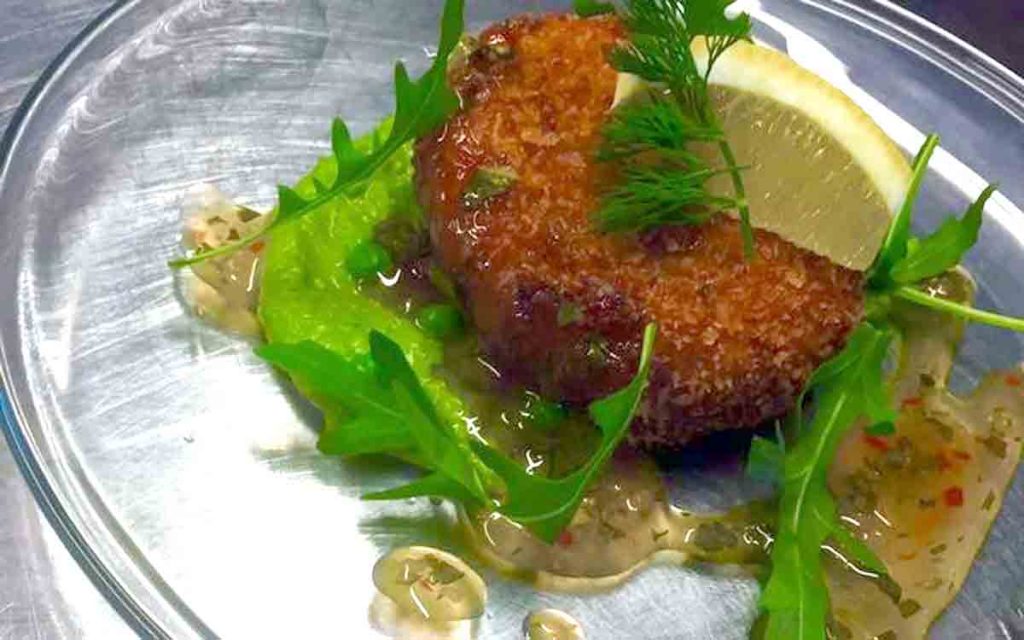 Recipe: The Dreel Halls Fishcake
Ingredients
400g Dry Mashed Potatoes
150g Natural Boneless Smoked Haddock
100g Fine Diced Onion
Handful Chopped Chives
1 Sliced Spring Onion
2 Large Free-Range Egg
400g Fresh Homemade Breadcrumbs
Vegetable Oil
Unsalted Soft Butter
1 Organic Lemon
Salt And Pepper
Plain Flour
Method
In a pan place the haddock fillets and cover with milk or bring to a gentle boil then turn off the heat but leave the fish to cool in the liquor.
Place the potatoes in a pan and cover with cold water and a pinch of salt.
Bring to a gentle boil, boil until tender and a knife goes through them then drain and place back in the pan.
Over low heat, allow some more of the moisture to evaporate add in salt and pepper, a generous amount of butter and some of the liquor you have cooked the fish in – adding this maximises the flavour then mash until smooth! Set aside until needed later.
Sweat the finely diced onions with a little butter and vegetable oil until translucent and beginning to brown turn the heat off and add in the haddock breaking it up into flakes, then add in the sliced spring onions, chives.
Gently beat up one egg then add into this mix and combine.
Squeeze some of the lemon juice into the mix and then in a large bowl combine the mixture with the mashed potatoes.
Add some plain flour and mix until you can mould a round shape to your size requirements, set on a tray and place in the refrigerator until firm. Get three trays and place some plain flour in one and the bread crumbs in another. Beat the egg with some milk and place it into the other tray.
Lightly roll the fishcake in the flour, shaking off any excess and dip into the egg mixture and then the breadcrumbs until evenly coated.
Gently heat a frying pan with oil and place in your fishcakes, turning halfway through cooking until golden brown.
Transfer to an ovenproof dish and finish in a pre-heated oven at 180℃ until cooked through and piping hot, then serve with a nice salad and a soft poached egg or with some crushed peas and chilli sauce.
You can get your copy of The Haunted Scotland Cookbook here.