Reading Time:
4
minutes
BARRY McCANN loves to be beside the seaside on these five English most haunted piers….
Walking Britain's Victorian Piers is an atmospheric experience in itself. Isolated from the reassurance of dry land and surrounded by sea that laps beneath the decking under your feet. Little wonder that Piers are a magnet for lost souls, both in life and death.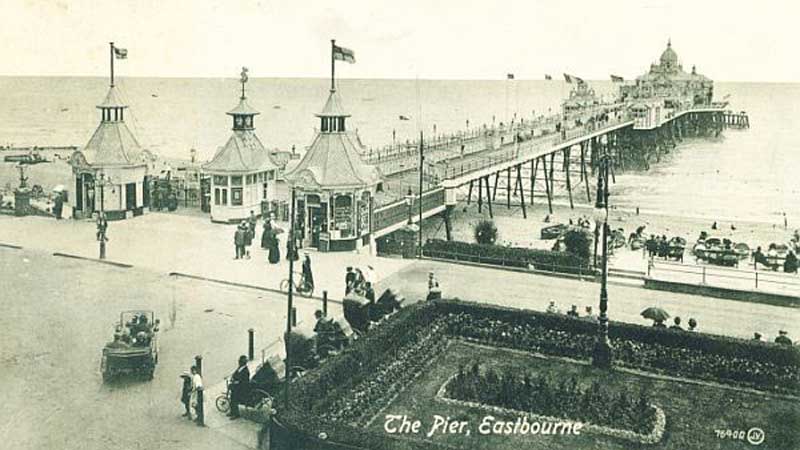 Haunted Piers in England
Clevedon Pier
The Somerset coastal town of Clevedon has been dubbed the "ghost coast" because of a number of strange and unexplained sightings. Not surprisingly, its Victorian pier is the centre of many of them.
A ghostly figure has been seen walking through locked gates without triggering off the security light and witnessed halfway down sitting on a bench or stood while mumbling incoherently in the corner of the pavilion.
Anglers have also reported glimpses of an apparition staring out to sea. Jack Hulbert testified to how he once came on the pier at 4.30 in the morning and approached the end to see the figure of a person learning on the railings looking out to sea. Assuming it to be a fellow fisherman he walked but the figure had disappear red without trace. Mr Hulbert commentated "It was definitely the definition of a person wearing dark clothes but I couldn't see whether it was a man or a woman."
There are theories the ghost could be that of an old fisherman, or the spirits of departed who's loved ones have thrown their ashes off the pier. Pier mistress Linda Strong once confessed "Clevedon Pier is quite an eerie place to be when you are on your own, you get a sense of a presence."
Eastbourne Pier
Eastbourne Pier was opened by Lord Edward Cavendish on 13 June 1870, though not actually completed until two years later, On New Year's Day 1877 the landward half was swept away in a storm and was rebuilt at a higher level. A 400-seater pavilion was installed at the seaward end in 1888, later replaced by a 1000-seater theatre and bar in 1899/1901.
During the early hours of one morning in 1983, a workman was in the bar area when he was approached by a tall ghostly apparition dressed in a black cape and trilby hat. Other night watchmen have reported strange banging noises in the bar and doors opening on their own. Some have even had plates and pots thrown at them.
Cromer Pier
Cromer Pier was originally a jetty built in 1391 and replaced in 1822 with a 210ft long cast iron pier which lasted 24 years before being destroyed in a storm. A wooden structure replaced it until 1897 when damaged beyond repair after by collision with a coal boat. In 1902 a new 450ft pier was built with a pavilion at the end, which was replaced in 1955 after damage from gales in 1953.
It is the Pavilion Theatre that is said to be haunted. A few performers have reported seeing the late Irish impresario Dick Condon on stage next to them. Visitors and staff have also witnessed the ghostly figure of a man in a tall black hat, with black hair and ashen face. There has been poltergeist activity in the bar with glasses being moved or smashed, and further claims of eerie sounds in the theatre's corridors including a woman's laughing and singing.
Mediums have even claimed to have communicated with spirits dating back to the 1300s when the original pier was first built!
The West Pier, Brighton
Brighton's West Pier opened in 1866 and was extended in 1893, with a concert hall added in 1916. Though attracting millions in its heyday, the pier's popularity declined after World War II, and concerts were replaced by a funfair and tearoom. Increasing maintenance costs became too much for its owners and it closed in 1975. Though it is the first Grade I listed pier in Britain, it has since become derelict.
The pier is apparently haunted by the apparition of a gaunt, pale girl in tattered clothing who is glimpsed on the seafront, on the pier and huddled in doorways, but vanishes when coming into full view. One reported encounter from the 1990s involved a group of beach bonfire party revellers who were using the then derelict Brighton bandstand to relieve themselves, until one man ran from behind the stand, screaming in terror. Once calmed, he claimed the spirit of a young girl suddenly manifested in his peripheral vision.
It is believed that she was a young homeless girl who died of a drug overdose during the 1980s. Sad that in spirit she remains homeless.
North Pier, Blackpool
Originally opened on 21 May 1863, the first of Blackpool's three piers has undergone enlargements and refurbishments since. These include the end of pier theatre opened in 1874, twice since rebuilt following fires. A number of apparitions have taken up residence in there, including a female ghost said to object to people sitting in her seat by banging and shaking its base.
A mysterious man has been seen walking the corridor behind the seating area and it may be him thought to haunt one of the dressing rooms, with artists reporting a sense of unease and not being alone, and unusual coldness even in the height of summer.
On one occasion, Danny La Rue was in the dressing room with his costume assistant when they both heard the door opening and closing. But no one entered and nobody was in the corridor when they checked.
Closer to the pier entrance, a middle aged Victorian lady has been seen sitting on a bench and sometimes rising to then seemingly float along the pier decking before disappearing. She is described as wearing a long grey skirt, short jacket, scarf, hat and carrying a parasol. She has also been seen in the sun longue at the end of the pier and even sat on one of the horses on the carousel.