Reading Time:
7
minutes
SELENE PAXTON-BROOKS explores the spooky side of Eastbourne in East Sussex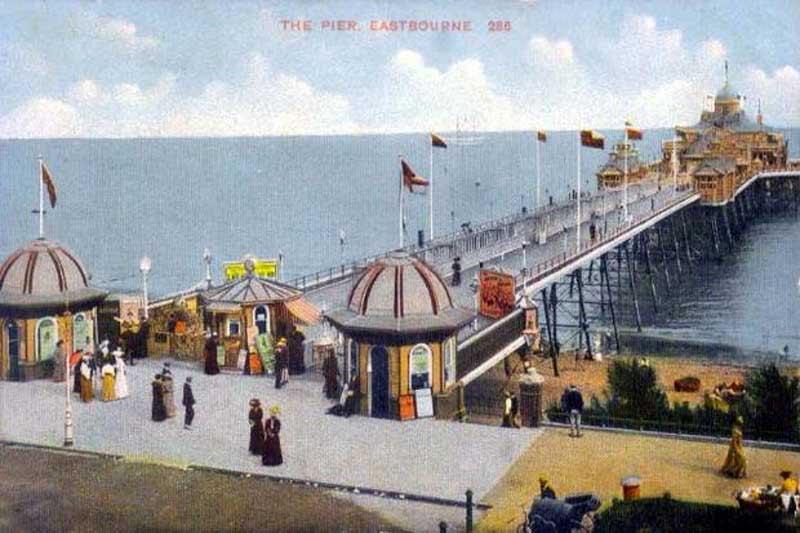 For many centuries the now-thriving town of Eastbourne was not much bigger than a village.
After it was granted permission to hold markets in 1232, it gradually grew into the popular seaside resort we see today. It flourished in the 19th century, as did many other towns and villages along the south coast, due to the perceived health benefits of taking the sea air and the new Victorian phenomenon of a beach holiday away from the increasing industrialisation of major cities.
Eastbourne was inundated with visitors once the railway reached it in 1849, and as holiday makers needed to be entertained grand hotels, theatres, ballrooms, a pier and an abundance of shops sprung up to cater for the town's popularity. It is in many of these beautiful buildings and surrounding areas of outstanding natural beauty that both locals and visitors alike came but never left…
The Royal Hippodrome Theatre, Seaside Road, Town Centre, Eastbourne

This beautiful Victorian theatre, built in 1883 as the New Theatre Royal and Opera House, was refurbished in 1904 and renamed The Royal Hippodrome Theatre giving holidaymakers the opportunity to revel in its Music Hall and Variety show traditions, which are still going strong here today.
Being the oldest theatre in town it has seen many famous performers walk its boards, with the likes of Harry Houdini (who at the time made a sensational escape from Eastbourne's police cells), Harry Secombe, Ken Dodd, Bruce Forsythe and a plethora of well-known theatrical personalities playing here over its 130 years.
During WWII the theatre was closed as it sat in what was at the time called 'Hellfire Corner', where German bombs caused devastation but amazingly the theatre survived with only the loss of some of its original ornate plaster mouldings. Steeped in so much theatrical history it's not surprising that spirits don't want to leave its euphoric atmosphere and more than one ghost is said to haunt the building.
Behind the scenes, down in the ladies' dressing rooms, soaking up the hustle and bustle of excitement before and after a performance, the spirit of a young well-to-do girl has been seen sitting quietly watching the actresses as they prepared their costumes and make-up ready for the show.
This is said to be Emily Fogath, the daughter of one of the original theatre managers, who spent many a happy day trying on glittering costumes and spraying herself with exotic perfumes surrounded by performers ready to spoil a pretty twelve year old girl enthralled in their craft.
She is seen in the Victorian attire of rich deep blue velvet dress, frilly petticoats and patent leather boots, with her hair in long ringlets and gives off a calming aura to nervous actresses, who have never reported her as a frightening ghost. Poor Emily died of bronchitis, but returns to the place she loved to spend time, remembering the pleasures if the theatre.
The auditorium and stage are also said to be haunted.
Witnesses have seen a woman seated in the grand circle, others just seeing a dark silhouette watching out over the stage. People have reported suddenly being pushed and hearing movement whilst standing on the stage, could this be the presence of long dead actors waiting for the public to leave so they can once again entertain the masses during its glory days of old?
Eastbourne Pier, Grand Parade, Eastbourne
Eastbourne Pleasure Pier opened ready for the summer season in June 1870, even though it wasn't fully completed for another two years.
Walking along the promenade you can imagine the holiday-makers strolling out on the 1000 ft (approx. 300 m) long pier, taking the air and enjoying the delights of the paddle steamers that ran trips along the coast and even over to France. For such a beautiful construction it has had its share of modification over the years, beginning with a rebuild right from the start when, on New Year's day 1877, half of it was swept away during a storm.
However, it seems that there has always been a theatre come nightclub situated on the pier, originally a 400-seat building finished in 1888 to the present 'Atlantis' Bar rebuilt after a fire in 1970.
It is here that a black phantom is said to frighten staff or workmen who inadvertently get in its way, and also the ghost of an army officer, who leans on the iron railings for a smoke only to walk back into the nightclub through its wall instead of the door.
Read more about haunted Victorian piers here!
Beachy Head near Eastbourne
These dramatic chalk cliffs that rise up to 530 ft (162m) from the English Channel can be reached by foot and road to the west of Eastbourne town along the coast.
There have been countless sighting of wayward souls reported here, and on visiting you can feel the pull of the sea and the vast skies that take your breath away. The feelings of sadness and loss are huge, especially when encountering markers of remembrance for those that have chosen to end their life here.
It is reported that some 20 people a year commit suicide by falling from the cliffs' edge, where it is said an invisible, malevolent presence wills people to take a step to their death. Several independent witnesses have seen a white 'misty' figure, whilst others have said they were approached quietly by a black robed monk, who points to the edge, willing them to walk over the cliff.
As suicides have been reported here since the 1600s, could there really be demonic spirits and evil elementals roaming the cliffs, prompting and tempting those already feeling lost to take their own life? Does the devil sit waiting to welcome the unsuspecting to their doom?
Some people believe so and exorcisms have been performed here to try to remove these evil entities from the area.
Some of the other ghosts seen here are; a female figure dressed in Victorian clothes who walks towards the edge and then disappears, a farmers wife carrying her baby in her arms walking along the cliff edge, a grey lady who spooked a walker's dog when she leant over to stoke it and then disappeared in front of the man's eyes.
Read more about Beachy Head here.
Southern Water's Treatment Works, Prince William's Parade, Eastbourne
It's relatively rare to find serious reports of haunting in today's modern press, but on 15th February 2008 'The Daily Mail' reported on strange goings on at the sewage works along the front to the east of Eastbourne, close to Sovereign Harbour.
Finished in 1997, it was one of the first treatment works to be built underground, and consists of 140m of reinforced concrete tunnels.
Staff have seen, heard and felt the presence of something in the tunnels that cannot be explained. Mark Wey, one of the workers at the plant, was so disturbed by what was happening that he got permission to call in parapsychologist and medium, Michael Kingscote, who visited the tunnels.
Michael felt that there was definitely something strange happening on the site, but found it hard to come up with anything substantial as he found that there are strong electro-magnetic fields running through the tunnels.
Muffled voices have been heard behind workers as they work, and there is a strong feeling of being watched.
Workers reported heavy metal doors moving on their own and say that they have photographic evidence of a shadowy figure that can't be disputed.
Towner Art Gallery, Gildredge Park, Old Town, Eastbourne
This beautiful 240 year old manor house was opened in 1923 as the town's art gallery following the death of John Towner, who left 22 paintings and large some of money.
It sits in eight acres of park land and in its day was one of the finest Georgian buildings in East Sussex. The gallery flourished but as time moved on the Council decided to move the gallery to a new building, leaving the now dilapidated manor house in a state of disrepair.
But this building that has been left to decay holds a secret that has puzzled local archaeologists… what stood here before and why are there medieval masonry marks in the building's cellar?
However, there are other questions that this house offers us. Strange noises have been heard coming from the old building and why was the bathroom sealed-off when it was turned into the Gallery?
Staff who worked at the gallery often reported a strong smell of horses in the cellar, which was at the time was used as storage, even though it was well over a hundred years since horses had been anywhere near the building.
And footsteps were heard upstairs when the building was closed to the public, sometimes even snippets of a conversation could be heard.
It seems a shame that, what once was a glorious manor house, has now been left to fade away with so many questions unanswered, but then… maybe that's just how the ghosts like it.
Have you seen a ghost in Eastbourne? Tell us in the comments section!
Watch Eastbourne Ghosts on Film