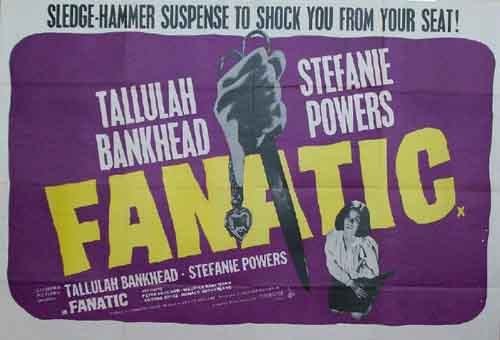 TITLE: Fanatic (US TITLE: Die! Die! My Darling!)
YEAR RELEASED: 1965
DIRECTOR: Silvio Narizzano
CAST: Tallulah Bankhead, Stefanie Powers and Peter Vaughan
PLOT: A young woman is terrorized by her fiance's demented mother who blames her for her son's death.
FUN FACT: The producers considered replacing Tallulah Bankhead during filming when she became ill and was unable to work. However, Bankhead put up her salary for the film as a guarantee she'd finish if she wouldn't be replaced. This was Bankhead's final film.
140-CHARACTER MINI-REVIEW: Fanatic 1965 – This Richard Matheson-penned thriller is over-the-top but has awesome cast.
BUY FROM AMAZON: Click here