Reading Time:
4
minutes
Fearless Vampire Killers 1967 is Roman Polanski's affectionate parody of British horror – review by JAY HOLLIS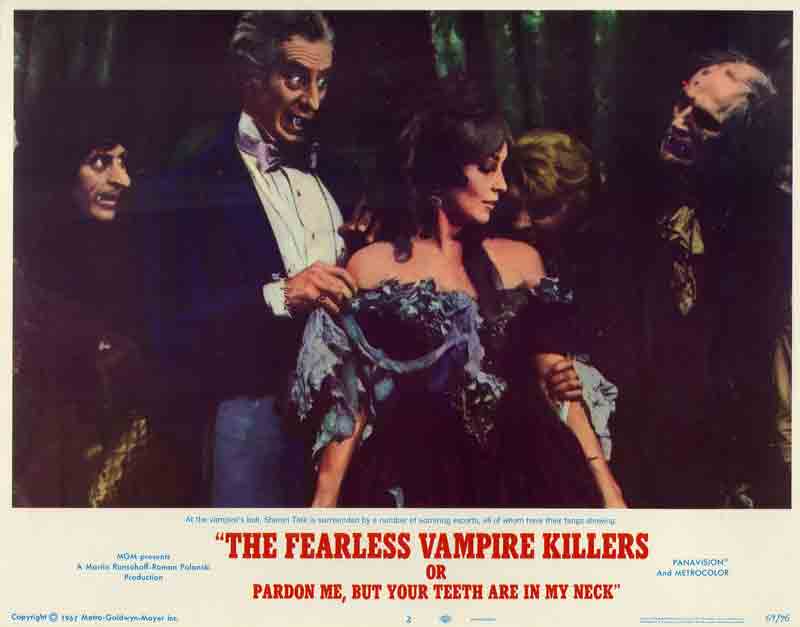 TITLE: The Fearless Vampire Killers
ALTERNATIVE TITLE: Dance of the Vampires (or Pardon Me But Your Teeth Are In My Neck)
YEAR RELEASED: 1967
DIRECTOR: Roman Polanski
CAST: Jack MacGowran, Roman Polanski, Sharon Tate, Ferdy Mayne, Alfie Bass
I was about nine or 10 years old when I first watched this film, or most of it, and I have been in love with it ever since.
I was at a New Year's Eve party at my aunt and uncle's house and it was all very boring for me, lots of adults talking about adult things, until I found that a television was on in one room and nobody was really paying much attention to it.
I had seen a few Hammer horror films, even at that young age, and my favourite ones were the Dracula films, but I hadn't seen this one before – it was different.
It wasn't a Hammer film but it looked like one, but it was funny.
Parody of Hammer horror vampire films
Roman Polanski's affectionate parody of British vampire films has a British supporting cast with the leads played by international artists.
It tells the story of two vampire hunters; Professor Abronsius, played by Jack MacGowran and his inept young assistant Alfred, played by Polanski, whose quest to track down and destroy vampires leads them to a remote Transylvanian village high in the Carpathian mountains.
The inn where they are staying has garlands of garlic hanging everywhere and this is enough to convince Abronsius that they have found what they are looking for but the innkeeper Yoine Shagal, played by Alfie Bass, is dismissive.
However, that all changes when Shagal's daughter Sarah, played by Sharon Tate, is abducted by Ferdy Maine's vampire Count von Krolock later that night.
Shagal's attempt to rescue his daughter results in his own death and eventual vampiric transformation leaving Sarah's rescue, and the salvation of the village, to those best suited to the task – our two fearless vampire killers.
The only trouble is, they're not particularly well suited to the task of killing vampires.
Fearless Vampire Killers, an affectionate exploration of vampire clichés
Polanski explores all the clichés that we know and love from the Hammer classics and the earlier Universal films, which themselves feed on traditional vampire lore, and cheekily turns them on their head but the humour is always affectionate rather than disrespectful.
Although never laugh-out-loud funny, except perhaps for the scene in which we discover that not all vampires are repelled by crucifixes (Shagal is Jewish), there is an entertaining thread of silliness throughout that doesn't lessen its impact as a horror film.
Whilst it would be considered very tame by today's standards it stands up well alongside its more serious contemporaries.
There are a number of things that make the film work for me, apart from the fond childhood memory.
Alfie Bass performs his role as only a comedy genius of his calibre could and the chemistry between MacGowran and Polanski makes for a wonderful comedy double-act that is a pleasure to watch; the professor is indeed as fearless as the film's title suggests but he is also a bumbling old fool masquerading as an expert, whilst poor Alfred's constant fear is only allayed by his unrequited love for the beautiful Sarah.
And the film is as beautiful to behold as its female lead.
Polanski's film colour film
The Fearless Vampire Killers was Polanski's first colour film and he makes full use of a sumptuous palette, especially in the climactic ballroom scene where you can almost forget that the room is full of vampires until all eyes fall upon the vast mirror that lines one end of it.
Every shot and camera angle is carefully considered, as you might expect from Polanski, but there are a number of images that stick in the mind; the MGM lion at the very beginning of the film transforming into a green cartoon vampire, snowflakes fluttering down over Sarah as she dozes in her bathtub, Professor Abronsius stuck halfway through a tiny window attempting to instruct Alfred on his first solo vampire staking, Kukol, von Krolock's hunchbacked servant using a coffin as a toboggan in pursuit of our heroes through the snowy landscape and Alfred finally getting the girl of his dreams.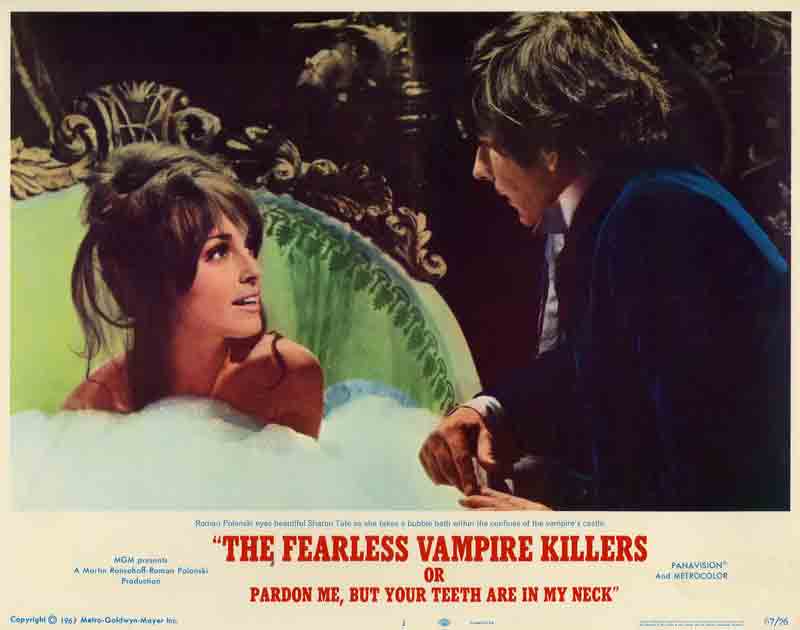 There are a number of shots where the camera slowly pans away from the action and for me, the most effective of these is when Abronsius and Alfred are led up the staircase to their sleeping quarters in von Krolock's castle and the camera lingers on some disturbing family portraits of the Krolock family on the staircase wall.
But none of this would work were it not for the films outstanding soundtrack by Polish jazz pianist and composer Krzysztof Komeda, whose score sets the film apart from its contemporaries with its unique style, at times whimsical and at others jarringly disconcerting.
Impressive scare from Krzysztof Koemda
As much as I love the Hammer films of the period, I find that their film scores all sound very similar and serve only to underline the action on screen, which is of course the fundamental purpose of a film score.
But there are individual sections of Komeda's score that leave a lasting impression long after hearing it.
I'm sure the film has its critics but the only criticisms I have concern a small number of post production edits that are quite crudely done.
Two of these involved speeding up the film, not for any comedic effect it would seem, but simply to decrease the scene's length. But these are easily overlooked.
What does strike me whenever I watch this film, or even just think about it, is the terrible loss caused by the murder of Sharon Tate (and her and Polanski's unborn child) at the hands of the Manson Family just two years after this film was released.
Krzysztof Komeda also died the same year (1969), aged just 37, after an accident at a Hollywood party, and Jack MacGowran succumbed to influenza four years later, aged 54.
I think The Fearless Vampire Killers 1967 is a fitting tribute to all three lives cut so tragically short.
The Fearless Vampire Killers 1967 Trailer
What do you think of The Fearless Vampire Killers 1967? Tell us in the comments section below!