Reading Time:
4
minutes
MJ STEEL COLLINS notes the supernatural qualities of Scotland's bagpipes and the spirits who play them…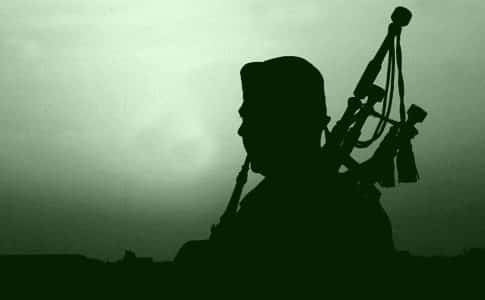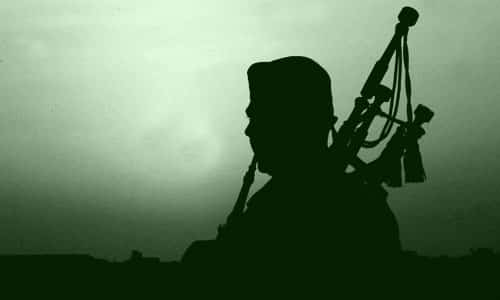 Pipers and their bagpipes are disliked by some of the Scottish population by virtue of the ear-splitting din they create. For other Scots, they are a symbol of national pride, perhaps exuding a hint of come and take us if you can. Soldiers sent forth in battles, skirling away, certainly gave the enemy a turn by all accounts. And the tourists lap them up. Love them or loathe them, pipers are heavily woven into the fabric of Scottish history and legends – though as will be seen, it's perhaps advisable to keep them away from mysterious caves and tunnels, especially if you want to keep them.
MacCrimmon and the Piper's Cave
On the Isle of Skye, the MacCrimmons were renowned as pipers, running a Piping College at Borreraig on the island. There are a few legends as to how the MacCrimmons obtained their talents. One story has it that a MacCrimmon was Piper to MacLeod of MacLeod, though not particularly fantastic. He had a small coterie of students, one of whom was his son. One day, they were excited to hear that MacLeod was looking for an Assistant Piper, and the students knuckled down to practice in the hope of being chosen.
Young MacCrimmon was desperate to get the job, but his playing left a little to be desired. He decided to practice on a wee grassy hill at Borreraig, overlooking the Loch. But he was getting nowhere fast, and threw his pipes down in a huff, throwing himself into the heather, bawling in frustration. The grassy hill opened, and a beautiful woman walked out, asking what the matter was. MacCrimmon poured his heart out to her. Thoughtfully, she asked, "What would you rather be – pipe badly, but be seen as great, or be a great piper, but unrecognised?" The lad thought it over, and replied that he would like to be a great piper, but thought it was unlikely to happen.
The woman handed him a silver chanter (the part through which pipers blow and play notes), and told Young MacCrimmon to play. He did, and it was the greatest music he had ever heard. "When you are happy, everyone will dance," said the woman, "and when you are sad, they will all cry. When I call you, wherever you are, you must come. Is that agreeable?" Young MacCrimmon stated it was, and went on to impress MacLeod of MacLeod, becoming a renowned piper. In time, he married, had a family and established a dynasty of legendary pipers.
Eventually, the Fairy Woman called him, and MacCrimmon went to the cave at Harlosh. He went into the cave, playing the pipes using the silver chanter. He was accompanied by his terrier. His family had come with him, and could hear his piping until they reached the Fairy Bridge, when it stopped. The barking of the dog continued and was followed to the Golden Cave, at Dhubaig, from which the dog shot out of, bald as a coot. The story is told by Otta F Swire in Skye: The Islands and its Legends.
The Piper Of Coll Ciotech
Rather more grisly than bald dogs is the story of Coll Ciotech's piper, but it's also a tale of loyalty. It took place at Duntrune Castle, located on the north side of Loch Crinan in Argyll. It's believed to be the longest continuously occupied castle in Scotland, having being built in the 12th century, now owned by Clan Malcolm. In the 17th century, it was home to the Campbells. At the time, Coll Ciotech had landed in Scotland from Ireland, and wreaked havoc as his army marched through the Highlands. The Campbells were Coll Ciotech's sworn enemies, and he wanted to destroy them and those associated with them.
At Duntrune, Ciotech decided to spy on the Campbells, and sent in his piper. The Campbells were immediately suspicious, and locked the piper in a tower room. One thing they neglected to do was remove the man's bagpipes. The piper wanted to warn Coll Ciotech of the fortified state of the castle and the strong army backing the Campbells, but was at a loss as to how to do so. Through the window of his cell, the piper saw Ciotech begin to advance on Duntrune, so took up his pipes and played a Pibroch, a warning. Ciotech's forces retreated, and the Campbells were furious. They chopped off the piper's fingers before killing him. The piper's ghostly skirling could be heard at Duntrune for years, and a fingerless skeleton was found behind the wall when the castle was being renovated years later. The resident clergyman gave the skeleton a Christian burial, thinking that would lay the ghost, but it was still active as late as the 1970s.
Never Send A Piper Down A Tunnel
One thing in Scottish lore that becomes clear is that it's never a good idea to send a piper down a tunnel to see what is there. Tales of pipers going down tunnels never to be seen again are ubiquitous to the point it seems like it's a hobby with the piping profession. One tale comes from Edinburgh, where a tunnel was found running under the Royal Mile. A piper was sent down, playing his pipes, to see where it went. He could be heard for some distance, and then just disappeared. The road was dug up to see what had happened, but he was never seen again. His ghost is now said to be one of many haunting Edinburgh Castle.
Another disappearing piper tale comes from Culzean Castle (about which more can be read in a previous Spooky Isles article). Ghosts were believed to live in the caves below the castle, and the footprints of them could be seen, reappearing after the tide washed them away. The piper volunteered to go down and scare the spirits away, so down he went, playing very loudly. He wasn't seen again, and it's unclear what happened to him. People say that they can still hear his pipes centuries later, from underneath Piper's Brae.
A ghostly piper is said to be heard playing when the future head of the Kennedy family, former owners of Culzean, is about to marry. The ghost has been seen about the castle, though it's not sure if it's the same piper who vanished in the caves.