Reading Time:
2
minutes
MJ STEEL COLLINS heads back to school to check out the ghosts of Glasgow University's Gilmorehill Campus
The Gilbert Scott building at Glasgow University's Gilmorehill campus dates back to the 1870s, and is said to be the haunt of a Grey Lady.
No one is quite sure just where she came from – descriptions always have her wearing grey, but ranging in fashion from the 19th century to the 1960s.
She has appeared variously as an older woman to a young girl.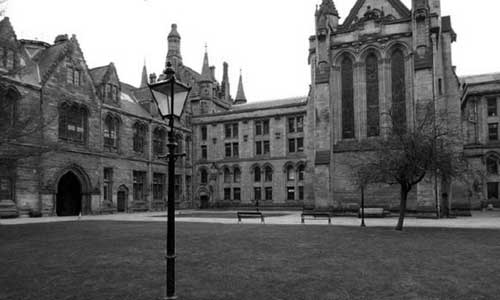 Her haunt is quite a large one, starting at the Pearce Lodge, going through the Gilbert Scott Quadrangles, Undercroft and out via the Lion and Unicorn staircase.
One security guard fruitlessly searched for her after seeing her disappear round a corner at the Undercroft, whilst she gave a secretary a surprise by appearing without warning in the Pearce Lodge.
It has been said of the Grey Lady, one minute you see her, and then you don't.
The Pearce Lodge is comprised of the edifice of the original University buildings, which stood in Glasgow High Street. It's quite a gloomy, dark building, replete with a turret.
It has the ghost stories to match its appearance.
Whatever haunts it has been associated with nasty goings on at the University's first campus – a murder perhaps?
Security staff has reported seeing a strange figure in the second floor window of the turret.
There's also the tale of a student who asked to be locked in a reputedly haunted room all night for a bet.
He had to be let out after being petrified by the sight of books flying around of their own accord.
Needless to say, he lost the bet, and no doubt his bragging rights in the student union.
Glasgow University isn't the only place of higher learning haunted by ghosts. Check out our Oxford's Haunted Colleges article here.
Have you seen a ghost at Glasgow University? Tell us in the comments section below!