Harry Potterphile SARAH BLAIR-DICKINSON headed to London's Kings Cross Station to check out the new shop at Platform 9 ¾
If you're as big of a nerd as I am, you're probably still waiting on your Hogwarts letter and would love nothing more than to prepare for your first day of school at Hogwarts.
Well, you're in luck—at The Harry Potter Shop at Platform 9 ¾ you can at least pretend that you're on your way.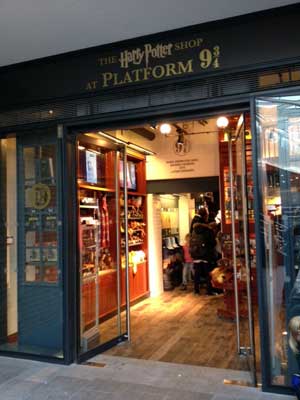 Outside the shop there is a trolley on its way through the wall where you can imagine that you're slipping through the barrier at platform 9¾.
A photographer will snap a pic and have it ready for purchase inside the shop.
Harry Potter Shop can be found at Platform 9 3/4 at King's Cross Station
The shop itself is tucked away in a corner of King's Cross Station.
With its wood panelling, trunks and broomsticks on display and wands stacked to the rafters, it feels like you're wandering into a shop in Diagon Alley.
The shop may be small, it packs in a lot.
You can get entirely kitted out for Hogwarts—you can get your wand, Quidditch outfit, school uniform, and a broomstick.
Even magical pets are available–choose between a stuffed owl, rat, cat or even a phoenix.
And don't forget your train ticket!
One-way tickets for the Hogwarts Express can be purchased as well.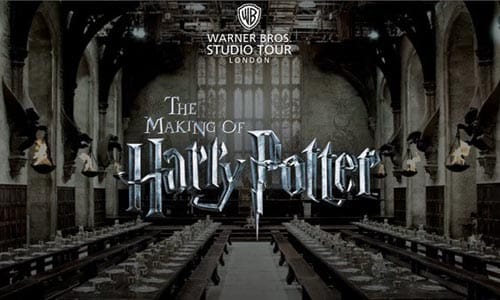 Also available for sale are posters, t-shirts, board games and coffee mugs. Something I found particularly interesting was a collection of horcruxes.
For you hardcore Potter fans, I recommend picking up an artefact box.
Pick your favourite of the trio and buy a Harry, Ron or Hermione box.
I'm not going to give away all the secrets inside, you'll have to go out and buy your own, but rest assured they are collectables you can't get anywhere else!
For example, Hermione's box includes a bottle of love potion or in Ron's box you'll find a Chudley Cannons poster, perfect for hanging next to your four-poster bed in the dorms.
The shop is fun for both fans and tourists and will become a great asset to King's Cross Station.
Out of 10 stars, I give it nine and three quarters!
Inside Harry Potter Shop at Platform 9 3/4