Reading Time:
5
minutes
CLAIRE BARRAND investigates six of the top haunted places to visit in her home county of Monmouthshire, South Wales
The historical region of Monmouthshire sits in South East Wales and is on the border of England. Part of the spectacular Brecon Beacons National Park is in this county, which is awash with legends, folklore, and ghosts. With an estimated 26 surviving castle sites in the county, there are more castles per square mile than in anywhere else in the world.
Shire Hall, 3 Agincourt Square, Monmouth NP25 3EA
A Grade 1 listed building, Shire Hall in Monmouth Town was built in 1724, but on the site, there used to be a smaller timber frame courtroom dating back to the 1500s. It is said to be haunted by numerous ghosts, including a judge seen in his wig and robes, and a mysterious lady who wanders the halls. One evening a caretaker by the name of Tony Mambert, was alone in the building when he witnessed a pair of disembodied legs vanish behind a pillar.
He was also afraid to enter one of the courtrooms at night because he felt he was "being watched." He also heard doors closing when he was alone in the building. There are dungeons in the basement of this historic building, and people feel shaken and terrified when investigating the area. Could it be that the family sentenced to hang for stealing food, and the ghosts of three girls charged with witchcraft still lurk there?
The Queens Head, St James Street, Monmouth, NP25 3DL
This 16th-century building is listed as being the third most haunted Inn in Wales for a good reason! There are some quirky features to the building which include secret passages, hiding places under floorboards and removable sections of the walls. The reasons for this are unknown. Oliver Cromwell stayed here many times, and an assassination attempt on his life was made in this very inn.
The cavalier that took a shot at him was himself shot and killed and his ghost has been seen in cavalier uniform behind the bar, which was the spot he died. A little blond girl in a floral dress is said to haunt here too, and one guest woke up to find her standing at the foot of his bed. Electrical equipment gets interfered with, and objects moved around the bar at night after they close.
READ: How the Welsh bury their dead: Superstitions and death in Wales
The Skirrid Mountain Inn, Llanvihangel Crucorney Abergavenny
There are many articles on Spooky Isles about The Skirrid Inn, and it certainly does warrant its place in the top five, if only for its notoriety. Having investigated this location many times, I can verify that it is an eerie, atmospheric and very haunted building.
There is abundant folklore, and local legend surrounding the Inn, one being the tale that 182 felons were hanged here, despite no records existing to prove this. Nevertheless, the story of former landlady Fanny Price who tragically died age 35 of consumption in 1875 is accurate, and her grave is located in the cemetery next to the inn.
I do have confidence that she is one of the many ghosts that haunt the inn and the scent of lavender will often signify she's around. Fanny had 5 children one of who was also called Fanny and is registered on the 1891 Census as being a barmaid aged 18. She would have been only a toddler when her mother died. Slow, measured heavy footsteps are heard in the bar from above which is bedroom one, and the stairs have a dark energy, where shadows and a black mist are seen.
Llanvihangel Court, Llanvihangel Crucorney near Abergavenny, Monmouthshire NP7 8DH
This incredible Tudor estate has a rich tapestry of history and its origins go back to the 15th century., Owned by Earls and MPs, the building has seen much of life in the high society circles of the time and entertained many royals. The oak staircase is said to feature "dark sinister-looking blood stains" and to quote a legend, because of "a quarrel, of drawn swords, of a swift thrust and the thud of a falling body". There are two ghosts here, A White Lady is known to walk through the hall at night, descend the steps to the terrace and walk into the woods (named Lady Wood).
In the 1950s the owner of the house reported that as the clock struck 1am an inner door opened and closed on its own followed by the opening and closing of the exterior door. Another time he heard a bloodcurdling and prolonged scream coming from the woods. Human remains were discovered in the last century here with a bullet lodged in its ribs. Another bizarre sighting was "a little green man with green eyes" seen by a young visitor in the White Room.
Raglan Castle, Raglan, Monmouthshire NP15 2BT
One of the last castles to be built in Wales, this late medieval castle is dated between 15th and 17th century although some historians suspect a much earlier motte and bailey castle once stood here. Today the castle ruins are open to visitors, and there are many local legends and castle ghosts. During the Civil war, a librarian working in the castles spectacular library was said to have hidden volumes of precious books within a secret passageway under the castle, but they were never found. Visitors to the castle have reported seeing a man in Shakespearian type costume.
A young girl in 2001 on a school trip was severely shaken up after she saw a strange man beckoning to her, from the dark corner of where the library once stood. But nobody else was there. He is thought to be the ghost of the librarian still guarding his books. In 2016, a local woman took a photograph of her family smiling and looking down at her from one of the towers, but when she uploaded the picture, she was shocked to see the ghostly figure of a man stood behind them with hollowed out eyes.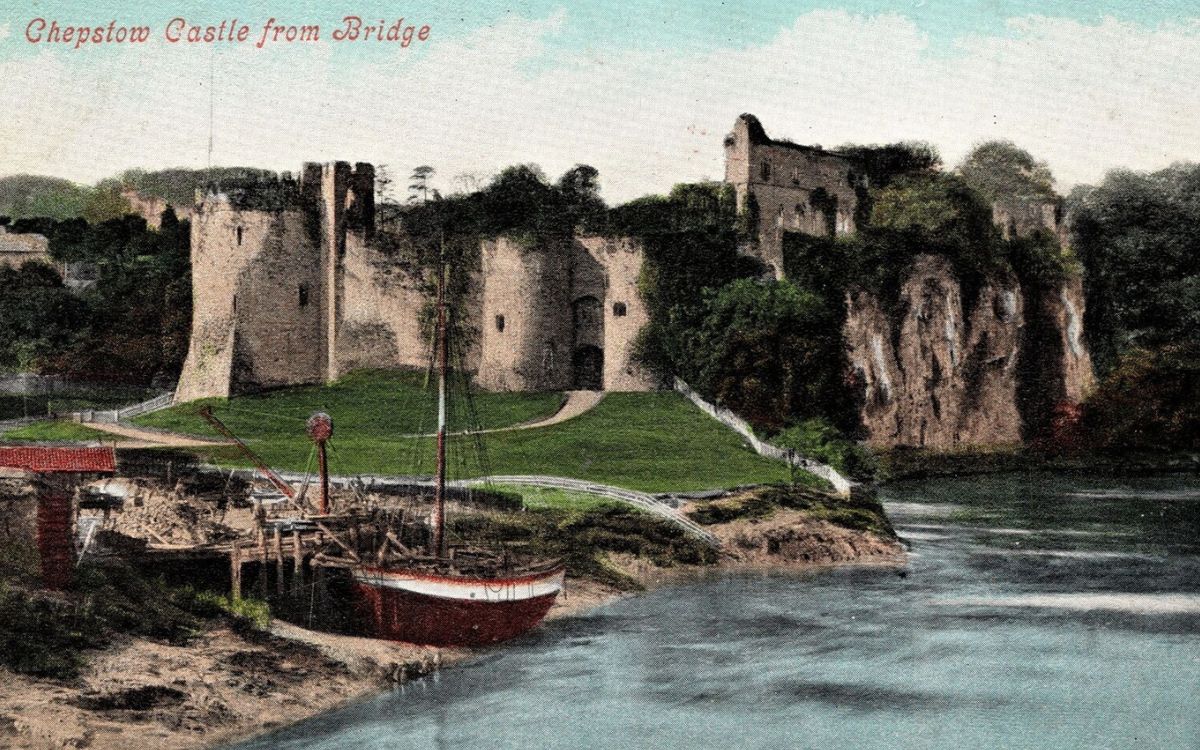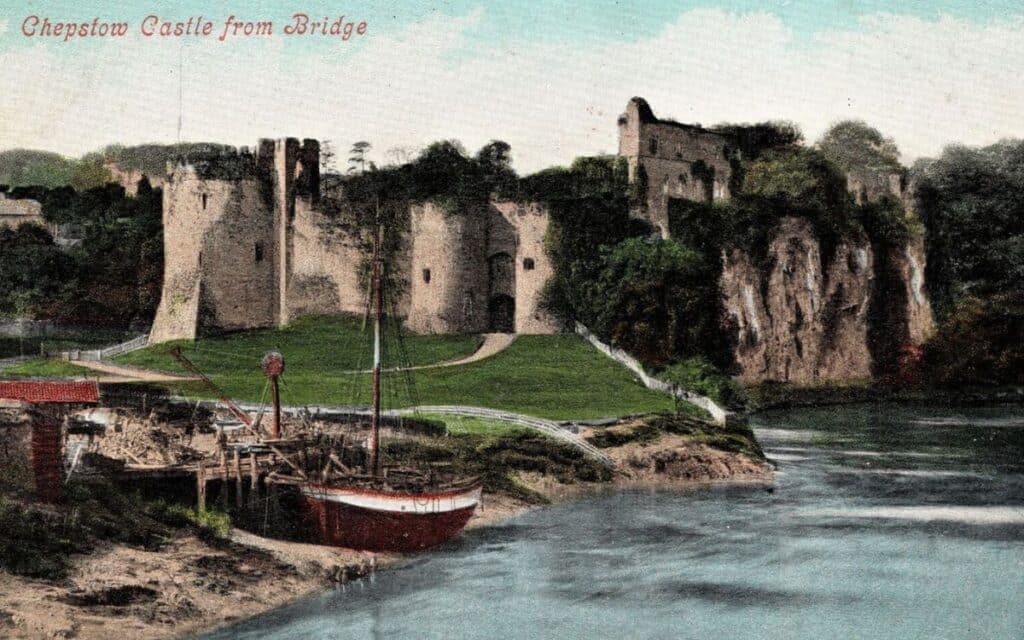 A formidable Norman Castle which sits high up on the banks of the River Wye which began its life a year after William the Conqueror was crowned King of England. The Great Hall is the oldest surviving castle in Britain dating to 1067.
Rich in history it was besieged during civil wars in 1645 and 1648 and used as a prison. Charles 1st was detained here before his execution by beheading in 1680.
There is little doubt that many ghosts roam here. One legendary story is that of a man who was exploring the caves under the castle when he saw the ghosts of King Arthur and his knights. He made noise which made them all look up at him, and he ran!
Read more about Chepstow Castle on Spooky Isles
Have you seen a ghost in Montmouthshire? Tell us in the comments below!