Reading Time:
3
minutes
CLAIRE BARRAND looks at the five most haunted places to visit in Aberystwyth in Wales…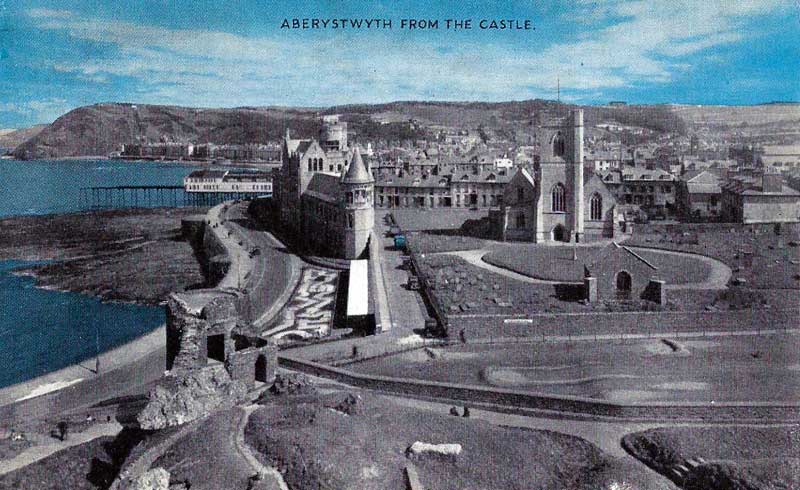 Aberystwyth is a coastal Welsh town rich in supernatural tales, from the folklore of King Arthur, mermaids, cryptids to ghosts. Britain's most feared big cat was reported here in Pontrhydfendigaid and dubbed "The Beast of Bont".
It was a mysterious creature that killed over 50 sheep in one year and despite the police coming in, nothing was ever found.
Folklore also tells the tale of a headless dog – once said to have belonged to a giant that ran so fast he decapitated the dog and its ghost now haunts Penparcau.
Nanteos Mansion, The Trawscoed Road, Aberystwyth
This imposing Georgian mansion is approached through a creepy dark wood. Legend says that seven monks took refuge on this site, with the Holy Grail in 1539.
The woods are haunted by the music of harp player Gruffydd Jones, the ghost of a man who tragically drowned in the lake is seen on the grounds. The spirit of Groom William Griffiths, who was brutally murdered by the Head Gardener with a rake in 1782, has been seen lurking in the shrubbery. Of course, no mansion is complete without a grey lady, and Nanteos is no exception.
The ghost of Elizabeth Owen is said to wander the house looking for jewels that she hid on the night of her death. In 1930s, a guest proclaimed he had passed a female apparition carrying a candlestick on the stairs and he died that same evening suddenly. She has been seen many times around the house. There are countless ghost stories to recite, enough to fill a book! For this reason, Nanteos Mansion is well worthy of a visit.
Constitution Hill, Cliff Terrace, Aberystwyth
Constitution Hill is a beautiful walk situated at the northern end of Aberystwyth promenade, which overlooks Cardigan Bay in Ceredigion, Wales, and this area is are often linked with the supernatural activity. A woman dressed in Victorian clothes is seen wandering here, and when approached she vanishes over the edge of the cliff.
Another ghostly woman fitting the same description has been sighted in the direction of Clarach and Clarach Bay where she disappears into the woods. Who is the mysterious lady that haunts Constitution Hill and what secrets hold her lost soul to this area?
Mermaid, Aberystwyth
I cannot write about supernatural events in Aberystwyth without mentioning the Mermaid. In July 1826 a farmer from Llanychaiarn walked to the edge of the cliff near his home and saw a woman washing in the sea.
Where she was he realised would be about six foot deep, she looked unusual and was making a strange sound like a sneeze that vibrated around the rocks. He decided to go back to the house to fetch more people to see.
About 12 people gathered with him and watched the woman in awe as she appeared to be whiter than any human they had ever seen with long flowing dark hair. Suddenly she rose out of the sea onto a rock revealing a sizeable black fishtail. The group ran down to the shore only to find she had vanished.
Silver Mountain
High in the Cambrian mountains, those that dare to set up camp here could meet the ghosts of former mine workers said to haunt the creepy forests and abandoned silver mines. This site dates back to 1742 and visitors can access the two original tunnels.
Conditions were harsh, and there will be many souls that lost their lives here on this remote mountaintop site. Could you sleep in a tent and explore the darkest areas at night? Aside from the real ghosts, there are attractions here to delight paranormal enthusiasts.
Recently voted Wales' best Halloween horror attraction two years running, the Terror Mountain experience is an incredibly frightening fantasy and the Black Chasm experience takes you through the darkest Welsh myths and legends, both are rated 12A for a good reason.
Ghostly WW2 Bomber, A44
The road from Aberystwyth to Llangurig passes Pumlumon mountain, and on several occasions, drivers have seen a WW2 bomber flying very low but with no sound. One witness, Paul Jay reported seeing the plane appear so suddenly that he fully expected to witness a crash in his rear-view mirror, but it was gone.
On 11 September 1945, USAAF Lockheed F-5E 44-24229 crashed on Pumlumon Fawr in Ceredigion killing the pilot Second Lieutenant Xenophon Eugenedes. Pumlumon Fawr is the highest hill in mid-Wales.
The aircraft crashed into the ridge leading up to the summit, losing its propellers and hurtled across the valley for about 1km before stopping on the western slopes of Pen Lluest-y-carn. The wreckage remains there today.
Have you seen a ghost in Aberystwyth, Wales? Tell us about it in the comments section below!