Reading Time:
3
minutes
CLAIRE BARRAND chooses five of the most haunted places to visit around Rhyl in North Wales…
The historic seaside town of Haunted Rhyl in North Wales has long been a favourite tourist spot for visitors thanks to its long sandy beaches, but there is much more to this heritage town than just the sea.
The birthplace of Ruth Ellis, night-club hostess and murderer, and the last woman to be hanged in England, there are many ghosts and hauntings within the town and should you be considering a paranormal road trip to the area, Claire Barrand has pinned the top five most haunted places that you can visit today.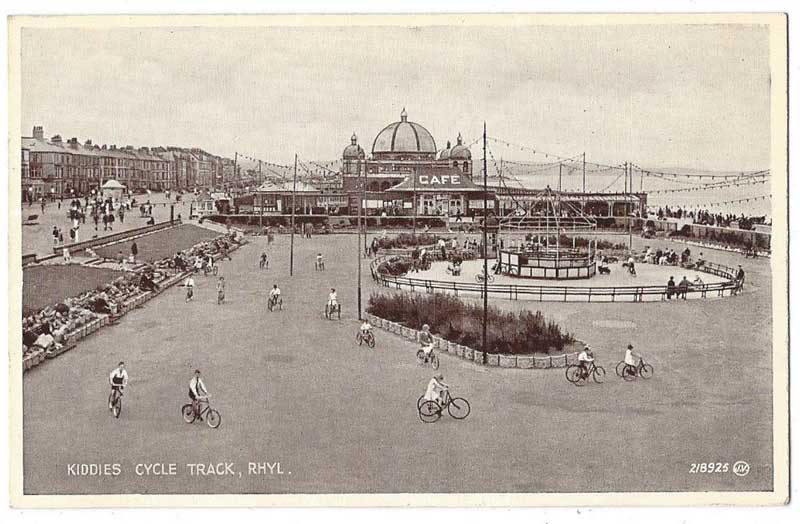 Rhyl Town Hall, Wellington Road, Rhyl LL18 1BA
This incredible grade 11 listed French gothic style building was opened in 1876, and inside it held offices, a fire station, storage rooms, a soup kitchen, a dining hall, a bank, corn exchange auctioneers and a farmer's market.
There has as you can imagine been an incredible amount of activity over the years bringing with it human tragedy, tales of sorrow and decisions made here will have had great significance on the town of Rhyl.
Bodelwyddan Castle, Rhyl, Denbighshire LL18 5YA
With over 600 years of history, which includes the grisly discovery of human bones found in 1829 concealed within a wall behind a fireplace it is little wonder that Bodelwyddan Castle visitors report many ghostly sightings.
Ghostly children have been heard playing, and people in the toy room have felt their clothes tugged at by invisible hands.
The Blue Lady has been sighted several times, she wanders the Sculpture gallery in a flowing blue dress and has been seen walking through a wall.
A shocked security guard found himself looking at a pair of Disembodied legs with gold buckles and white stockings as he opened a door from the entrance hall.
And a soldier is said to haunt the property. Perhaps this is a throwback from when the castle was used as a military hospital in the first world war?
Set in parkland with epic views towards the Clwydian hills, Rhuddlan Castle and the Irish Sea this is one setting you will not want to miss with so many exciting stories to be discovered it is no surprise that the ghosts do not want to leave!
Gwyrch Castle, Abergele Road, Abergele LL22 8ET
Built between 1819 and 1825 this castle has witnessed a lot of historical events.
Reports of visitors seeing the apparition of the Countess of Dundonald who was the last resident at the castle until she died in 1924 are frequent, and her signature scent of violets can be smelt when her presence is around.
Recent restorations of the castle are said to have stirred up paranormal activity with an increase in sightings of a white lady in the garden spooking visitors and dogs.
One poor dog was so alarmed it jumped and fell 50ft over a tower but miraculously survived. A gamekeeper is said to be another familiar ghost here.
Paranormal teams have caught evidence of shadows and light anomalies and recorded many EVPs, and they say unusual EMF readings are also common.
The Little Theatre, Vale Road, Rhyl LL18 2BS
This building was established in 1944 by actor Joseph Holroyd.
The Theatre was considered a flagship and attracted many glittering stars in their heyday including Richard Burton, Sir Harry Seacombe, and Nerys Hughs.
With theatre always comes drama and there are many backstage stories to be discovered, the spirits of the building are said to be incredibly active with countless strange paranormal encounters being reported over the years.
The dressing rooms are supposed to have a presence and visitors feel like they are being watched.
Shadows and taps and odd light anomalies are often captured, and the theatre is a popular venue for paranormal teams today.
The White Lady of Prestatyn
The Rhyl coastal road between Rhyl and Prestatyn is said to be haunted by a famous ghost, so often has she been seen here she is one of the area's most famous spirits.
She is said to haunt the promenade and walk alone, keeping her distance from unsuspecting tourists out for a stroll.
She is seen wearing a white flowing dress and has been witnessed near the Nova Centre and Lido Caravan park as well as on the coastal path.
Some people say she is a nun and appears to be reading a bible.
One man from Rhyl was walking his dog many years ago and claimed she suddenly appeared before him.
His dog was terrified and refused to move, so he picked it up, only for the ghostly apparition to begin walking towards him, causing the dog to leap out of his arms and run away whimpering.
Legend in the area is that the White Lady threw herself into the sea and died and is trapped between worlds unable to rest in peace.