Guest writer LOUISA OAKLEY GREEN tells the spooky tale of a Surrey couple who encounter a ghost at a Bath hotel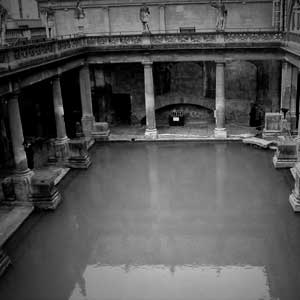 It's often said that service isn't what it used to be, but examples can still be found of hospitality employees who go above and "beyond" in their attention to customers. This story from my book is one of them.
Daphne and Les, who live in Salfords, Surrey, were staying at a Victorian hotel in Bath, England.
Bath, best known for its natural hot springs, has attracted visitors for centuries as far back as the ancient Romans around 50 AD. It has apparently also employed hospitality staff for almost as long.
"We only stayed there one night," she said. "It was an old hotel. I went to bed, fell asleep, and woke up in the early morning." What she saw when she opened her eyes startled her, and put a new spin on room service.
"A figure was standing next to the bed, dressed in a maid uniform, holding a towel over her arm, and looking down at me. She was fortyish in age." The matronly woman stared quietly at Daphne as if awaiting orders. Panicked, Daphne switched the lights on and the woman immediately vanished.
"I left that light on," she added. "I remember thinking it was a kind way that she was looking at me, like a mother looking at a child. But I didn't like seeing somebody in my room that shouldn't be there. I swear I wasn't dreaming. I know what I saw, and I definitely saw that woman."
Certainly, no one could fault the maid for her dedication to duty!
Interestingly, Daphne's story is not all that unusual. What struck me, while interviewing people for the book, was the commonplace nature of the paranormal. It seems exceptional because it's not always discussed. Perhaps that's because those who experience such events fear exposing themselves to ridicule or simply dismiss their experiences as nothing special. In Daphne's case, although she has frequently experienced paranormal events throughout her life, her husband, Les, hasn't nor does he believe in such things.
People who shared their paranormal tales in my book ranged in age from 11 to 99 years, and hailed from all walks of life, from school teachers and nurses to the CEO of a company. What I learned, from listening to their stories and recording them, was that paranormal occurrences are by no means limited to the domain of historic venues and New Age mystics. To the contrary: They're everyday occurrences, happening all around us, requiring only an open mind to be seen.
LOUISA OAKLEY GREEN didn't believe in psychic phenomena when she met her husband, Stephen. But more than twenty years later, her views have changed. Her book, Loitering at the Gate to Eternity, chronicles her journey from skeptic to believer through more than 100 paranormal stories involving her husband, his family, and friends. For more information on her new book, visit www.psychicbystander.com.