Reading Time:
4
minutes
In winter the nights are long, the driving rain, fog and darkness a hindrance for motorists and pedestrians alike. There is nothing that leaves you feeling more alone and apprehensive than a dark, stormy Irish road, devoid of streetlights and fellow travellers. Of course even on the most solitary of journeys and isolated of roads you are not always truly alone as ANN MASSEY has discovered with these spooky roadside ghosts!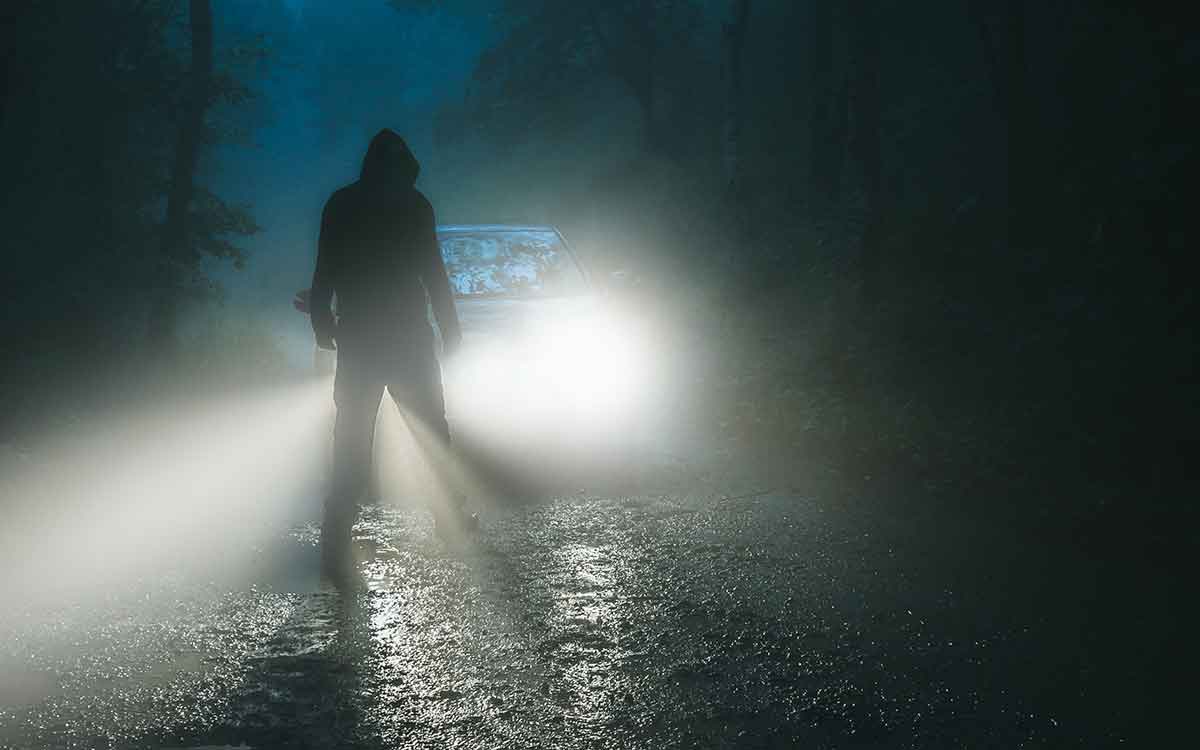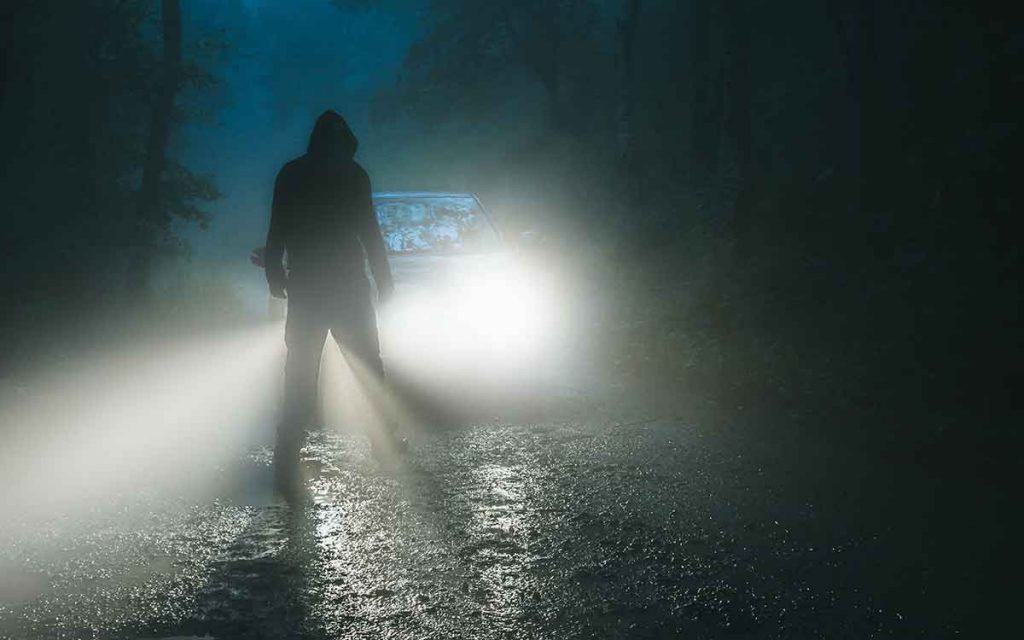 Here are some roadside ghosts from Ireland
Newcastle West, County Limerick
In 1950 a young Lizzy O'Connor and her friend Birdie were walking home along a dark country road returning from town. There were few houses built at that time and as they approached the first gateway between fields, they were startled to see a stranger in a large Crombie style coat and Fedora hat leaning against the gate, propped up on a cane. He nodded as they passed and as they continued they could hear him behind them, walking with a half step and the tapping of the cane on the road surface.
They were unconcerned until such time as they reached the next house entrance and the man was there once more. Terrified they ran screaming and Lizzy's cousin came out of his cottage in his pyjamas and jumped on his bicycle. He cycled up and down the road immediately but nobody was there.
College Lane, Clane, Kildare
Witnesses have reported driving along College Lane and past Clongowes Wood College in the dark, only to be forced to swerve and hit the brakes as a child appeared on the road in front of them. Terrified they had hit the youngster; each driver would exit their vehicle and approach the spot to find that the child had completely disappeared.
Since the 1860s, pedestrians have been living in fear of the spectral apparition of a former lock keeper who would appear on the bridge. He would menacingly try and disorient walkers by creating a swarm of light to blind them and it is believed several people have fallen to their deaths in the icy waters because of it.
Bealad to Clonalkilty Road, County Cork
Up until the end of the nineteenth century, men were terrorized by a female phantom known as Gaolai. Her attack route formed a triangle from Bealad to Bandon to Clonakilty and she would target lone male riders. Gaolai would leap from the roadside onto the backs of the horse and then would grapple with the men, trying to strangle them, at which point she would disappear. Finally she was banished by a local priest.
Road between Clough Mills and Wilton Castle, County Wexford
Captain Archibald Jacob was a fierce and violently tempered man whose reputation had locals in fear. While riding along the road from Clough Mills to Wilton Castle, Captain Jacob was thrown from his horse and his neck was broken instantly. Terrified pedestrians and drivers alike have seen the angry spectre, broken neck clear to see, marching around the road, no doubt looking for his horse to chastise.
Annagh to Channeleen, County Cork
Local Trust records in the area report of a cyclist being chased by a male figure in white, who when challenged, refused to speak. Terrified, the cyclist screeched to a halt, pulled the lamp off his bicycle and threw it at his ghostly pursuer; only for it to pass right through and the man disappear before the startled cyclist's eyes.
Emyvale Street, Monaghan, County Monaghan
Locals have been moved and chilled in equal measure at the sight of an elderly male apparition wandering Emyvale Street at midnight. He is heard to be calling out for 'Mary', believed to be his wife who was mugged and killed in the 18th century on that very street.
Droumanallig to Ballingeary Road, County Cork
Less than half a mile from Ballingeary, a demonic female spirit would terrorize travellers by stepping from the shadows in front of them and demanding the answer to a riddle. Those who failed were killed outright, perhaps by fear, or by the deathly demonic hand of the phantom. Locals remained fearful until one man known as Michael Creedon solved her riddle and banished her to hell.
In the 1980s a woman and her son were driving home late at night from a relative's house and passed out two elderly ladies at the side of the road, just before the local graveyard. They thought it was strange for the women to be out in the elements and in the dark so late, but thought no more of it. As they drew level with the cemetery, the car lost power completely and came to a standstill. After a few minutes the vehicle restarted and the journey was continued. On the other side of the graveyard, some half a mile, stood the same two women, staring into the car as it drove past.
Blackwater Bridge, between Sneem and Kenmare, County Kerry
Residents and visitors alike have reported witnessing headless apparitions for more than two hundred years, but none more terrifying than a local man trying to deliver a message to a resident across the bridge. As he attempted to cross, the man was attacked by an entity and he was powerless to defend himself. As he prayed and prepared to meet his maker, he glimpsed further along the bridge and saw a giant man with no head, run along and up the cliff side. The entity left the man in pursuit of the headless being and both faded into the night. The headless ghost is still seen to this day.
That said, not every terrifying roadside encounter is necessarily supernatural, as one poteen filled local discovered cycling back from Castletown to Castlemahon in County Limerick. The young man was peddling through the dark and winding lanes where he came upon an enormous demonic and hairy creature in the middle of the road.
Terrified, he jumped from his bicycle, wheels still turning on the road and ran screaming for some six miles that he had come face to face with the Devil himself. The young man's brother got into his car and sped back to the location, to find the upturned bicycle being inspected by a large and somewhat bemused cow!
Have you seen a roadside ghost in Ireland? Tell us about it in the comments section below!