Reading Time:
5
minutes
Delve into the chilling depths of five haunted Ireland military bases. Guest writer TERENCE O'REILLY tells us about where spectral soldiers roam, ghostly apparitions terrify and unsuspecting souls encounter the supernatural.
Collins Barracks, Dublin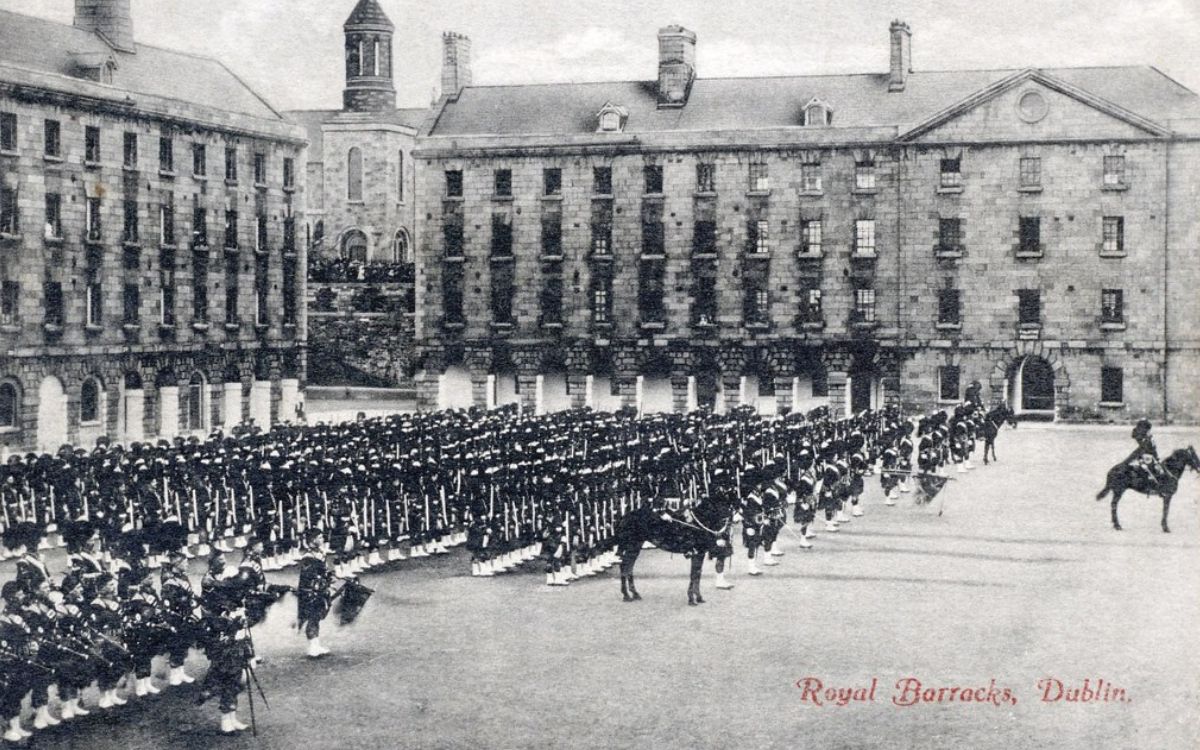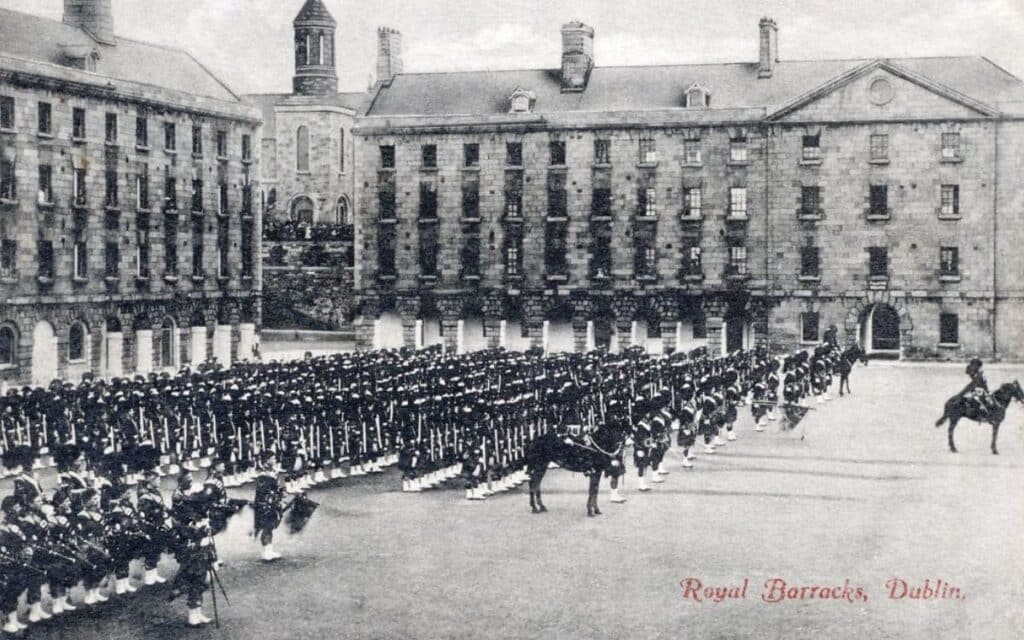 Now the National Museum of Decorative Arts, Collins Barracks dates back to 1702 and was home to both British Forces and Irish Army Garrisons. When it was handed over to the Irish Free State in December 2022, it was renamed from the Royal Barracks to Collins, after Michael Collins, Commander in Chief.
The Christmas 1925 edition of the Irish Army newspaper "An t-Óglach" included a light hearted short story of an Irish Army officer on duty in General Headquarters in Parkgate encountering a legion of phantom British soldiers preparing to follow their corporeal cousins "back to Blighty."
Other accounts include sightings of a few spectral British soldiers remaining, a most notable one being the First World War "Quartermaster" who is alleged to still haunt the east wing of Collins Barracks.
Spike Island, Cobh, County Cork
Under the provision of the 1921 Anglo-Irish Treaty Britain retained naval bases in Cork and Donegal; one such was Spike Island in Cork Harbour which had a tradition of an apparition in British military uniform with gaping sockets instead of eyes. 
When these "Treaty Forts" were handed over to the Irish government in 1938, the newly installed Irish garrison on Spike Island evidently inherited the phantom. Female visitors to the Officers Mess were warned of the "Gaunt Gunner" as he was now known and on at least two occasions sentries were alleged to have fired on the terrifying figure at night.


Hazelwood House, County Sligo
Ireland remained neutral during the Second World War (known in Ireland as "The Emergency") but greatly expanded its Defence Forces which by 1941 had attained a strength of 38,000 volunteers. To prevent overcrowding in existing barracks and to disperse forces, the Irish Army requisitioned a number of stately homes around the country.
One such was Hazelwood House, the magnificent Palladian mansion on the shores of Lough Gill in Sligo, which was occupied by the 12th Cyclist Squadron in the summer of 1940. According to Trooper Neville, "Like all the stately homes, ours had its resident ghost and perhaps would have it still had not an over-conscientious sentry fired a shot.
Our Adjutant gave us a lecture on ghosts and the reasons for such a presence. Tyrant landlords, it seems, had caused young maid servants to jump from second floor windows to escape a fate worse than jumping from the third floor!" 
This would appear to be very much an export of the Coolmoney House legend which I shall reveal soon! Many troops, however, were unaware of this tale. An officer found an altogether more sordid explanation for the haunting in the form of an item of female apparel in the vicinity of the 'manifestation'. The ghost did not reappear and it was noted how despondent the young garrison was as a result!
Irish Military College, Curragh Camp, County Kildare
A feature of military accommodation is the higher than usual likelihood that an individual might find himself living in a room where a tragic death has occurred. One can only wonder at the subliminal psychological effects of such a situation. In the middle of what is otherwise a most sober account of an author's time as an NCO instructor in the Irish Military College in the 1950s appears the following tale:
"I entered into a dream-free sleep, but when I felt someone sitting on the side of my bed I was suddenly awakened. My first inclination was to sit up, but my body refused to respond to orders. I was frozen with fright, and only my eyes could move. The room was dark, so dark that I knew the door was not open and that the window was untouched… 
"I was getting a little worried by then, especially as I could feel the very slight movement which was 'normal' when someone was sitting on a bed. My mind went over my movements before retiring and I was certain I had turned the key in the lock before going to bed. Again I strained my eyes to look at the window and again I was satisfied that it had not been touched… Then I felt movement and my intruder apparently stood up. But before I could take advantage of the movement I felt 'him' place his foot on the bed and climb up. I could even feel 'him' place his hand on the bed to assist him to stand on the soft surface and then turn outward while still standing on the edge. 
"There was a pause then, which seemed to be, in some strange way, fraught with expectation. Then suddenly he was gone, and I was immediately set free… With the speed that danger, a high degree of training and the strength of youth imparts, I was out of the bed, had my rifle in my hands held in the attack position, and I had put the light on and turned to confront the intruder. There was no-one there, and a swift but complete search disclosed no sign of anyone having been there. The window was untouched and the door firmly locked."
Subsequently it was established that an officer conscripted during The Emergency had been assigned that particular bunk. He was charged with embezzling funds from the Mess and a subsequent Court Martial found him guilty, He was dishonourably discharged and sent to pack and return his kit. Instead he hanged himself from the light fitting. The room is now used as an office.
Rockhill House, Letterkenny, County Donegal
Bundoran native Declan O'Carroll compiled a history of the Rockhill House in 1998, after being a member of the Irish armed forces for a number of decades, He felt obliged to include a chapter on the "Blue Lady", the ghost closely associated with the building. A sprawling mansion built in 1824, its strategic location near Letterkenny and suitability as military accommodation led to it being contested and occupied during the Irish Civil War, used as a barracks again during the Emergency years and again following the outbreak of violence in Northern Ireland in 1969. 
From 1921, its occupants told numerous stories with several supernatural but familiar themes including a nervous sentry firing a shot and a room haunted by a female phantom, subsequently kept under lock and key. As noted by Lt-Col O'Carroll: "There are many more accounts which give credence to the popular opinion that some influences are abroad in the House and so it is left as a matter of private conjecture. 
However, I could not establish anything to link the "Blue Lady" with either Ards or Rockhill. None of the Stewarts died at Rockhill and stories as reproduced above cannot be confirmed from family histories."
That said, so many serving soldiers have claimed to have encountered what is described as the friendliest ghost in the country! After renovations once the soldiers departed, Rockhill has become a luxury hotel and has a room you can stay in called The Blue Lady room. 
Have you been to any of these haunted places? Tell us about your experience in the comments section below!