Reading Time:
3
minutes
Lower Quinton Witchcraft Murder: Was witchcraft behind the grisly murder of Charles Walton on a Warwickshire hill back in 1945? Guest writer CLAIRE ATKINSON looks back on the sensational unsolved crime.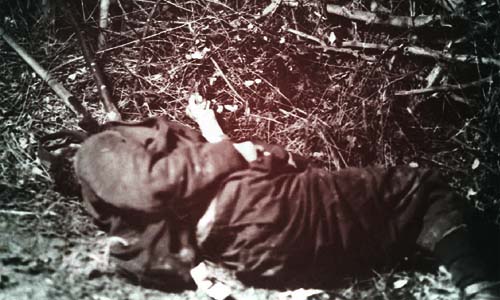 On Valentines Day 1945, Charles Walton left his home in Lower Quinton in Warwickshire to go and tend a fence on the slopes of Meon Hill. Waved off by his niece Edith, Charles made his way to work, with his walking stick, his pitchfork and billhook in hand, never to return.
Edith raised the alarm at 6pm, when she returned home from work to an empty house, after a brief search, they found him on Meon Hill.
His body was pinned to the ground by his pitchfork, the prongs passing through each side of his neck. Deep gashes made by his billhook in the shape of a cross, on his throat and chest, with the murder weapon still embedded in one of the wounds. His arms were covered in defensive wounds as he tried to fend of his attacker.
A police investigation led by Detective Superintendent Robert Fabian, who was the most famous police officer of his day from Scotland Yard, took over the local inquiry when the hunt for the killer hit national headlines. After several lines of enquiry fell short, a local Detective Alec Spooner, who had been following his own research, hinted at a link to witchcraft.
Through Spooner, Fabian learned that an eerily similar murder had occurred in the nearby village in 1875. Anne Tennant had been killed with a pitchfork by a man named John Haywood. In his confession, that had been recorded in the book Warwickshire (1906) by Clive Holland. Haywood promised "that he would kill all the witches in Long Compton, and that there were sixteen of them."
In addition, according to local folklore, in 1885, on nine successive evenings a boy encountered a black dog – a witchcraft symbol – on Meon Hill. On the last occasion the dog turned into a headless woman who rustled past him in a black dress. Next day the boy's sister died. The boy's name was Charles Walton.
It is claimed that, soon after Walton's murder, a black dog was found hanging from a tree close to the murder scene, while Fabian himself wrote that he encountered a black dog while walking at dusk on Meon Hill. He claimed the dog had run past him and shortly afterwards he met a local boy walking in the same direction. He asked the boy if he was looking for his dog, but when Fabian mentioned the animal's colour, the boy turned a deathly pale and fled in the opposite direction.
Charles Walton's watch found by workmen demolishing outhouses
In August 1960, during the demolition of outhouses behind Charles Walton's cottage, workmen found an old tin pocket watch. It was later identified as being the watch that Walton was wearing on the day of his death. Inside of the watch case, a small piece of coloured glass was found. Walton was known to have carried this around with him, never letting it out of his possession. Known as a piece of witch glass, it is used to either reflect or absorb any evil thoughts that had been directed at its owner.
Some 25 years later, Fabien would write in his book "The anatomy of crime":
I advise anybody who is tempted at any time to venture into Black Magic, witchcraft, Shamanism – call it what you will – to remember Charles Walton and to think of his death, which was clearly the ghastly climax of a pagan rite. There is no stronger argument for keeping as far away as possible from the villains with their swords, incense and mumbo-jumbo. It is prudence on which your future peace of mind and even your life could depend.
The Cotswolds and Meon Hill are said to be steeped in witchcraft and Wicca; even to this day campfires can be seen burning on the hill at the solstice and Halloween.
Watch Lower Quinton Witchcraft Murder video
Guest writer CLAIRE ATKINSON is a web developer by day, a graphic designer by night and has a lifetime fascination on anything spooky.