Reading Time:
2
minutes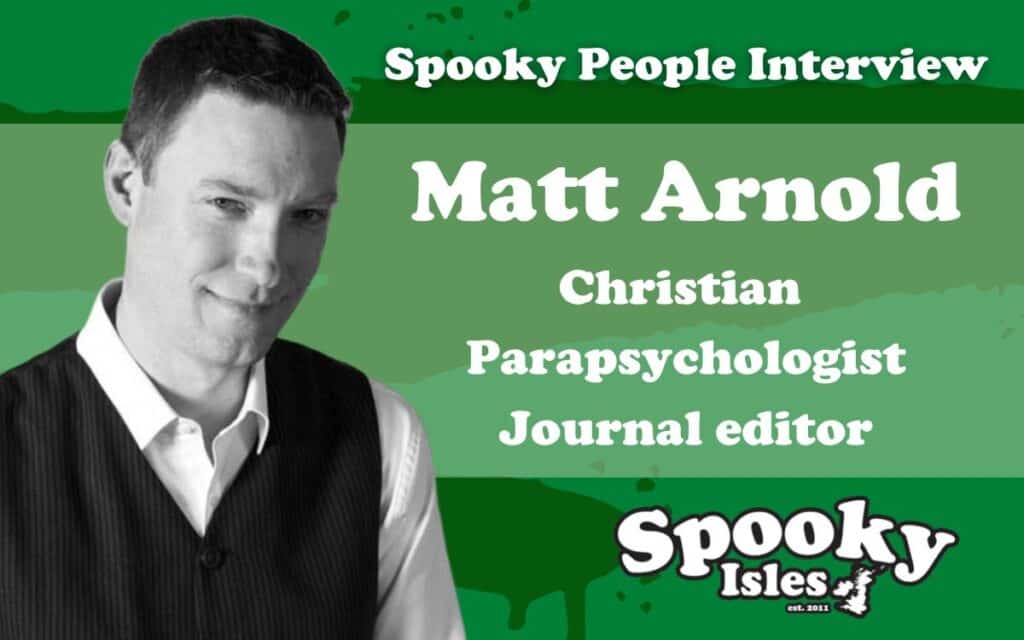 Spooky Isles chats to Matt Arnold, the editor of the Christian Parapsychologist Journal, which is published by the Churches Fellowship for Psychical and Spiritual Studies (CFPSS).
Matt explains how the CFPSS was founded as a non-denominational organisation in 1953 to challenge thinking within Christian churches about the paranormal and the Bible. He also provides some spooky ghost tales straight from the pages of the Bible.
Find out more about Matt Arnold on his website, Ghosts, Ghouls and God: www.GhostsGhoulsAndGod.co.uk and The Churches Fellowship for Psychical and Spiritual Studies at www.ChurchesFellowship.co.uk
Recommended Books discussed with Matt Arnold in the interview
Tell us your thoughts on this video in the comments section below!
Watch more Spooky Isles videos on our YouTube Channel: https://www.youtube.com/spookyisles
Quick Question and Answers with Matt Arnold
How long have you been investigating the paranormal?
About 35 years.
Do you believe in ghosts and if so, what is a ghost?
Yes. Can be anything from a time loop/replay of events through to interactive apparitions of human spirits.
What was your first paranormal encounter?
Seeing a little old man sitting in my bedroom chair.
What evidence have you uncovered that makes you consider ghosts are real?
Entering a room without any prior knowledge or expectation and sensing something say "Get out!". Receiving a hug from an invisible being in my local community orchard, without anyone being there and not expecting it.
Are you a psychic? Do you consider psychics a help or hindrance for paranormal investigations?
I'm sensitive at times, and psychics can be helpful, but not when it's an ego trip for them and they're just there for validation of their gifting.
How do you prepare for a ghost hunt/paranormal investigation?
Research stories/history.
What tips would you give a person going on a paranormal investigation for the first time?
Don't expect what you see on the TV versions.
What is your favourite piece of paranormal investigation equipment?
Your brain and senses. Torch.
Tell us about your favourite moment from a paranormal investigation.
Being given confirmation of having brought peace to someone on the other side via a series of unprecedented coincidences on my phone/car radio.
What makes a great haunted location?
Accessibility and plenty of stories.
If you could investigate an haunted location, where would it be?
Langenhoe (but sadly can't as it's demolished).
Read any good paranormal books or watched any paranormal TV lately?
Poltergeist Contagion by Darren Ritson