Reading Time:
4
minutes
Nosferatu the Vampyre 1979 is a journey into a dark and unsettling nightmare, says guest writer MARK THIRKELL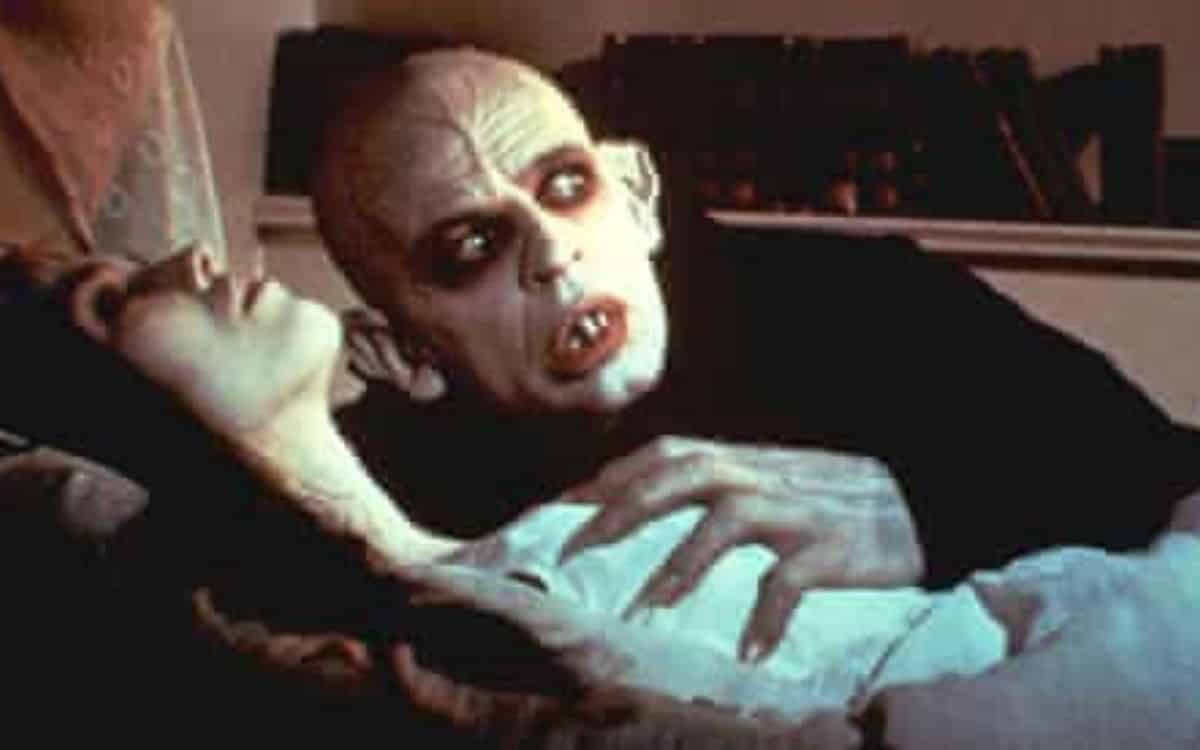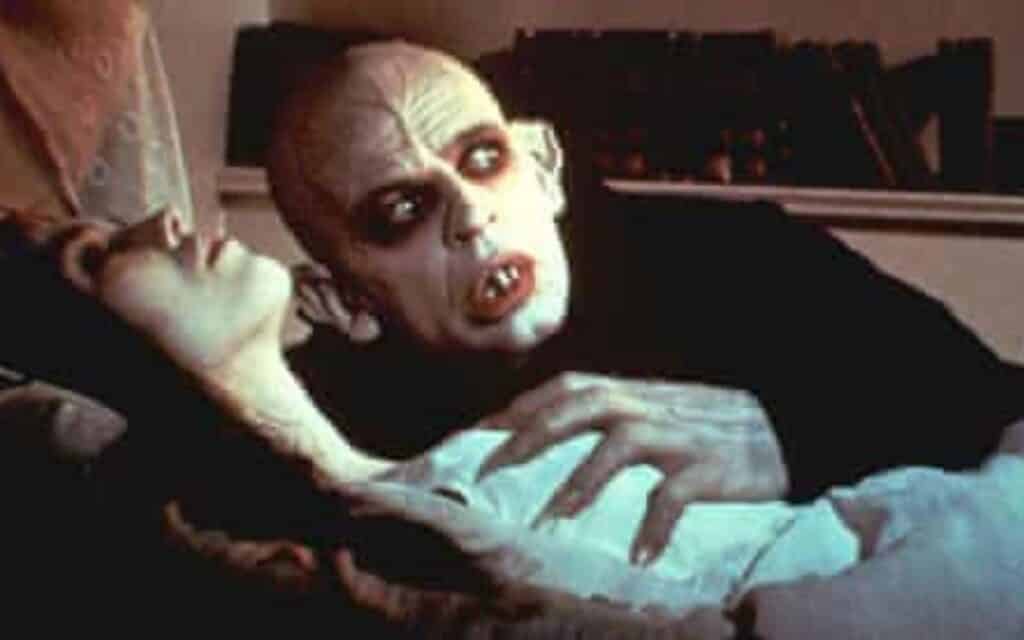 TITLE: Nosferatu the Vampyre aka Nosferatu: Phantom der Nacht (Nosferatu: Phantom of the Night)
RELEASED: 1979
DIRECTOR: Werner Herzog
CAST: Klaus Kinski, Isabelle Adjani, Bruno Ganz
Nosferatu the Vampyre 1979 review
Nosferatu the Vampyre was written and directed by Werner Herzog and intended as a remake of the F.W. Murnau's 1922 silent German expressionist horror film 'Nosferatu – A symphony of horror.' Herzog's film is set in 19th century Wismar, Germany and also Transylvania and stars Klaus Kinski, Isabelle Adjani and Bruno Ganz.
It is the atmosphere, vivid imagery and landscapes along with Kinksi's portrayal of Dracula which marks this version out and makes for some very compelling viewing. The Count is played throughout the film with a profound sense of melancholy and a cold menacing charisma.
Whilst the Count brings death and disease in his wake, it is also possible to feel a slight sense of pathos with this Dracula – a physically repellent figure who has lived for centuries and endures each day the same without love, affection as well as other aspects of life to make immortality bearable.
Following the opening titles and a haunting opening score composed by the band Popol Vuh set against scenes of emaciated bodies, the film commences immediately with signs of dangers to come. Lucy Harker, played by Isabelle Adjani, awakens suddenly in the bed chamber she shares with her husband Jonathan and issues a loud scream at the sight of a bat which has flown in. Things will never be quite the same again for this young couple.
Lucy and Jonathan display a clear affection for each other and they live with apparent comfort and ease. However, there is also something slightly detached in Jonathan's demeanour and an underlying sense of restlessness. Despite Lucy's misgivings and intuition, Jonathan accepts a request from his employer Mr Renfield to visit the castle of Count Dracula in Transylvania who wishes to buy a house in Wismar.
The film's cinematography is a tour de force with stunning shots by Herzog of wind-swept beaches, desolate graveyards, mountain landscapes shrouded in mist and clouds hanging high above eternal waterfalls. The castle of Count Dracula itself is presented as a stark and jagged ruin which stands in silhouette during one of the film's earlier shots.
These images all feature as part of Jonathan's journey to the castle. On his arrival, the interactions between Harker and the Count are awkward and tense. The intensity of this interplay reaches something of a climax when the count visits Jonathan in the early hours of one morning and proceeds to sink his fangs into Harker's neck.
From there on Harker becomes a tragic and ruined figure who gradually loses his personality and morphs into a melancholic shadow of his former self. At first Harker is driven by a strong sense of urgency to return home and protect Lucy from the Count who is now well on his way to Wismar. The film thereafter focuses primarily on the journey back to Wismar, a plague brought by Dracula to the town and doesn't quite re-capture the atmosphere and beauty of some of the earlier scenes.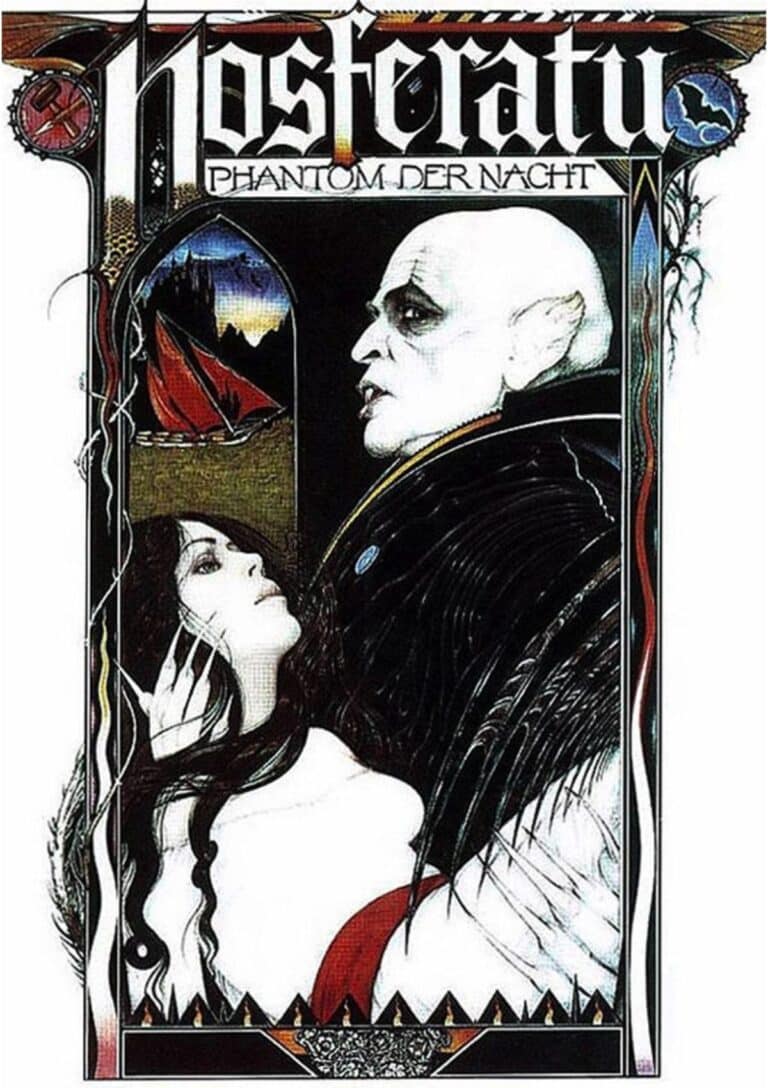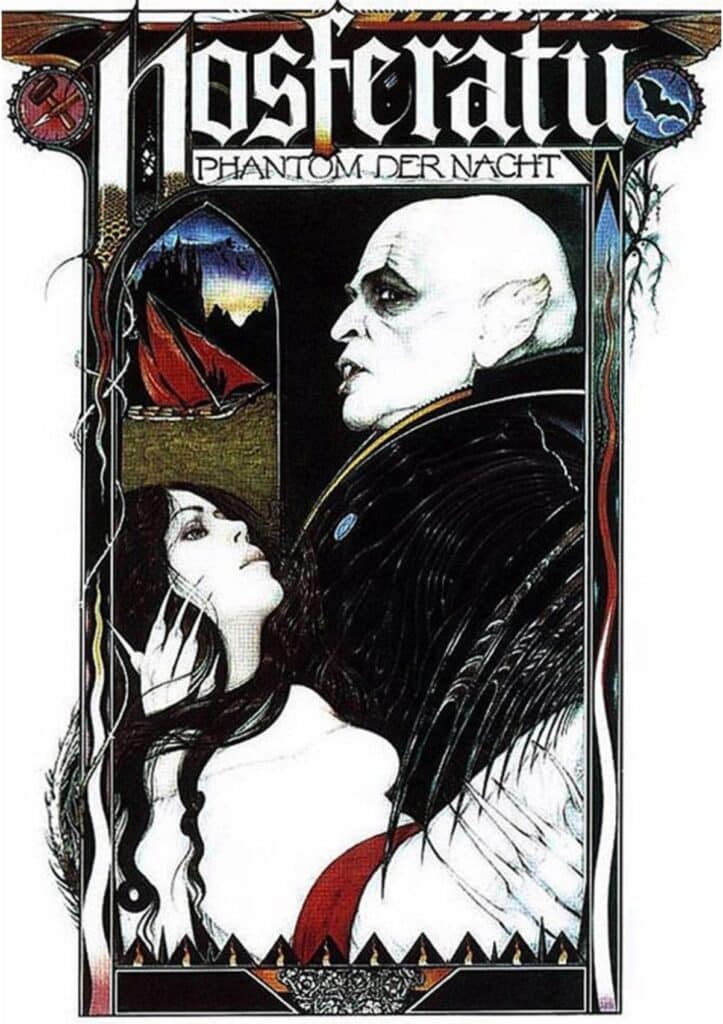 On arrival in Wismar, the Count sets up residence in a deserted chapel and tries and convince Lucy to become join him and become his lover. This she rejects without hesitation and resolves to do all that she can to thwart the Count despite his yearnings.
There is something sensual in the way Dracula finally succeeds in seducing Lucy towards the conclusion of the film as he slowly descends to caress her prostrate body before drinking her blood. In all her gothic chic beauty, Lucy succumbs to Dracula's advances with arms outstretched to meet his. This is something she has decided to undergo in order to detain the Count long enough for him to witness the deadly rays of the morning light.
There are odd moments of humour such as when the town clerk is ordered to arrest and put away Dr Van Helsing for having murdered the Count while all the town's jailors and law enforcement officers are by then dead having succumbed to the plague.
This is a fine rendition of the Dracula story with plenty to satisfy those with a penchant for gothic horror. While for some, the film may prove somewhat ponderous and drawn out, if one enjoys a journey into a dark and unsettling nightmare then this is a film that will certainly not disappoint.
Have you seen Nosferatu the Vampyre 1979? Tell us your thoughts in the comments section!
Watch Nosferatu the Vampyre 1979 Trailer
MARK THIRKELL is a supernatural and horror film enthusiast with a particular keenness for 1960s and 1970s Hammer Horror films well as classics such as 'The Exorcist', 'The Wicker Man' and 'The Omen'. He is also keen on films dealing with a range of esoteric subjects. Mark is also writer and is currently working on a number of short stories within the fantasy, supernatural and horror genres. Mark has previously collaborated in a number of indie / electronic music projects and bands, including 'Red September' and had an album released on Vinyl in 2016 entitled 'Ultra Arcanum – The Silence Inside.' Contact Mark on Facebook.