Reading Time:
4
minutes
CLAIRE BARRAND tells us about Edmund Jones aka The Old Prophet Jones, a crucial collector of Welsh folklore
Welsh Folklore would not be quite the same if it were not for the existence of a man by the name of Rev. Edmund Jones.
Much of Welsh customs and folklore that originated before the Industrial Revolution of Wales was thanks to this remarkable man.
Edmund was known as "Yr Hen Broffwyd" which translates as "The Old Prophet" because he had an interest in astrology and displayed an uncanny ability to predict the future.
Edmund was famed for his stalwart belief in fairies and the supernatural, and he controversially taught his congregation that to believe in the Supernatural realm was part of the Christian faith.
Born in 1702 on a small farm of Penllwyn, in the parish of Nantyglo. Edmund was educated by the curate of Aberystwyth, Rev. Howel Prosser the man famed for taking part in a "fairy funeral".
In 1740 Edmund moved to Pontypool and built a Methodist chapel named Ebenezer Chapel, where he served his congregation until the age of 91. He published several works during his lifetime notably three focused on the supernatural material.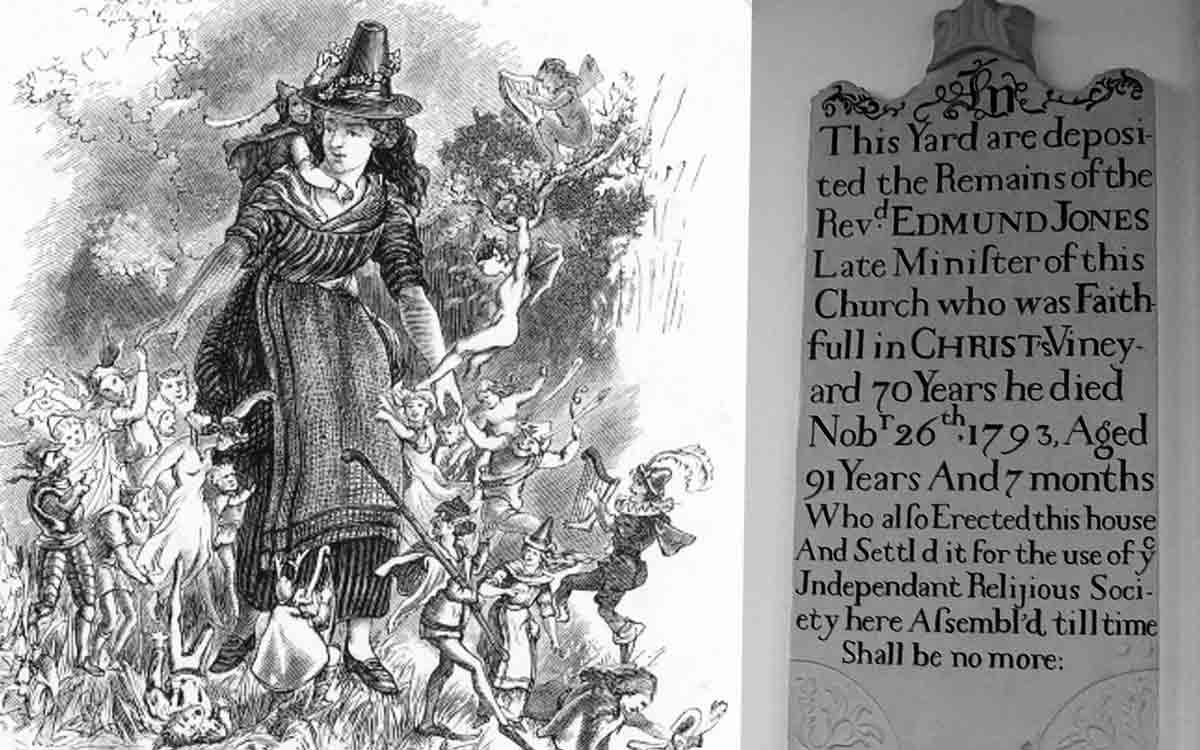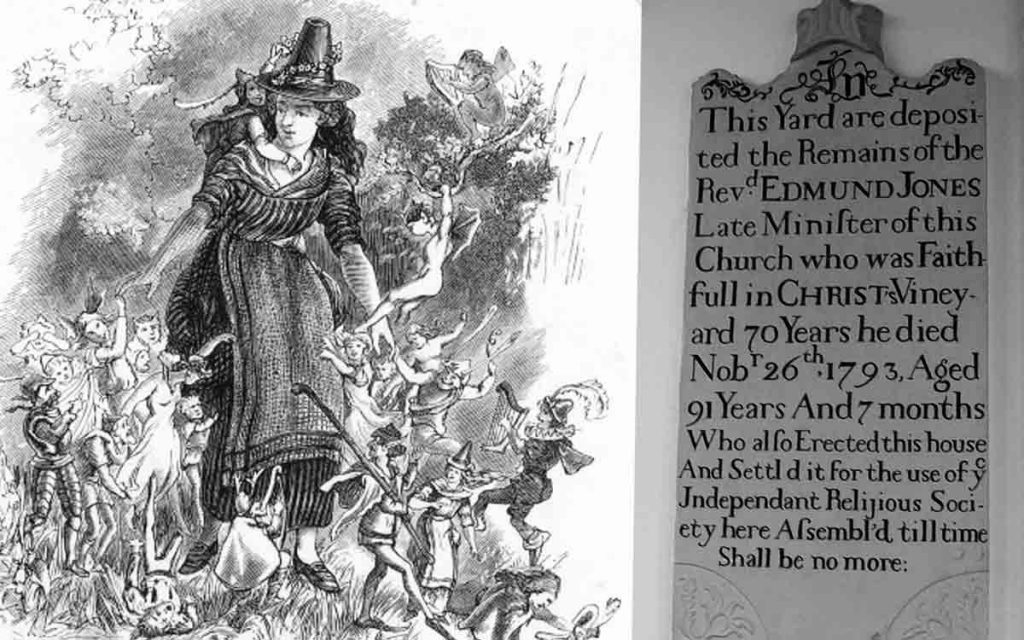 One was called "A relation of apparitions of spirits in the principality of Wales (1780)" which was a collection of accounts of strange sightings that he believed took place within the county of Monmouthshire.
The second book was "A Geographical, Historical and Religious account of the Parish of Aberstruth" and then the most celebrated of his works which were "A relation of Apparitions of Spirits in the Principality of Wales" (1780).
These works have been lost or edited over the centuries. However, there are some transcripts in the National Library of Wales. It goes without saying that Edmund Jones works were incredibly rare and valuable part of the history of Welsh Folklore.
In Wirt Sikes' 1880 British Goblins: The Realm of Faerie it says:
"He was noted in his district for foretelling things. He would, for instance, be asked to preach at some anniversary or quarterly meeting, and he would answer, 'I cannot, on that day; the rain will descend in torrents, and there will be no congregation.' He would give the last mite he possessed to the needy, and tell his wife, 'God will send a messenger with food and raiment at nine o'clock to-morrow.' And so it would be."

[Sikes 1880, p. 105]
Edmund Jones was a remarkable man, when aged 80 years old he traveled 400 miles on foot to North Wales to preach twice a day every day and he had a donkey called "Shoned". That he rode in the local area around Pontypool.
Defender of the Fae
Jones was, however, a somewhat controversial figure as you might imagine, and rather unpopular. His strong beliefs in the realm of the Faerie were driven by the fact he was terrified of superstitions and bad omens.
He was incredibly scornful of anyone that questioned the existence of the fae and accused them of being "Sadducees" and "infidels".
Jones alluded to the existence of fairy rings and suggested that the bible references them in verse Matt. Xii. 43 "The fairies dance in circles in dry places and the scripture saith that the walk of evil spirits is in dry places" he observed.
He taught that the fae favoured the oak tree and the female oak especially. He told his parishioners to prepare for the visits of the 'little people' by removing any knives or sharp instruments so that the fairies would not be offended.
Most of his accounts were those of other witnesses and not his own. However, on two occasions, he did tell of his personal experiences with faerie folk.
Edmund Jones and the faerie folk
One time, he recalled a time when as a very young boy walking with his aunt, just after sunrise in a field in Cae'r Cefn.
He claimed he witnessed a Sheepfold full of Fae folk that were attending some sort of ceremony.
A fair female dressed in a high crown hat and a red jacket was being honored by male Fae dressed in white cravats.
In another written account he told of being led astray by the Old Woman of the Mountain Llanhiddel Bryn, near Pontypool.
He says as he was wandering lost he came to a strange house which he had never seen there before.
He called and offered to say some prayers with the occupants of the house introducing himself as the minister. Such was the praise of the house residents, of a 23-year-old man with such knowledge such as his, that he told his followers, "the old hag got nothing by leading me astray that time."
Some of the stories of ghosts in Jones works describe incredible ghostly and creepy apparitions, and they make for an incredible read.
Some that were giant figures, misshapen things "without regular members" and other entities that witnesses described that rolled like a ball or whirled like Catherine wheels, creatures with long tongues and spirits that shapeshifted into hounds or pigs or walls of fire.
All accounts were documented in detail with the names and locations of the witnesses and every aspect of their encounter written down.
It is safe to say that had it not been for Edmund Jones written works much of the folklore that has survived today in Wales would be lost forever.
His books, however controversial at the time has given historians and scholars a treasured insight into the past, and for paranormal and folklore researchers, these accounts make a fascinating study.
Edmund Jones is buried in the churchyard of his beloved Ebenezer Chapel in Pontypool.