Reading Time:
2
minutes
NIA JONES recounts the tale of one Welshman who unwittingly chanced his soul by playing cards with the Devil!
Throughout history, there have been many spooky tales about humankind trying to outwit the devil.
In the 1700s, such folklore was commonplace with varying stories of some poor wretch gambling their soul with old St Nick.
The following tale concerns one Welshman's poker game with the devil, late one evening farmer John Morris was walking home from Nant y Ffynnon to Llanmorfa in South Wales.
As John Morris approached a bridge, a mysterious yet well-dressed man joined the farmer on the road.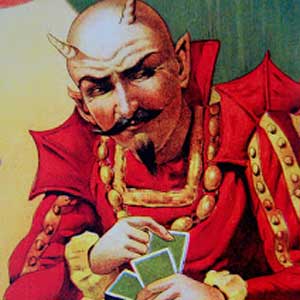 The traveller said he was going to Llanmorfa too and the men engaged in enthralling conversation as they walked along in the moonlight.
John mentioned he had been at a long session of poker at an acquaintance's house. Nowadays it would be poker at an online casino and he would not have left the comforts of his home! He was happy and had won a great sum of money.
The stranger claimed he was a keen poker player and then invited the farmer to try his skills against him in a poker game.
Being late into the night, John Morris politely refused the request as he was very tired. He wished to go home to his wife to relax and get to bed.
When they reached the bridge the man once again pressed the farmer for a game of poker on the parapet, taking out a gold deck of cards from his pocket, he began dealing them, consequently, John Morris could not resist this invitation to play his favourite past time of poker.
Game after game the stranger proved to be the better card player of the two men; he asked John if he had ever considered betting his soul on a poker game?
Suddenly a card fell from John's hand from the parapet, tumbling through the air into the water below the bridge, both players gazed over the bridge to see the ace of spades spin in the water and sail away down the river.
John Morris caught a glimpse of his opponent's head reflected in the moonlit water; recoiling in horror, the mysterious poker player seemed to have two great horns protruding from his forehead, a pair of red glowing eyes and a forked tongue sticking out from his grinning mouth.
John Morris immediately turned around in shock to face the stranger he had been playing poker with, but he had completely vanished, and in his place hung a raging ball of fire, which flashed away into the night and disappeared over the hill to Llanmorfa.