Outcast 2010 BY SIMON BALL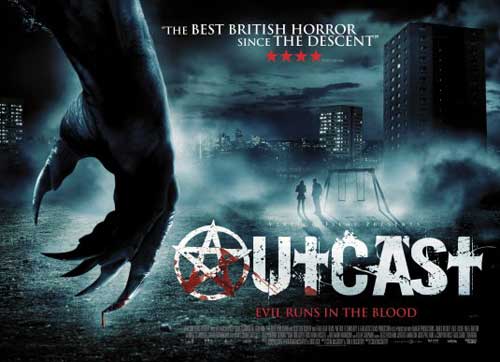 TITLE: Outcast
YEAR RELEASE: 2010
DIRECTOR: Colm McCarthy
CAST: James Nesbitt, Kate Dickie, Niall Bruton, Hanna Stanbridge, James Cosmo
When Mary (Kate Dickie) and her son Fergal (Niall Bruton) settle in a squalid Edinburgh sink estate Mary daubs protective runes on the walls of their new flat.
You see Mary has a secret, she's a member of an ancient Irish tribe of enchanters and Fergal is bastard son of a union with a rival clan. Not only that, but the teenager has the disturbing ability to shapeshift into an icky sticky demon with a thirst for human flesh when he gets sexually aroused.
Then he goes and falls for local lass Petronella (Hanna Stockbridge). It's not going to end well is it?
The seriously psychotic Cathal (James Nesbitt) his skin freshly tattooed with magical symbols and warlock Liam (Ciaran McMenamin) are determined to hunt the pair down.
When Liam's spells fail to penetrate Mary's magic screen, Cathal loses patience and against the orders of Edinburgh's pagan Laird (James Cosmo) uses the only kind of magic capable of overriding her sorcery to track the pair down.
Brutal, bloody and violent Outcast has been described as an unsanitised Twilight with its premise of a supernatural being falling for a human teen.
Only unlike the world inhabited Bella and Edward, Fergal and Petronella's is squalid, dirty and hopeless, with the ever-present threat of violence from teenage street gangs. The depiction of magic isn't pretty either with blood=letting, bugs and casual slaughter.
An intelligently written movie with a believable depiction of teenage love, sink estate life, street violence and even magic ritual, Nesbitt is on top form as the deranged
Cathal snarling his way through the movie without the merest hint of the humour that lightens most of his other roles.
Outcast is well worth seeking out even if I did have to put on the subtitles to understand some of James Cosmo's heavily accented lines.
And yes blink and you will miss her, that is a pre-Amy Pond Karen Gillan as Petronella's short lived pal Ally.
Tell us your thoughts on Outcast 2010 in the comments section below!
Watch Outcast 2010 trailer