Master storyteller Robert Lloyd Parry talks to Spooky Isles about his performances as legendary ghost writer M R James… (Please note: This article was written prior to Parry coming to London for some performances in 2012).
M.R. James is a popular figure around this time of year. His ghostly tales are a Christmas and New Year's favourite. So it is little wonder why award-winning master storyteller Robert Lloyd, is returning to London to perform some of James' most loved stories.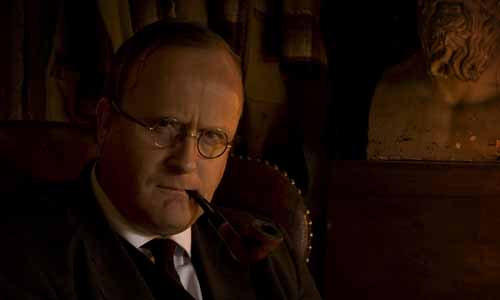 Spooky Isles asked Robert a few questions about the new show:
You're doing two shows back to back each night – we're familiar with A Warning to the Curious – tell us more about Count Magnus?
RLP: Count Magnus is based upon two of James's early stories, both of which are set in Scandinavia. He had a great love of Sweden and Denmark and had some memorable holidays there in the 1890s. He absorbed the local folklore well and motifs from Scandinavian legend and superstition which recur in his work. In later life, he translated Hans Christian Andersen's fairy tales into English for younger readers. The first story of the show is 'Number Thirteen' – it's almost a comic piece, following the 'curious experience' of a typically Jamesian scholar on a solitary research trip to Viborg in Denmark. A room with the famously unlucky number contains unspeakable and ultimately inexplicable horrors. "Count Magnus" itself is set in Sweden and is, by contrast, one of James' most powerful and bleak tales. Again, it follows a solitary Englishman, as he unearths secrets about a 16th century Swedish noble. the tone is melancholy throughout and the ending as horrible as anything James ever imagined.
How does this differ from your previous shows?
RLP: [Blush] Ahem … It doesn't really, i'm afraid. as before it involves me sitting in an armchair telling these classic stories in a way as close to the way in which I think they were originally told as possible. It's the content that's different.
Why is MR James so enduring?
RLP: Because of his unerring ability to conjure up an unforgettable atmosphere – to verbally build a world which is both familiar and comforting and strange and upsetting all at the same time.
For more information about R M Lloyd Parry visit www.nunkie.co.uk