JON KANEKO-JAMES sits down to review the first episode of Showtime's new TV series Penny Dreadful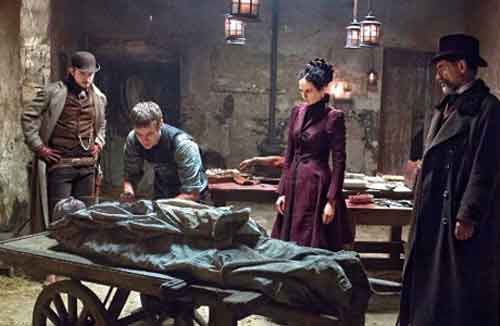 Just as I started my review of Hammer's The Quiet Ones with a piece of advice, I'm going to start this review in the same way: if you're like me, you might see some things in the first 15 minutes of Penny Dreadful that turn you off.
Ignore them.
Make a contract with yourself to watch at least into the first half.
The beginning of Showtime and Sky Atlantic's 2014 supernatural horror show turned me off: it looked uninspired and modish.
The main character (Eva Green's Vanessa Ives) pulls off the currently fashionable trope of deducing our rootin'-tootin'-shootin' American hero's life story from tiny details about his clothing and mannerisms, alá Sherlock.
I also found it patronising that unlike Homer Jackson in Ripper Street, who is multi-layered and interesting, Josh Hartnett's character Ethan Chandler is a profoundly shallow cowboy stereotype. Not only that, but as the newcomer in the world of the strange he's our POV character.
Gradually, though, things start to change.
We get a glimmer of light in the form of a great performance by Timothy Dalton, playing Sir Malcolm Murray, the father of Dracula's Mina Murray.
Next, there's a fantastic fight scene that characterises Ives beautifully: she's cool and detached, but not in the hackneyed way you see so often. Vanessa Ives isn't a tiresome 'cold, strong woman' stereotype, but a character who believably walks through the world as if it can't quite touch her.
From there it goes uphill. We see some complexity from Hartnett's character, and a great performance from Harry Treadaway as Victor Frankenstein.
So here we have it: a gunslinger, a cool other worldly medium, Victor Frankenstein and Dalton's Murray (who definitely isn't a thinly-veiled Allan Quatermain) fighting Dracula and Jack the Ripper.
There are guts, blood, fights and eccentric characters.
If nothing else, this is the closest we're ever going to get to a TV version of Alan Moore's League of Extraordinary Gentlemen.
Penny Dreadful looks like it's going to be an interesting show, and the cast they have looks good.
The show can be seen on Sky Atlantic, but if you're a Brit that's the only option: no on-demand, no iTunes or Google Play.
Hopefully that'll change, because it's certainly a show worth following.
Watch Penny Dreadful Season 1 Trailer