Reading Time:
3
minutes
Essex historian and photographer Robert Hallmann's newly-released Essex Ghost Tales includes tales of phantom highwaymen; dastardly smugglers and one-eyed strangers. He spoke to NIA JONES about his work.
Nia Jones: Tell us a little bit about yourself as an author?
Robert Hallmann: As a teenager in Germany, while training as typesetter, I'd decided I wanted to write, so after a lifetime in advertising, typography, design, photography and illustrating articles for magazines and newspapers – I finally turned to writing. History and research got me into books and I've now written five books on local and Essex historical themes, two collections of ghost stories and a children's book so far, with more books in manuscript form.
Nia Jones: What attracts you to write about the paranormal?
Robert Hallmann: As a child in and after wartime Germany I found that in spite of their religious persuasions many people turned to the occult in times of dire threat and uncertainty. Now, with all the research and my love for stories, I set events, sometimes actual events and actual people, into times and places that make ideal settings. Essex has quite a past with ghosts, poltergeists, witches and warlocks. I have played our own local 'Cunning' Murrell on several occasions as part of local folklore.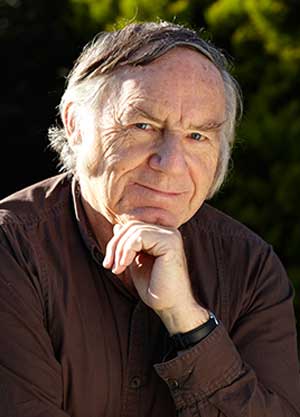 Nia Jones: What inspired you to write about Essex hauntings and Essex history?
Robert Hallmann: It all started with a local 18th century German organist and composer who, as research revealed, had been brought over from his own native patch by the composer Frideric Handel, this opened up much of the 18th century to me. More recently I have published a book about Chelmsford in the 'Bloody British History' series by the History Press. Quite an eye opener, as Chelmsford had a Court and a Jail and starting with the aftermath of the Peasants' Revolt when there were wholesale hangings, almost every iniquity, every punishment known to man has taken place in Chelmsford – hangings, burnings, beheadings, pressing, drawing and quartering.
Nia Jones: Have you ever had a paranormal experience yourself?
Robert Hallmann: I was sat quietly writing in my upstairs room, admittedly about Essex Witch Processes and the Witchfinder General, when behind me a small book fell off a bookcase and clattered to the floor. There was nobody else about, the book happened to be about mediaeval witch processes and burnings in Germany. There have been other odd occurrences too.

Nia Jones: Which tales out of the ones you have covered are your favourites?
Robert Hallmann: From my latest collection, if I must choose, one of my favourites will be the tale of the Saxon God visiting at just the time when Christianity began to get a foothold in the land, an encounter that culminates in the archaeological find of a Saxon Chieftain's last resting place in Prittlewell, Southend-on-Sea.
From my first Essex Ghost Stories collection my favourite must be the Ferryman of North Fambridge. There is a holiday home of sorts set unbelievably and almost unreachably on an old and long since abandoned sea wall, a stranger told me of the time when it was a staging post for lepers on the way to the Maldon leper hospital. Maldon used to have a leper hospital until Henry VIII's dissolution of the monasteries. The isolated place, the landscape, the ambiance helped to write it and turned it into a love story encompassing centuries.
Nia Jones: What are you working on at the moment?
Robert Hallmann: I am between books, another local history is at present being printed and in August another deviation will see the publication of a picture book of 60s, 70s and 80s London, packed with my own photographs, memories and history.
Nia Jones: Are there other books you'd like to publish in the future?
Robert Hallmann: There are more children's books and a chilling young adult story set in the mountains of southern Germany. I tend to leave my stories and return to them with a fresh mind until I'm happy with them. Then there are the mysterious and often downright scary stories various people have told me of their own grim experiences. I may have to write those under a pseudonym, but if you have your own experiences in Essex or East Anglia or you know someone who has, let me know.
You can learn more about Robert Hallmann at Twitter @RobertHallmann