---
Part Two in our series on Spirit Photography sees author PETER TOWNSEND looking at how the First World War brought the art to a wider audience
---
In the early period of the twentieth century the death and carnage of World War I had given a boost to the fortunes of spirit photography.  James Coates Photographing the Invisible, first published in 1911, had also brought spirit photography to the attention of a much wider audience.
However, controversy was never far away. Photographs taken at séances revealed ectoplasm streaming from the mouths of the medium. In reality, this was shown to be nothing more than ordinary cheesecloth, perhaps coated with a glowing paint. Spirit mediums could exploit a pulley or string to drop the ectoplasm down from the ceiling at the key moment in the séance. It could then be easily pulled away when required making it difficult to detect.
In 1924 Ada Emma Deane, a former cleaning lady from London, was accused by The Daily Sketch of using the images of thirteen footballand boxing personalities, all very much alive, as the ghosts of dead soldiers at an Armistice Day ceremony. Deane was defended by Conan Doyle, who was a formidable advocate of both Spiritualism, and spirit photography.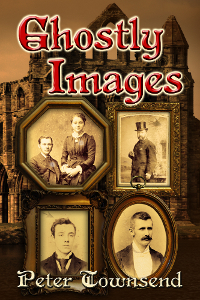 Conan Doyle was surprisingly uncritical of photographic evidence, whether it was spirit photography, or in one celebrated case, images of fairies. Two young girls, Elsie Wright and her cousin Frances Griffiths, claimed to have seen fairies in Cottingley Glen, Yorkshire. They took photographs of them playing with the fairies. This discovery produced a sensation back in 1917. Conan Doyle, and a great many others, believed in the authenticity of the photographs. Later, Conan Doyle wrote a book, The Coming of the Fairies. However, in 1981 Frances Griffiths admitted that the photographs were merely paper cut outs from a very popular children's book at that time, Princess Mary's Gift Book.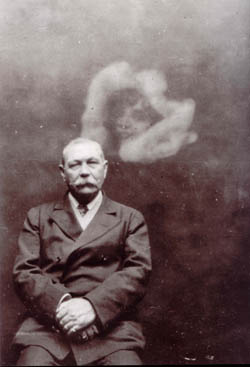 William Hope headed the Crewe Circle in the 1920s. In striving to be free of fraud and avoid the allegations of fraud that had been levied against Deane and others they invited sceptics to examine their equipment. They even went as far as allowing sitters to bring their own plates, but only if submitted to them days in advance so that they could be 'magnetised.'
Harry Houdini was a supremely accomplished magician and escapologist as well as a determined debunker of fraudulent spiritualists and photographers. In his book, A Magician Among the Spirits, he outlines the various tricks that mediums and spirit photographers would employ. His debunking in public of mediums and spirit photographers soured his friendship with Conan Doyle.
It might seem odd that the creator of Sherlock Holmes, the detective with a razor-sharp logical mind, would have embraced psychic phenomena so unreservedly. This might be attributed in part to the influence of his wife, together with his burning desire to make sense of the tragic loss of his son and brother as a result of injuries in the war. His beliefs, no doubt offered him the reassurance of an afterlife for those he had loved and lost. The lectures, together with lantern slides that he gave, spread this message of hope and comfort to the far reaches of the globe.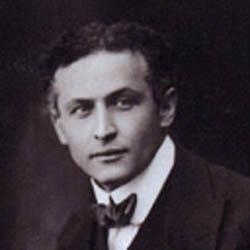 A friend of Houdini's asserted that the Crewe Circle used sleight-of-hand to switch the plates while passing around hymn books. The Society for Physical Research conducted an investigation, and sent Harry Price to see if there was any evidence of trickery. He had an understanding of conjuring and claimed that marked plates had been switched. Spiritualists accused Price of trying to discredit them and switching the plates himself. Doyle strongly attacked both Price and his methods. This was also instrumental in Doyle writing a book The Case for Spirit Photography.
One of the most celebrated ghost photographs was taken in 1936 at Raynham Hall, Norfolk. There was said to be a ghost of Dorothy Walpole. The first sighting of her ghost was in 1835 by a guest at the manor. The guest claimed to see an apparition wearing a brown satin dress and that her eyes that had been gouged out. In 1936, Captain Provand and Indre Shira were taking photographs of the manor for a magazine when Shira reportedly saw the ghost on a staircase. Provand quickly took a photograph. Critics would claim it to be two photographs that had been superimposed on one another.
The highpoint of spirit photography was from the 1860s up to the 1930s. After the 1930s, except in the more enthusiastic Spiritualist circles, the interest in spirit photography began to ebb away.
---
Read Peter Townsend's other articles on Spirit Photography:
---
PETER TOWNSEND has written a novel about Victorian spirit photography, titled Ghostly Images. Peter was born in Sheffield and has a variety of interests including history, music and art. One of his current fascinations is the history of Victorian England. he now lives by the northeast coast of England and regularly walks on the local beach or on the cliff top path towards Whitby where Ghostly Images is set. The book is available from Amazon  here. Visit his blog on ghostly images. Follow him on twitter
---