Author PETER TOWNSEND concludes his three-part series on Spirit Photography by looking at how the Internet has given a boost to photographing ghosts.
---
The highpoint of spirit photography was from the 1860s up to the 1930s. After the 1930s the interest in spirit photography began to dissipate, except in the more enthusiastic Spiritualist circles.
Dr Eric Dingwall, a researcher for the Society for Psychical Research, spent the best part of a lifetime examining spirit photographs, only to finally conclude that they were nothing more than fakes. For Dingwall the photographs failed to reveal the return of spirits. Instead, what the photographs did reveal was human folly.
However, in recent years a less dismissive view is taken of spiritphotography. Speaking of these photographs Jolly states: 'They now speak to us more strongly of faith, desire, loss and love, than gullibility.' Jolly explores how these haunting images have undergone a rekindling of interest in contemporary culture, saying that 'historians of cinema, photography and visual culture have begun to pay attention to spirit photography and to treat it as an important part of the experience ofmodernity.'
The internet and digital photography reflect this rekindling of the interest in ghost study and spirit photography. Old and new images appear on the internet, in apparently ever increasing numbers. Ghost societies and television shows exploring the paranormal proliferate. In the spooked media landscape films and television shows feed into the thirst for entertainment, from both believers and sceptics alike.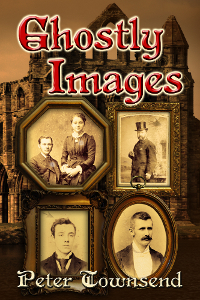 Strange anomalies on photographs still generate considerable popular interest.  Tantallon Castle in North Berwick, dates back to the 14th Century. Christopher Aitchison took a photograph there in May 2008. It appeared to show a woman in period clothes looking out of a window. Aitchison said he did not see anyone at the window at the time he took the photograph, and it was only later when he discovered the anomaly.
The image, of course, could have a perfectly logical explanation. For example, it could have been a tourist. Or, it might have been a simulacrum. However, staff at the castle asserted that there were no period costumes or historical re-enactments on the day the photograph was taken. Some photographic experts, including those with expertise in Photoshop, could find no evidence of digital trickery.
Spirit photography has been a curious marriage between photography and the occult. Its ardent supporters and their belief in the paranormal have met formidable challenges from defenders of rationalism. Even in the age of digital photography, where images can easily be manipulated on a computer, the interest in spirit photography has not been eclipsed. As Cheroux and Fischer state, "The fact that those images of ghosts, spirits, and séances continue to fascinate viewers today is a testament to human curiosity and the continuing allure of the unknown."
The American Museum of Photography – Do You Believe? Science vs. Séance has a collection of Victorian ghost photographs, many of which were taken in the UK. It states: "Many of the images presented here have been studied and debated for nearly a century. Whether they are ludicrous or miraculous is in the eye of the beholder."
Readers might like to look at these photographs and form their own view. Are they ludicrous or miraculous? Why do they continue to fascinate viewers today?
---
Read Peter Townsend's other articles on Spirit Photography:
---
PETER TOWNSEND has written a novel about Victorian spirit photography, titled Ghostly Images. Peter was born in Sheffield and has a variety of interests including history, music and art. One of his current fascinations is the history of Victorian England. he now lives by the northeast coast of England and regularly walks on the local beach or on the cliff top path towards Whitby where Ghostly Images is set. The book is available from Amazon  here. Visit his blog on ghostly images. Follow him on twitter
---