Reading Time:
2
minutes
Guest writer JONATHAN MOOR reveals his ghostly encounter at Old Hunstanton Church in Norfolk back in 2002…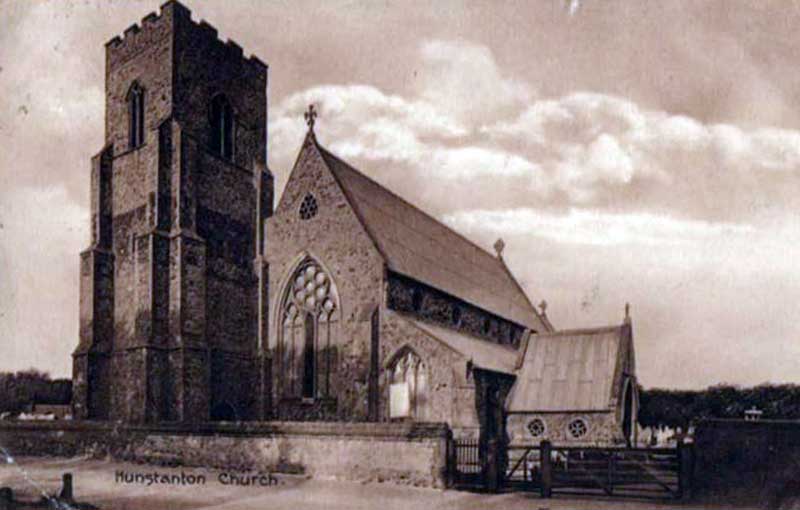 Having just commented a couple of times on the Spooky Isles article regarding the long demolished church at Langenhoe in Essex, I thought
I would write regarding a curious incident that befell me in September 2002.
I was spending a few days over in Norfolk taking a dozen or so rubbings of memorial brasses in several of the parish churches in the north of the county.
On 7 September I was at St Mary's, Old Hunstanton, to take a rubbing there of the brass commemorating Sir Roger Le Strange who died in 1506 during the reign of Henry VII. It is a large brass placed on top of an altar tomb and to complete it I knew would take me a good three hours if not longer.
Events at Old Hunstanton Church
I arrived at St. Mary's about 10 o'clock in the morning, having brought with me a packed lunch. Weatherwise, I recall the day was a mixture of sunshine and showers. Thereafter, having been rubbing for a couple of hours, I stopped for lunch. I suppose it must have been about midday. I went outside and sat myself down on a seat adjoining the churchyard path leading from the church gates by the roadside down to the south porch of the church.
While I was having my lunch, something caused me to glance up the path towards the churchyard gates and I saw a little old man – grey jacket and dark trousers – accompanied by an elderly lady who was wearing an old fashioned "pork pie" hat. More than that of her appearance I didn't take in.
I carried on eating my sandwiches. Then suddenly I remember that it grew very cold; it was as if a bank of cloud had passed across the sun, which I suppose it might well have done. But, at the same time with regard to the old couple I was conscious of several things.
Firstly, I hadn't heard the gate at the end of the path either open or close – so what was it that caused me to look up in the first place? And, despite walking on gravel their feet had made no sound whatsoever. Rather more to the point, what had become of them? They hadn't passed by me and back from where I was sitting to the gates the path was lined with thick shrubbery so they could not have left it at any point between the gates and myself.
I can offer no satisfactory explanation for any of this but I have it in mind that – and I don't know where the idea originated – that the elderly couple had come to tend a grave.
JONATHAN MOOR lives in Ludlow, Shropshire, and has an interest in the paranormal, the works of M.R. James and medieval history.