Reading Time:
3
minutes
PATSY SORENTI describes the glowing spectre she saw on a ghost hunt in Tivetshall St Mary, a tiny village in Norfolk
Where is the village of Tivetshall St Mary?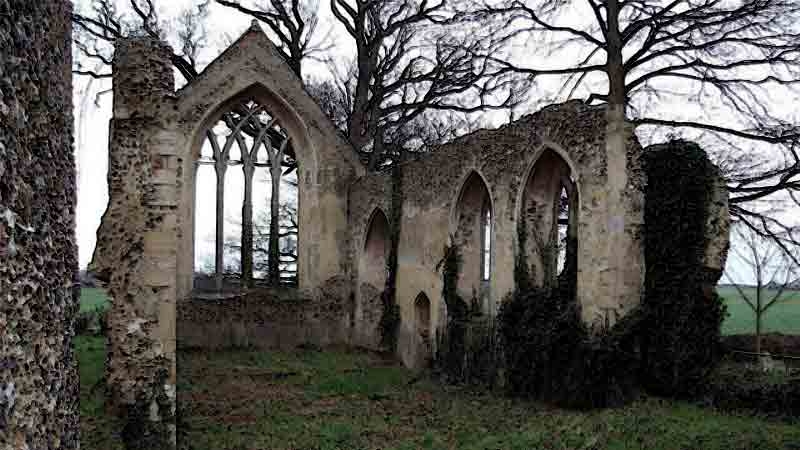 The small village of Tivetshall St Mary is in Norfolk.
It is a tiny place, and shrinking: in 2001 it had a population of 302; by the time of the 2011 census, it had fallen 298 souls.
Today, it isn't much more than a group of houses with a small village hall, and the church, which gives the village its name, is located about one-and-a-half miles away.
This church is derelict and fallen down, the roof eventually collapsing in 1947 after a low flying military aircraft sped overhead.
The church was abandoned and worshippers from the village migrated to the church at Tivetshall St Margaret, around two miles hence.
The place has been abandoned for many, many years.
However, this did not, and does not prevent residents and countryside ramblers from ambulating around the lanes and traversing the fields.
Tivetshall St Mary – very spooky at night!
The ruined church is imposing, especially at night. With its disused churchyard still bearing old gravestones, it casts an eerie quality over the landscape.
For many years it has had the reputation of being haunted, but by what, and by whom? Just because this place has an air of creepiness, doesn't mean there is anything otherworldly to experience – or does it?
In mid-June of 2016, I visited the old church with a group of ghost enthusiasts.
We arrived early evening, bringing our supper with us, for the place is so remote, not even a shop could survive in business there, and there certainly are no washing facilities.
The church is surrounded by crop fields and the building itself nestles inside a spinney (small wood).
The road bends to the right very sharply and vehicle traffic has to slow down at this point for oncoming cars or people in the road.
Parked cars have to be tucked well into the muddy layby outside the farmer's field.
There were 10 of us, a mixture of sexes and ages and some believers and sceptics a good mix.
Towards midnight, and with only a few shadowy figures spotted by the brook at the rear, we decided to bring the night to a close.
I had to use the non-existent 'bathroom' and so before we left I walked down the lane away from the church for privacy's sake.
During the return walk, I heard footsteps behind me.
Thinking it was one of my fellow enthusiasts, I turned around to greet them; nobody was there yet the footsteps continued until I reached the church porch.
The rest of the group members were standing very quiet and still, nobody saying anything.
I joined them and as I did so, a figure, transparent and white, much whiter than any shade of the colour I had ever seen, stood between me and my neighbour. The figure stood still, unmoving.
I cast a gaze at it. It was shimmering, like sunshine on water, almost glowing.
Spirit figure in old hat and suit glows
The figure was dressed in an old fashioned suit with a Trilby hat.
This apparition was visible for a few seconds, perhaps five at most before fading away into the darkness.
Nobody else had witnessed this phenomenon, but several members of the group felt 'icy cold' and 'riven with fear' for a few seconds during the apparition's appearance.
I just felt privileged to have seen a full ghostly spectre, complete with footsteps and transparency.
A few days after this, I contacted the Parish Council, asking for information about the ruined church and the ghost.
A woman named Janet contacted me to say that she had twice before witnessed the ghost, just as I had seen it and described it as it presented itself to me.
These sightings were in daytime. Janet told me that in 1952 a man had been knocked down and killed by a speeding car on that blind bend and his ghost has haunted the place ever since.
That would explain the old fashioned clothes. Janet also commended me for going up there at night, for she confessed that 'no amount of persuasion would entice me up there in the dark.'
Tell us your thoughts on this article in the comments section below!