Reading Time:
2
minutes
This week we journey back to the land of the headless saints with noble St Winefride and her impossibly holy relatives! JACOB MILNESTEIN reports
The place where St Winefride's bloody, severed head dropped is often known as the Lourdes of Wales. Often depicted in portraits dressed in her monastic robes with a sword in one hand and her head under the other arm, this 7th century saint was another in a long of headless Christian devotees.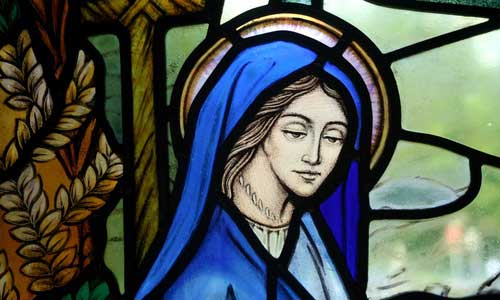 Prior to her decapitation, she was the daughter of Welsh lord, Tyfid ap Eiludd and the lady Gwenlo ferch Bugi, whose lineage can be traced back to the Welsh deity, Beli Mawr and the famed Old King, Coel Hen.
Along with this famed heritage, Winefride was also the fortunate niece of Saint Beuno who, following her decapitation was responsible for restoring her to life.
The story goes that Tyfid ap Eiludd was unhappy with his daughter's suitor, a gentleman of some fame named Caradog. In fact, such was her father's disapproval that the engagement was dissolved and Tyfid ap Eiludd resolved to send his daughter to become a nun.
Taking offence at this, Caradog decided that the most reasonable manner in which he could express his disagreement was to cut the poor girl's head off.
Rolling down the hill, Winefride's head eventually came to a patch of grass where a spring instantly rose up from the ground, keeping the head alive despite its severance from the body.
We can assume that Caradog fled the scene and that Winefride remained where she was until her uncle happened to pass by and put her back together, possibly being waylaid by various other fallen heads and healing springs along the way.
Considering how close this tale is to other stories of saintly improbability, it is tempting to imagine that towards the end of the Middle Ages, the British Isles were a minefield of severed heads and holy water.
"Turn right at St Nectan, take a left at St Edmund and his wolf, and then keep on going until you reach the Lord of Trentinney!"
The obvious reason relates to the converging of different folk traditions and oral histories, explaining how certain characters become associated with one another, their stories growing entwined. None of this however is as fun as the idea that our history rests on the (literal) shoulders of a great deal of beheaded monks and hermits.
St Winefride went onto become the Abbess of Shrewsbury Abbey, following on in the tradition of her aunt, St Tenoi, making us wonder exactly how her family line managed to get as far as it did with all her relatives taking vows of celibacy.
As for Caradog, apparently he met his end at the hands of Winefride's father and her brother, Owain, both of whom seemed keener on upholding the Old Testament rather than the New.
JACOB MILNESTEIN writes stories. His most recent story, "lecteur de tarot" can be found here.