Reading Time:
2
minutes
Former residents of the Old Rectory in Rhosslli say the building is full of ghosts, JON REES reports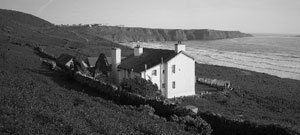 The Old Rectory in Rhossilli, Wales, was built in the 1850s (but on the site of much older buildings dating back to the 1700s) to house the Rector of several parishes on the rural Gower coastline.
The building is now a National Trust owned holiday cottage overlooking one of the finest beaches in the UK.
If you stay there, you may encounter one of the many ghosts that is said to haunt the building and its surroundings.
Many years ago the reverend and his wife, who were residents there, claimed to frequently see a couple in Edwardian clothing standing on the stairs.
There is also the story of the Reverend Lucas, who was famed locally for riding his horse across the beach to preach to his flocks in the villages of Rhossilli and Llangenith, It is said that he is still often seen making the ride, many years after his death.
Also seen on the beach is the ghost of Squire Mansell and his carriage, searching desperately for hidden gold at night in the fog.
The rectory is also said to be home to a more malevolent presence.
Often in the winter, a black figure has been seen emerge from the sea and walk to the Rectory door.
Corridors in the house have cold spots and are often accompanied by a gruff voice, whispering "Why don't you turn around and face me?" – those who have dared to answer the challenge have seen nothing but thin air!
JON REES has a blog where he discusses all sorts of things, including crime and Jack the Ripper. Read the blog here and follow him on twitter here.