Reading Time:
3
minutes
The Ritual 2017 is Adam Nevill's tale of terror in the Scandanavian backwoods on the big screen. ANDREW GARVEY goes along for the ride.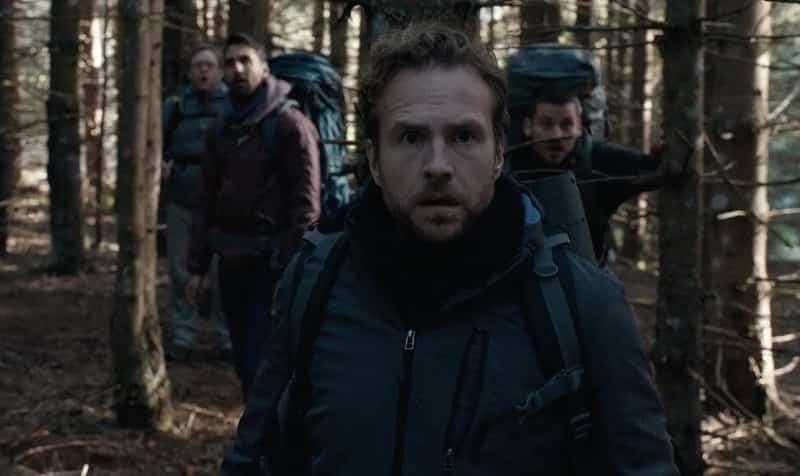 TITLE: The Ritual
RELEASED: 13th October 2017
STARRING: Rafe Spall (Luke), Rob James-Collier (Hutch), Arsher Ali (Phil) and Sam Troughton (Dom)
WRITER: Joe Barton (from the novel by Adam Nevill)
DIRECTOR: David Bruckner
Review of The Ritual 2017
Adam Nevill's 2011 book The Ritual is one of the best horror novels I've read in years. A grimly engrossing treatise on the foolishness of going hiking/camping/anything outdoors-y with some folkloric horror and deranged Scandinavian black metallers thrown in, it's real strengths are a constantly nagging, itching sense of creeping dread and a believable, relatable group of characters.
Happily, and despite undergoing the sort of screen adaptations that usually make curmudgeonly fans of the book like me grumble and moan and grind our collective teeth, that sense of dread and a cast of believable characters you actually want to see make it out alive, remain intact on the big screen.
As a tribute to their old friend Robert (Paul Reid) – senselessly murdered at the tail end of a night out to plan a holiday together – late thirty-somethings Luke (Rafe Spall), Hutch (Rob James-Collier), Phil (Arsher Ali) and Dom (Sam Troughton) go on a three day hiking holiday in Sweden.
Still haunted by Robert's brutal death, the four of them behave like a group of old friends, reminiscing, bickering, taking the piss out of each other, etc. Hutch leads, Luke (the only one to witness Robert's killing) follows, Phil goes along with everything and Dom moans and complains.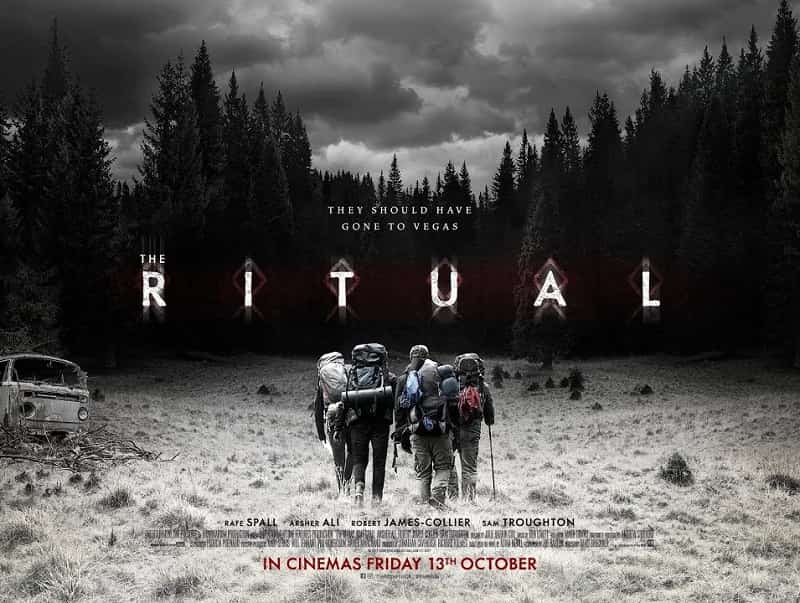 Their adventure was inspired by a trip Nevill took with three of his own friends but, filtered through the Birmingham-based writer's gruesome imagination, it turns into something far darker than simply getting lost, wet, cold and angry. Taking a shortcut through the dense forest might not have been their best move. Nor is sheltering in a long-abandoned cabin that would be rejected for an Evil Dead remake on the grounds it's simply too creepy.
It's easy to make lazy comparisons, so I will. In its setting, the Ritual has echoes of The Blair Witch Project. In its impressive cast, an all-male version of The Descent. In the horrors they face, Predator (something mysterious going after them one-by-one), The Hallow and even, yes, The Wicker Man or Kill List. Taken together, and laced with Joe Barton's ear for dialogue, it's an impressive mixture.
The original novel jumps (suddenly and not altogether successfully) from the film's original set-up to another, linked, but fundamentally quite different sort of horror and that transition is handled more smoothly onscreen. The scenery is beautiful in a 'I'm-nature-and-I'll-kill-you-whenever-I-damn-well-please' sort of a way (thanks for that, Romanian countryside) and the special effects, when called upon in the film's third act, are mostly convincing and impressive.
The Ritual 2017 has its weaknesses, though. In terms of its plot, the book is more realistic and subtly menacing (enough that a quote from it "there was simply no preparation in life for the determined madness of others" is taped to my monitor at work as either a warning or a reminder) and, of course, there's more room to explore the characters' relationships.
Also, while consistently creepy, the film's really not as outright terrifying as it could have been, possibly because, once we move into that third act, things take a little more of a fantastical turn as it reveals a little too much of the forest's secrets.
Still, The Ritual is an impressive adaptation; funny, creepy, entertaining and, at times mightily unpleasant. If nothing else, it should introduce some new fans to the source material, and the rest of Adam Nevill's consistently excellent horror writing.
The Ritual is in cinemas across the UK now. Internationally, the rights have been sold to Netflix.
Tell us what you thought of The Ritual 2017 in the comments section!
Watch The Ritual 2017 Trailer