Reading Time:
3
minutes
Edinburgh Ghost Tours are world famous but there are lots to choose from. MJ STEEL COLLINS takes a look at some of the best…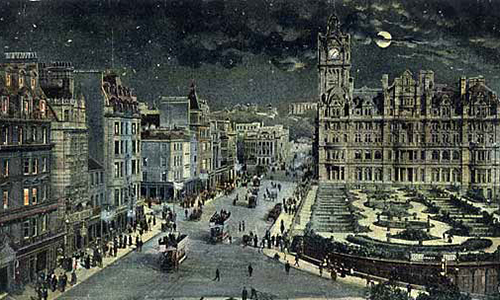 As Scotland's tourist trap, Edinburgh really is a city that has something for everyone. Paranormal fans especially are in for a treat, thanks to the city's claim as the most haunted in the UK. The ghost tour industry is a thriving one in the Scottish capital city, and it isn't unusual for tour participants to have an encounter with an Edinburgh resident long since departed from this mortal coil.
I personally find that going to Edinburgh is akin to taking a kid with a lot of pocket money into a toy store, as it really is hard to choose which tour to go on. That said here is a rundown of Edinburgh ghost tours I've either been on, or am rather keen to take part in.
Here are some excellent Edinburgh Ghost Tours to consider:
Auld Reekie Tours
In operation since 1995, Auld Reekie offers a number of tours taking in Greyfriars, underground vaults and Edinburgh's Old Town. I've not been on this, but it's probably the one I'll do next. I'm particularly keen on the original Underground Vaults, which takes you into the South Bridge vaults. One of the vaults was once the site of a Wiccan Temple, consisting of a stone circle. It went out of use after fairly negative energies were detected there. People going to stand in the circle were taking their chances! The Auld Reekie Facebook page regularly reports the weird experiences had by tour participants, ranging from odd photos, to encountering the spirits that haunt the vaults.
Website: www.auldreekietours.com
City of the Dead
One of Edinburgh's best ghost tours. Here, you can take in underground vaults, Greyfriars, or participate in the original tour, which encompasses a trip round the Old Town, Greyfriars Kirkyard and winds up in the Black Mausoleum located in Covenanter's Prison; here you may or may not be attacked by the infamous Mackenzie Poltergeist. So many encounters have occurred that the tour operators gave up recording it. I have done this tour twice, and escaped the claws of the Poltergeist unscathed. Others haven't been so lucky, fainting, being scratched – admittedly the atmosphere in the mausoleum is freaky. I'm a bit too nervous to go back in case it's third time lucky!
Website: www.cityofthedeadtours.com
Another of Edinburgh's underground street, and location of a legend telling of residents being sealed in to meet their fate during a plague outbreak. Ghost stories in Mary King's Close go back centuries. The Close itself is located under the Royal Mile. It became somewhat famous after a Japanese film crew and medium visited, and said that a little girl called Annie haunted the vaults. Since then, it's become the norm for people to leave dolls and toys for Annie to play with. It's thought Annie was a plague victim. This Edinburgh ghost tour is led by costumed guides, and it's one where the history perhaps out does the ghosts in terms of scariness.
Website: www.realmarykingsclose.com
Mercat Tours
Mercat offer a number of tours around Edinburgh, some history based, rather than paranormal. A few years ago, I ventured down the Blair Street Vaults, courtesy of Mercat. It was one of the creepiest experiences ever. Folk going down unconvinced that ghosts existed came out wondering what the shadow figure was standing in one of the rooms. Several ghosts haunt these vaults, in the past frequented by body snatchers and other nefarious characters. The most famous ghost is that of Mr Boots, who is a rather unpleasant figure.
Website: www.mercattours.com
The Ghost Bus Tours
The new kid in town, this quite a unique tour that takes folk round Edinburgh to hear tales of ghosts and body snatchers on a 1960s routemaster bus. Not one I've tried, but I'm rather sold on a comedy tour of Edinburgh's dark side. It does put me in mind of the Harry Potter Knight Bus, but doubt it shrinks to accommodate the traffic.
Website: www.theghostbustours.com
Tell us what you think of these Edinburgh Ghost Tours in the comments section below!