Happy 25th Birthday Pinhead!
---
Clive Barker's Hellraiser was released today in 1987. The Spooky Isles will celebrate that horrific milestone with a special day of articles by ANDREW GARVEY. Here is the first …
---

Bela Lugosi's Dracula, the Frankenstein monster portrayed by Boris Karloff and more recently, Robert Englund's Freddy Krueger are some of the greatest, most immediately recognisable performances and costumes in horror film history.
And Doug Bradley's performance and look as the leading Cenobite in Hellraiser and seven of its sequels more than earns him a place on that list.
Pinhead, as he's widely known, though never officially named that by creator Clive Barker, first appeared on film 25 years ago and has never gone away since – haunting the dreams and imaginations of a legion of loyal fans.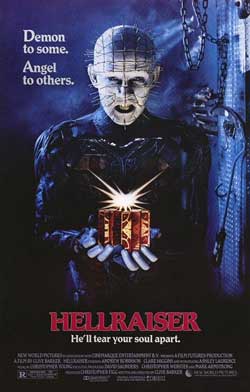 "Demon to some, Angel to others", Pinhead celebrates his 25th birthday not on film (there appear to be no more Hellraiser films definitely and absolutely on the horizon) but as the subject of much ongoing rumour and conjecture.
Rumours that Barker, whose official involvement in the films ended in 1996, is planning a remake/relaunch date back to the middle of the last decade and never seem to go away for long.
Related Posts via Taxonomies