Reading Time:
2
minutes
DOM COOPER reports on Aphex Twin Come to Daddy, a track inspied by Hellraiser (1987)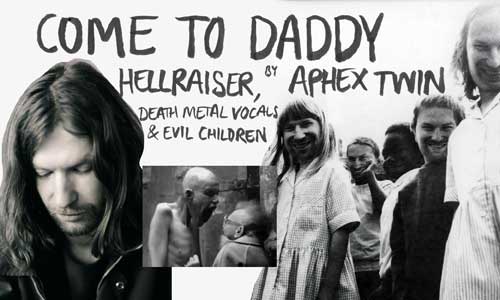 Darkness, black comedic darkness. Enter a world where urban estates are overrun with hooded children.
Bizarrely they all have the same face, the face of Richard D. James. 'Come to Daddy' says a distorted figure from a television dumped on the concrete floor, manically it repeats, 'Come to Daddy'.
This is Aphex Twin's 'Come to Daddy', a joke gone wrong.
Aphex Twin, the moniker of Richard D. James, was born in 1971. He grew up in Cornwall, where in his teens he started djing and making music. Since then he has gone on to be a pioneer of electronic music. His restless body of work grows tangled with his use of aliases and multiple releases. Most have appeared on his own label, Rephlex, with many of his key works appearing on the Warp label.
Myth and rumour surround him, often propagated by Aphex himself. Even the truth sounds strange. He lived in a disused bank, hoarding his tracks in the vault, whilst driving around London in an armoured car.
Started as a laugh by Mr James, the track sprouted legs and ran off. He described it thus, 'Come to Daddy came about while I was just hanging round my house getting pissed and doing this crappy death metal jingle. Then it got marketed and a video was made, and this little idea that I had, which was a joke, turned into something huge. It wasn't right at all.'
The video, by Chris Cunningham was a large part of the tracks infamy. Bleak, tongue in cheek, dripping with 'Alien' like gloom. A skeletal body, spit and a wind-tunnel granny combine to create the controversial video.
The track is a barrage of drum 'n' bass beats, squelched out with intensity alongside Aphex's deranged Hellraiser phrases. Some say it is a parody of tracks like The Prodigy's 'Firestarter', with Aphex's over the top vocals.
The phrases 'Come to Daddy' and 'I want your soul', performed with relish by Aphex were taken from the '87 film Hellraiser, based on the novella 'Hellbound Heart' by Liverpudlian master of horror, author Clive Barker. A dark sadomasochistic work about a puzzle box and the demons it produces.
Halfway through the track we get Aphex screaming, a long scream of anguish, riffing on the guttural style of death metal vocals. In the video we see a tall spindly Aphex with barely stretched skin, all bones, his arms out wide like a messiah, screaming at a granny as he gathers his children.
'Come to daddy' …
DOM COOPER is a graphic designer, illustrator and writer. He co-runs Rif Mountain Records and plays in The Straw Bear Band. Previously he played in The Owl Service, The Fiends and Wolfgang & The Wolf Gang. Dom is obsessed with music, and is interested in British folklore, history and culture. Follow him at @domcooperdesign