Reading Time:
2
minutes
Happy birthday Pinhead! Clive Barker's Hellraiser was released today in 1987. The Spooky Isles will celebrate that horrific milestone with a special day of articles by ANDREW GARVEY. Here is the first …
Bela Lugosi's Dracula, the Frankenstein monster portrayed by Boris Karloff and more recently, Robert Englund's Freddy Krueger are some of the greatest, most immediately recognisable performances and costumes in horror film history.
And Doug Bradley's performance and look as the leading Cenobite in Hellraiser and seven of its sequels more than earns him a place on that list.
Pinhead, as he's widely known, though never officially named that by creator Clive Barker, first appeared on film 25 years ago and has never gone away since – haunting the dreams and imaginations of a legion of loyal fans.

"Demon to some, Angel to others", Pinhead celebrates his 25th birthday not on film (there appear to be no more Hellraiser films definitely and absolutely on the horizon) but as the subject of much ongoing rumour and conjecture.
Rumours that Barker, whose official involvement in the films ended in 1996, is planning a remake/relaunch date back to the middle of the last decade and never seem to go away for long.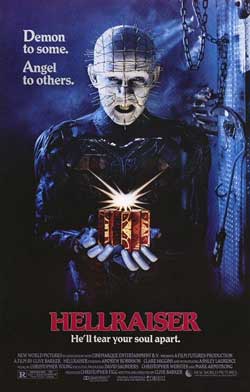 At various times in the last few years, Barker himself and several acclaimed horror directors (most notably the makers of the very disturbing French shocker Inside and the director of gruesome French-Canadian film Martyrs) have been attached and subsequently un- attached to the project.
But ongoing stories of Pinhead and his Cenobites, and those unfortunate pleasure-seekers who open LaMarchand's beautiful but terrible puzzle box don't just appear destined for the big screen (or the more familiar bargain DVD bin destination for Hellraiser sequels).
In April, horror news website Bloody Disgusting reported that a Hellraiser television series focusing on Barker's original characters (presumably Frank, Kirsty and Julia) is in the early development stages.
While the TV version may never materialise (highly likely given how many shows are mooted and then sink without trace) and a new film may languish forever in a sludge of options, offers, discussions, meetings, rewrites and dashed hopes, Pinhead and nemesis Kirsty Cotton's blood-drenched adventures continue in comic book form with Barker himself on board.
With issue 17 released just a few days ago, the newest Hellraiser series (there have been several previously) published by Los Angeles based BOOM! Studios began in March 2011 and features some superbly gory art and an expansive, twistingly, turningly addictive story. Available in both the old-fashioned paper format and as a high quality digital edition, it's the best rendering of the Hellraiser mythos and universe since the late 1980s.
Whatever the medium and despite some truly awful film instalments, after a quarter of a century, Pinhead, his fellow servants of Hell and their human adversaries, endure. Many happy returns, Pinhead.
Watch Pinhead in Hellraiser trailer