Reading Time:
3
minutes
Guest writer RICHARD MARKWORTH reviews Clive Barker's Candyman 1992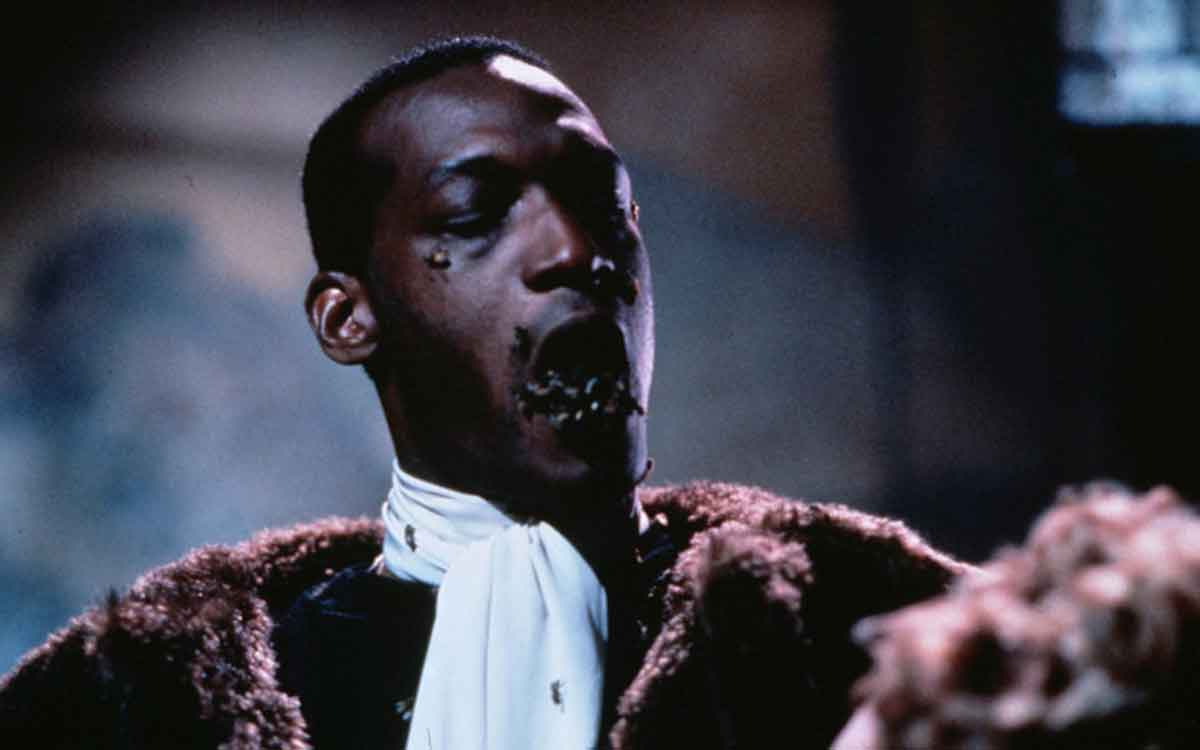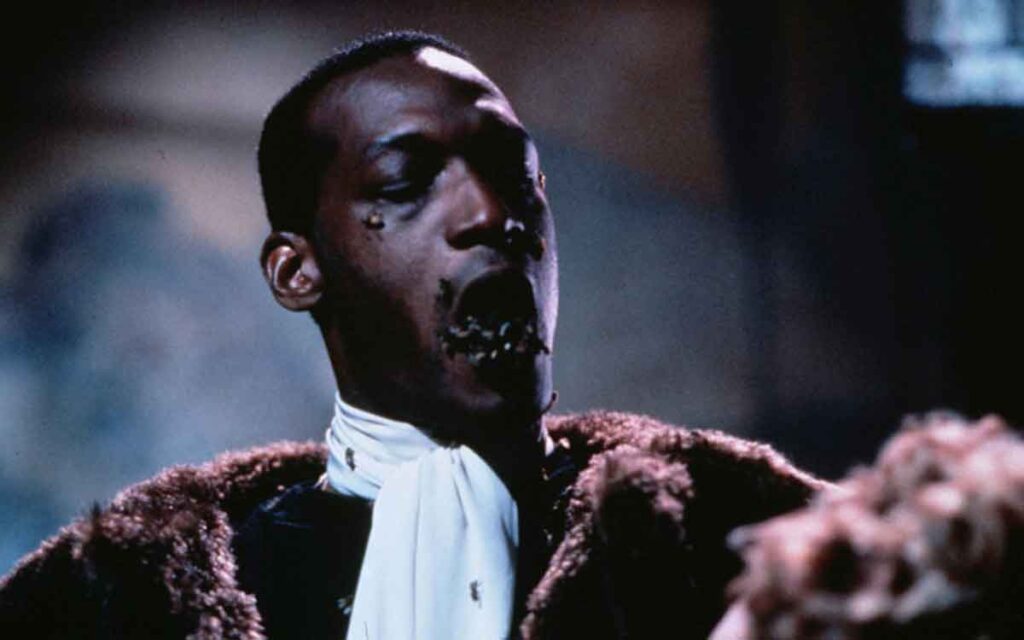 TITLE: Candyman
YEAR RELEASED: 1992
DIRECTOR: Bernard Rose
CAST: Virginia Madsen, Tony Todd, Xander Berkeley, Vanessa Estelle Williams, Kasi Lemmons, DeJuan Guy, Gilbert Lewis, Carolyn Lowery, Stanley DeSantis, Ted Raimi, Michael Culkin, Bernard Rose, Eric Edwards, Rusty Schwimmer, Lanesha Martin
Review of Candyman 1992
In 1992 Candyman materialised to join Michael, Jason, and Freddie in the pantheon of modern horror icons.
Adapted from Clive Barker's story "The Forbidden", writer and director Bernard Rose transferred the setting from Barker's Liverpool to Chicago's Cabrini-Green housing project, a crime-ridden hellhole ideally suited to urban myth and horror.
Candyman 1992 opens with a voiceover from the titular character (Tony Todd) as a swarm of bees floods a cityscape, ancient legend invading the modern world, and we meet Helen Lyle (Virginia Madsen) who, with Bernadette Walsh (Cassie Lemmons), is preparing a thesis on urban myths.
A story within a story introduces Helen, as she listens to the tale of a babysitter's planned night of promiscuity with a local bad boy and how she dared him to summon the legendary hook-handed spirit, Candyman, whilst canoodling. This was to be achieved by looking into a mirror and reciting Candyman's name five times. Hesitating after four, the lad went downstairs, his date independently adding the fifth "Candyman". This resulted in both her and her charge's bloody murder and the boy's hair turning white with shock. Hardly the night he had hoped for!
READ: Clive Barker's Top 5 Books of Blood Film Adaptations
This sets the scene superbly, cunningly weaving together elements of campfire tales, The Hook and Bloody Mary, giving Candyman's story a rich yet familiar texture.
Further layers are added later as we learn Candyman, son of a slave, was a talented artist commissioned to paint portraits of monied white folk who met a brutal end in 1890 after falling in love with a client's daughter. Her furious father employed a mob who sawed off his right hand and, covering him in honey from a nearby apiary, incited bees to sting him to death. His body was burnt, and his ashes scattered throughout the site of Cabrini-Green.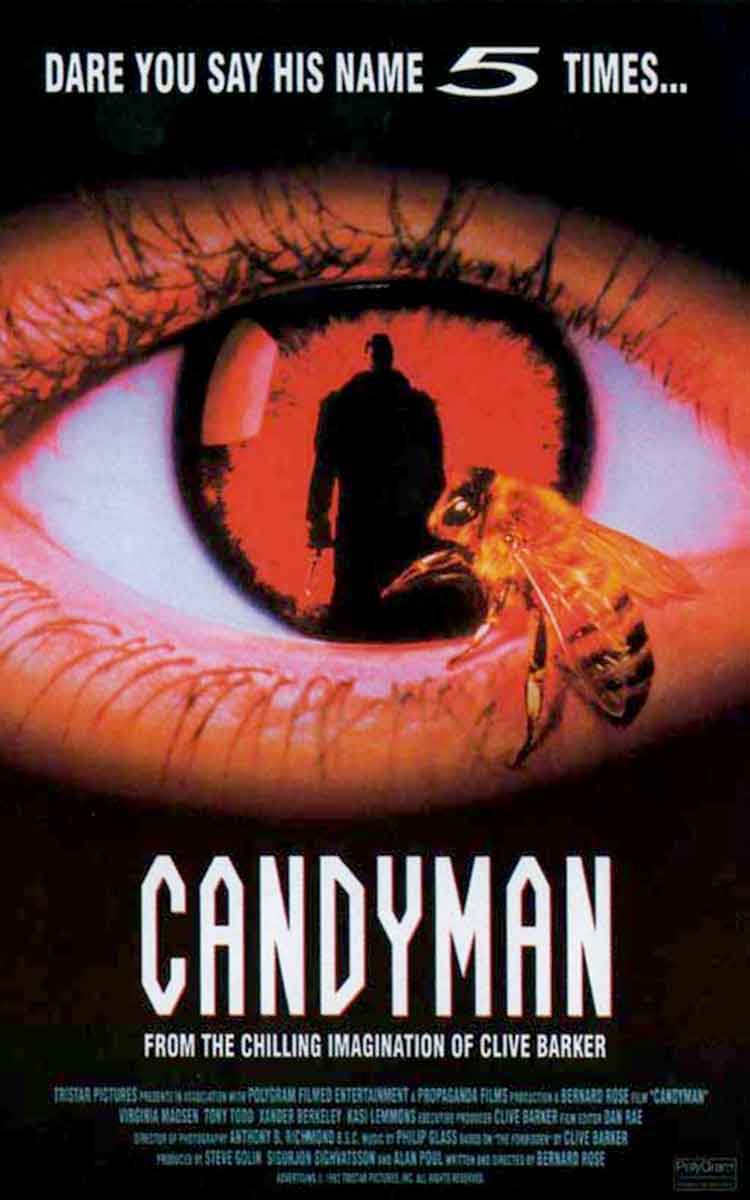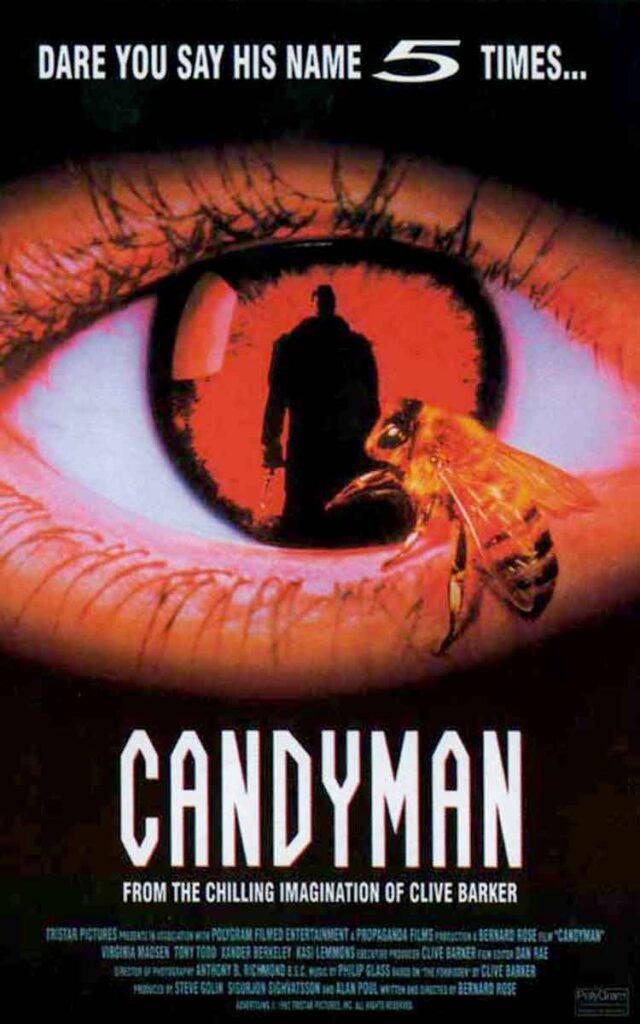 Helen learns the murder of Cabrini-Green resident, Ruthie Jean, along with twenty-five other homicides, was ascribed to Candyman and bases her thesis on her hypothesis that the people of Cabrini-Green need the myth to explain the horrors of their daily existence. She and Bernadette test the legend by reciting Candyman's name in front of a mirror with only Helen completing the mantra. Candyman does not appear.
The pair visit Ruthie Jean's apartment, the scene of her murder and Rose creates a palpable sense of tension as the women are intimidated by a gang of youths against the backdrop of a decaying, dangerous urban landscape.
Helen befriends Ruthie's neighbour, Anne-Marie (Vanessa Estelle Williams), single mother to baby Anthony, and a young boy, Jake (DeJuan Guy), who believe Candyman was responsible for the killings. However, Helen is attacked by a gang-leader calling himself Candyman. The assailant is arrested, and the murders become attributed to him.
Angered, the real Candyman visits Helen, explaining his existence depends on the stories surrounding him and he must shed innocent blood to ensure his survival. Helen finds herself embroiled in a nightmare as Candyman frames her for murders he commits and kidnaps Anthony. Can Helen convince others of her sanity and save the baby, or must she submit to the will of the monster?
This is an atmospheric, occasionally gory, contemporary ghost story with some effective jump-scares and accomplished performances by the cast. Madsen is highly convincing as Helen and Todd brings a menacing charisma to Candyman. Philip Glass' haunting score underpins the story, beautifully representing the essential tragedy of the character.
The film addresses society's need for urban legends as a coping mechanism and questions whether stories can take on a life of their own if we feed them sufficient belief. After all, would you say his name five times?
Have you seen Candyman 1992? Tell us what you thought in the comments section below!
Watch Candyman 1992 trailer
RICHARD MARKWORTH and Ian J Walls have co-written a new comedy-horror book called Igor and the Twisted Tales of Castlemaine, available from Amazon or the Troubadour website. It follows eponymous lab assistant, Igor, after he leaves Victor Frankenstein and finds himself embroiled in a series of misadventures featuring both classic and all new monsters.