ANDREW GARVEY takes a look at the Hellraiser Bestiary comic book series…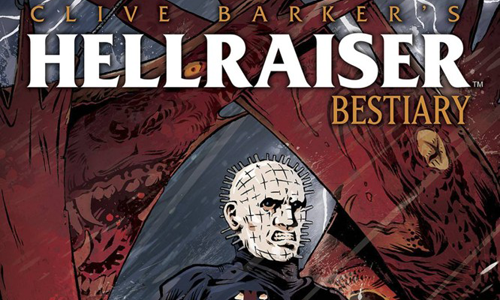 I noted in my book review of the Scarlet Gospels, Clive Barker's long-awaited return to the Hellraiser mythos. that the world of the Cenobites and their pesky puzzle box has often been better served by comic books than on screen.
There were 40 or so Hellraiser comics published by Marvel's Epic imprint between 1989 and 1994. Much later, in 2011, BOOM! Studios began their (mostly) excellent 20 issue run of Hellraiser, written at least partially by Barker himself.
With a four-issue offshoot detailing Kirsty Cotton's first days in Hell (Hellraiser: the Road Below) and a 12 issue follow up (Hellraiser: the Dark Watch) the quality dipped but both were still far more worthwhile than any Hellraiser film since 1996.
In August 2014, the latest addition to BOOM!s Hellraiser universe, the six issue miniseries Hellraiser: the Bestiary, debuted. Unlike their previous efforts, this short run was based around a series of short stories, 13 in all, of varying quality, interest and 'Hellraiseriness'.
Hellraiser Bestiary, Issue #1
With one story, The Hunted, running through all six issues of the Bestiary, there are two standalone shorts in each issue. Kicking off the series, Symphony in Red is a bloodsoaked tale of the Hell Priest's (he's not called Pinhead, dammit!) return to Hell.
It would work better if a little more care had been taken with his portrayal. While the artwork is bold, the story itself is very slight and the Hell Priest slaughtering "sinners" is a fairly large deviation from the character's long-stated stance of inflicting pain and torture on those who seek it, regardless of 'sin'.
The second story, The Desert Fathers, feels like it's too heavily edited, or tries to cram in too much. A story centred around the puzzle box, it's confused and unsatisfying, although the artwork is polished.
Hellraiser Bestiary, Issue #2
Old Hat to Raise the Devil takes up half of the second issue and is easily the high point of the entire series. A fantastic, grim story, brilliantly told and beautifully, but horrifically, illustrated, it's set in 1940 where a blues guitarist/singer meets a mysterious stranger at a crossroads.
Playing with the subject matter – the lead character is blatantly based on Robert Johnson but also references him – the story explores and mashes together classic blues themes with the Hellraiser mythos. A little work of genius.
Hellbound Desires can't possibly follow Old Hat… but by bringing the more sordid Hellraiser themes of sex and death into the age of online, interactive pornography this is an effectively nasty little tale.
Hellraiser Bestiary, Issue #3
Opening the third issue, Puzzled is the sad story of a severely autistic boy obsessed with solving puzzles and his father's struggle to find ever more difficult ones that will keep him occupied and prevent his tantrums. You all know where this one is going, don't you? A difficult story to tell, requiring some knowledge and sensitivity and plenty of skill, it works. And even manages to be surprising, too.
Conduit is an interesting story about the Cenobites' intrusion into a failed relationship between two lovers that's unfortunately let down by slapdash artwork.
Hellraiser Bestiary, Issue #4
Study, the opening story, draws on the original novel and film's dominant themes of obsession, lust and sadomasochism but doesn't quite work because there's no time to really understand the characters and the artwork, like a collection of unhinged watercolours, is more interesting than it is helpful.
…And God Will Send His Angels plays with the 'angels to some…' concept but fundamentally miscasts the four original Cenobites' intentions and roles when a young girl asks them for protection from her abusive uncle. And the artwork simply isn't good enough. The weakest issue of the series.
Hellraiser Bestiary, Issue #5
Don't Look throws plenty of ideas into a few pages. There's something about secret coded messages and a corrupt mental institution being used to cover up a Leviathan-worshipping cult. Played out over a few more pages it would work well but here, it feels a little rushed.
Folie au Deux is an odd one. The choice of Gothic lettering is a mistake as it simply makes some of the captions hard to read while the artwork stands out in what may or may not be a good way. Using a different instrument than the iconic puzzle box to unleash Hell's torments, it's an intriguingly different story about anger, lust, rejection and of course, blood.
Hellraiser Bestiary, Issue #6
A Place For Every Thing reminded me of those Hellraiser film sequels that were originally intended as a standalone script but then got 'Hellraiser'd' – Cenobites thrown in there jarringly for a cheap cash-in.
The story, a dark and believable one about a lifetime's obsession, a ruinous, tragic compulsion, simply doesn't need any Hellraiser connection at all because, unlike those films, it works brilliantly without it. Very impressive. Just misplaced, perhaps.
The Science of Madness concerns a scientist studying a puzzle box. Short and savage, with some truly striking artwork, it's a good one. A very good one.
Hellraiser Bestiary, The Hunted
The story that runs in six parts, and closes each issue of the Bestiary, the Hunted has a brilliant central idea. A gang of mercenaries have captured the Hell Priest so they can tear out his nails and sell them to their mysterious employer for $100,000 apiece.
Casting the Hell Priest in such a vulnerable position, subjecting him to such brutality and having him fight back, makes him the hero. It's an uncomfortable fit for the character and when the story, in parts four and five, moves firmly into action hero territory, he's charging about like some kind of dark, clerical ninja.
Brutal, irreligious, always entertaining, and with suitably grim, violent artwork, the Hunted is a cracking story that only really feels 'Hellraiser-y' in its core concept and an ending that could serve as the starting point for a whole new series of its own.