Reading Time:
3
minutes
Guest writer KATRINA SAUNDERSON reviews From Hell, by Alan Moore and artist Eddie Campbell, and looks at the classic horror graphic novel's take of the grisly tale of Jack the Ripper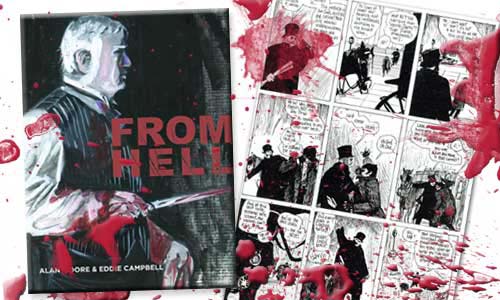 Spoiler Alert: Jack the Ripper is a complete misogynist.
From Hell is a graphic novel that follows in the blood-trodden footsteps of many books, films and television series that have speculated over the years the truth behind the infamous Jack the Ripper Whitechapel Murders.
The version of events explored in Alan Moore and Eddie Campbell's graphic novel, first published as a series from 1991 to 1996, focuses on the motives of the killer who has been chosen to cover up a royal scandal (bastard child) with the help of Freemasons.
Jack is a showing extremely poor judgement from his handlers for choosing him, if you ask me.
The story is not a mystery as the reader follows Jack and his associate as their carry out their work.
Jack's ramblings get a bit tedious, perhaps a device to show his madness. He spends a lot of time pointing out buildings around London and explaining their hidden meanings.
This might be interesting to people who know London or a have an interest in old buildings and the like, but I honestly just wanted him to get to the killing.
We also follow the prostitutes, who on Jack's list to slaughter. Known as Unfortunates, a fitting name for these women, their lives are already completely miserable even before Jack turns up.
Police Inspector Fredrick Abberline has the unenviable task of catching Jack (good luck with that!) and while Whitechapel is the last place on earth the inspector wants to be, his frustrations don't stop him from doing his job.
From Hell is a very complicated story; there are lots of important characters and the story jumps from present to past, explaining characters backgrounds.
The characters have been well written, they are complex and it is easy to empathise with Inspector Abberline's frustrations.
For some unknown reason, I didn't feel bad for the women though – they weren't portrayed as horrible people.
Maybe it is because Jack the Ripper's longevity and instant recognition has given him an anti-hero status like movie monsters Jason Vorhees or Freddy Kruger.
I've read so many books and seen so many films about this subject, I need to remind myself it actually happened and is a tale of a boogeyman.
The illustrations in this novel convey the misery and filth of 19th century Whitechapel brilliantly.
The gruesome scenes of the murders and the mutilation are extremely graphic; the black and white illustrations take nothing away from the gore.
As well as the expected violence and gore, this story also has the added bonus of sleazy alleyway hooker sex, regular bedroom sex and against a wall in front of a mental patient sex, something for everyone really.
Summing up, From Hell is not a quick read. It requires the readers' full attention to fully appreciate its artistry and the story's intricacies.
It will come as no surprise that From Hell is full of violence and sex, this is not a children's story. In fact, its graphic portrayal may be too much for some adults.