Reading Time:
2
minutes
There is an inordinate amount of spookiness at Christmastime – Charles Dickens' A Christmas Carol is just the tip of the iceberg. DAVID SAUNDERSON reviews Darren W. Ritson's Ghosts at Christmas.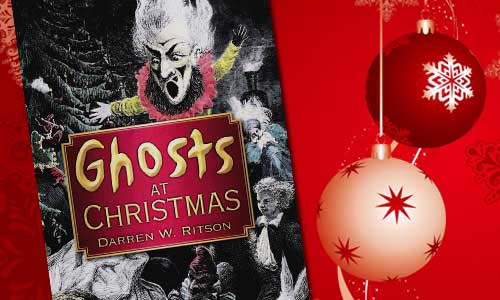 Ghosts at Christmas by Darren W. Ritson review
CHRISTMAS is a magical time of year for many reasons. It brings families and friends together and the memories of Christmas long past. The Yuletide can also be a bit spooky, which why reading Darren W. Ritson's Ghosts at Christmas has been such fun.
Only this week, we saw Eddie Izzard on BBC One's Lost Christmas, a magically-eerie telemovie about loss and redemption, showing that tales of the supernatural during the festive season are perennial favourites.
Published in 2010, Ghosts at Christmas is a collection of fiction and non-fiction tales of the paranormal. I bought it a couple of weeks ago at the British Library when I attended "Hankering after Ghosts: Charles Dickens and the Supernatural". (I was hoping to finish it before Christmas Day but horror movies and my trip to Scotland and Northern Ireland got in the way.)
In his introduction of Ghosts at Christmas, ghost hunter Ritson points out the inordinate amount of spookiness at Christmastime and how Charles Dickens' A Christmas Carol is just the tip of the iceberg.
Why is the festive season such a ghostly time of year?
Ritson writes: "Perhaps it is the atmosphere that the long and cold winter nights bring? Could it be Jack Frost as makes his presence felt across the land by leaving in his wake a white layer of sparking aesthetic beauty which, when seen in full moonlight, looks most enchanting, yet remarkably spooky. Perhaps it's because Christmas time follows shortly after Halloween?"
Ritson has collected many terrific ghost stories. Most of them appear to be connected to Christmas only because they happened in December. The stories are lots of fun, none the less.
The spooky stories are based all over England, except for a couple in Wales. From devil dogs to ghostly children, the book has a wide spectrum of the paranormal.
I particularly enjoyed a tale about a "Hand of Glory". These "Hands of Glory" were the cut off mitts of executed murderers, that when lit up like a candle, could be used by thieves to put their victims to sleep, so they could rob their houses. I remember Hands of Glory from reading ghost and horror books as a kid. Again, it's not very Christmassy but apparently the tale happened around Christmas so it gets in the book.
Ritson appears to be an experienced ghost hunter and researcher and has brought great enthusiasm to the book. He deals with the wide spectrum of ghosts at Christmas – from modern movies and television to classic tales of the supernatural, including investigations of haunted places during the festive season.
Ghosts at Christmas was an enjoyable read and even though Christmas Day has passed, you still have a long winter to enjoy these eerie and terrifying stories.
You can buy Ghosts at Christmas from Amazon.
What's your favourite Christmas ghost story? Tell us in the comments section below!