REVIEW: Nightbreed (1990) – The Cabal Cut
---
MATT PACKER reports on The Cabal Cut, which he says restores folkloric depth to Clive Barker's Nightbreed
---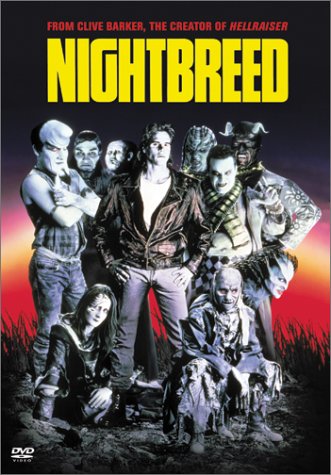 Liverpool-born writer-director Clive Barker made his name in the 1980s with stories that conveyed a powerful grasp of the British folkloric tradition. Indeed, it was almost as though he wanted to create a tradition of his own.
The Books of Blood short stories "Rawhead Rex" (filmed in 1986) and "The Forbidden" (shifted stateside in the 1992 hit Candyman) hinged upon monstrous urban legends. Later, his punchy novella The Hellbound Heart, which he adapted in 1987's Hellraiser, portrayed a parallel realm of ancient dread as an escape valve from decaying, modern Britain.
Fittingly, some of Barker's work has also become the stuff of folklore – particularly his 1990 film Nightbreed. The film set out to adapt Cabal, his short novel of 1988. In the Canada-set tale, troubled young man Aaron Boone is drugged by his psychiatrist Dr Philip Decker into believing that he has committed a series of horrific murders that the shrink was responsible for. In meltdown, Boone flees his lover Lori and seeks refuge in Midian, a makeshift city beneath a cemetery and part of the region's urban mythology. There, he meets the Nightbreed, refugees from lost tribes of monsters that Man has persecuted to the brink of extinction. Boone's arrival brings the 'breed puzzlement, upheaval… then death on a grand scale.
Presumably unaware of the script they'd funded, Nightbreed production outfits Morgan Creek and 20th Century Fox ordered three weeks of reshoots and almost an hour of cuts before burying the film with dismal distribution. In the 22 years since then, fans have chattered incessantly about the likelihood of a cut that might reclaim Barker's vision. It was only recently that two VHS workprints came to light that enabled Barker friend Russell Cherrington and his assistant Jimmi Johnson to construct a fuller take on Nightbreed that suggests the potential shape of a full restoration. That take is The Cabal Cut, which had its UK premiere at London's Film 4 FrightFest on Friday 24 August.
By any assessment, the film now has a proper first act. As well as featuring more material on Boone's working life, The Cabal Cut gives his relationship with Lori far more attention – and when Decker's lies sink in, the film finds two early gusts of emotional power. In one scene, Boone burns all of his correspondence with Lori as Decker's drugs take hold. Wracked with despair, he hallucinates a love scene with Lori amid the flames. Soon after, he visits a bar where Lori belts out a version of the country song "Johnny Get Angry". Convinced that he has become a merciless killer, he looks on helplessly as she sings about the kind of man she needs. The effect is absolutely heartbreaking.
Related Posts via Taxonomies