Rawhead Rex 1986 is the film that Clive Barker would probably prefer to forget, says STEWART KING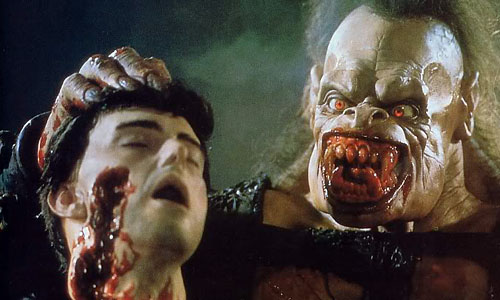 TITLE: Rawhead Rex
YEAR RELEASED: 1986
DIRECTOR: George Pavlou
CAST: David Dukes, Niall Tóibín, Cora Venus Lunny, Ronan Wilmot, Donal McCann, Heinrich von Schellendorf.
I'm sure horror purists will slam me for this but I've always had a soft spot for this flick.  If you don't know anything of its background then look upon Rawhead Rex as a straightforward monster movie.  It ticks a lot of the right boxes.  However, Clive Barker wasn't very happy with the treatment of his story and I think this has forever blotted its copybook.
The best way to view it is without prejudice, a couple of cold ones and a big bucket of popcorn.  There isn't a lot of plot but it rattles along and has a number of decent set pieces.  It was shot around the same time as Withnail and I and has the same, dingy, rain-sodden feel – if you like that sort of thing.
I'd like to say it's British through and through but, of course, Americans play the husband and wife protagonists.  David Dukes (RIP) and Kelli Piper (who appeared in Lustig's Maniac) give adequate performances but it's the priest, Declan O'Brien (Ronan Wilmott), who chews more scenery than the eponymous pagan monster (played by Heinrich von Schellendorf).
Dukes and Piper play Howard and Elaine Hallenbeck.  Howard is researching a book about religious artefacts and is dragging his wife and two young children around Celtic Ireland to photograph churchyards.
While enjoying a midnight smoke Howard spots Rex watching him from afar.
Unwitting farmers have just pulled over an ancient stone pillar with a tractor releasing the monster.  Rawhead wastes no time in indulging his blood lust.
Rex's return exerts a strange influence over a local church, which features his face in one of the stain glass windows.  When Declan O'Brien touches the altar he becomes his evil pawn.
The stand out scene for me is at the farm where Rawhead attacks a husband and wife in their home.  What I particularly love about it is that it's shot in daylight.  If I'd been a young kid when I'd seen this movie this sequence would definitely have traumatised me.
Rawhead murders the farmer but cannot butcher his wife because she's pregnant.  At this point a clichéd Chief Inspector Dissing (Niall O'Brien) becomes involved and the hunt begins with Howard trying to convince him of what he's seen.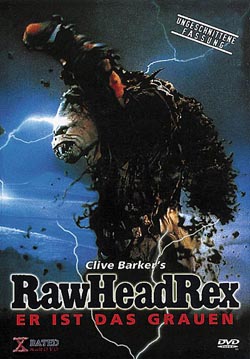 After much mayhem including a fun scene in a caravan park with the obligatory snogging couple things come to a head in the church yard when Rex baptises Declan in a typically pagan way and Elaine becomes a force against evil.
There's nothing original in the script but it's so much better than Barker's other collaboration with the same director (George Pavlou) on Underworld (Transmutations).
It's difficult to know how much of a hand Barker had in the actual screenplay.  He wasn't happy with the look of the beast either. 
There are moments when it looks less than convincing but, for me, Rawhead Rex certainly kicks the shit out of Pumpkinhead.  Like 'The Blob' remake it also doesn't shy away from dispatching obnoxious kids.  Although in the case of Howard's son they could have been a hell of a lot more explicit.
For those interested one of the movie's producers, Kevin Attew, died recently in suspicious circumstances in Thailand.  Read all about it online.
Have you seen Raxhead Rex 1986? Tell us what you thought about the film in the comments section below!
Watch Rawhead Rex 1986 trailer