What is a Caulbearer and why is it spooky?
---
Feared and idolised throughout human history, the legendary Caulbearer still has the power to provoke superstition and wonder. JAMES WILLIS delves into the history of this enigmatic anomaly.
---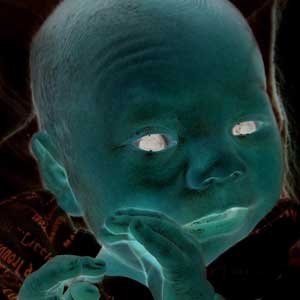 From time to time a baby will be delivered in an unbroken amniotic sac (bag of waters) or with some of the amnion (membrane) covering their face. They are said to be born 'behind the veil', and are known as Caulbearers. Such children have, for centuries, been both feared and revered.
My own interest in the Caulbearer phenomenon is more than purely academic. Until 2007 I had never heard of a 'caul' let alone a 'Caulbearer', but in August of that year my own son was born pre-term (as most Caulbearers tend to be) entirely en-caul in Milton Keynes General Hospital.  Delivering an en-caul baby  was a first for all but one member of the labour team. For the senior midwife, an experienced practitioner with many years' service, it was only the second such birth she had encountered in her career: eerily, her first had taken place the day before on the very same ward! Despite the clinical modern surroundings, the midwife explained that it was a lucky omen and that the boy was destined never to drown. She offered us the caul, but to my regret we declined.
Related Posts via Taxonomies