Reading Time:
4
minutes
Feared and idolised throughout human history, the legendary Caulbearer still has the power to provoke superstition and wonder. JAMES WILLIS delves into the history of this enigmatic anomaly.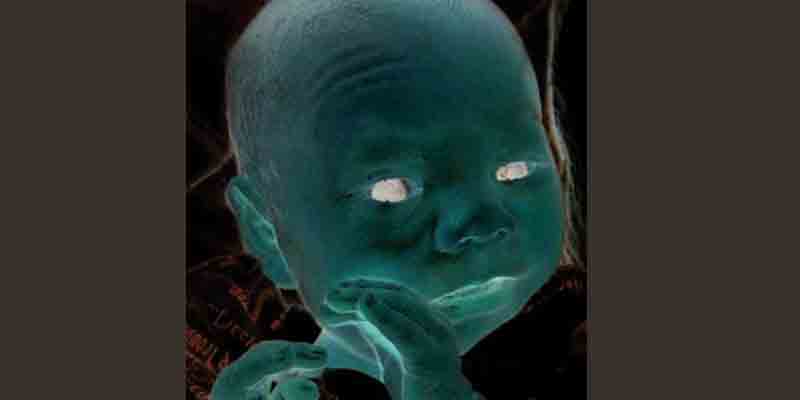 What is a caulbearer, born with a veil over face?
From time to time a baby will be delivered in an unbroken amniotic sac (bag of waters) or with some of the amnion (membrane) covering their face.
They are said to be 'born with a veil over face', and are known as Caulbearers. Such children have, for centuries, been both feared and revered.
My own interest in the Caulbearer phenomenon is more than purely academic.
Until 2007 I had never heard of a 'caul' let alone a 'Caulbearer', but in August of that year my own son was born pre-term (as most Caulbearers tend to be) entirely en-caul in Milton Keynes General Hospital.
Delivering an en-caul baby was a first for all but one member of the labour team.
For the senior midwife, an experienced practitioner with many years' service, it was only the second such birth she had encountered in her career: eerily, her first had taken place the day before on the very same ward!
Despite the clinical modern surroundings, the midwife explained that it was a lucky omen and that the boy was destined never to drown. She offered us the caul, but to my regret, we declined.
It is estimated that somewhere between one in a 1000 and one in 80,000 babies are born with a caul.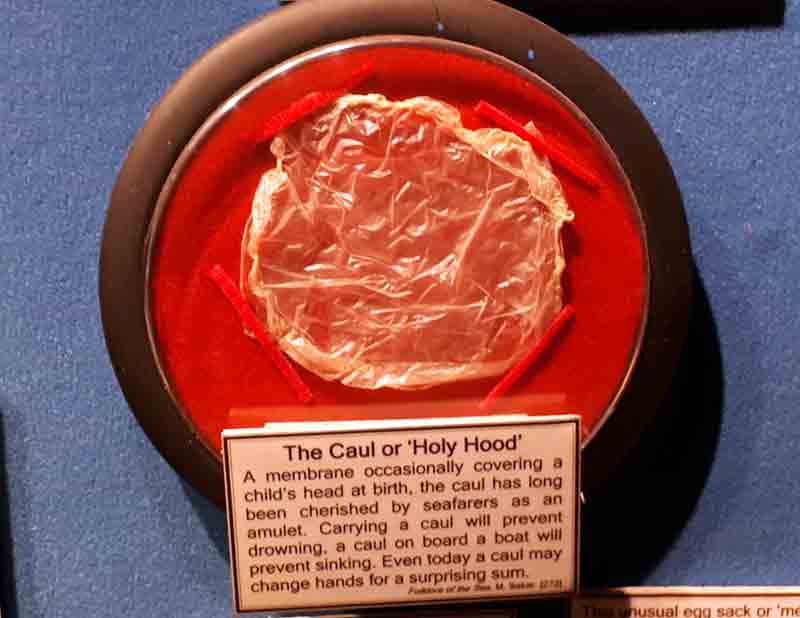 Some draw a distinction between those born with the simple face 'helmet' and those born en-caul (completely encased in the amniotic sac).
But as with all such folklore, there are no definitive criteria specifying which of the two 'styles' is or is not a true Caulbearer, and determination varies between cultures.
Caul bearer in history
In medieval Britain, the birth of a Caulbearer could apparently be predicted in advance by certain 'wise folk', and their arrival was generally seen as a good omen.
The child was considered blessed and destined for greatness. The caul itself was highly prized and was preserved (by drying or smoking) as a charm to ward off evil.
Possession of a caul was said to bestow good fortune upon the owner, and in particular to protect them from drowning (an ability shared with the Caulbearer himself).
Up until the early 1900s, this purported ability made preserved cauls popular talismans amongst sailors, who would use them as bible covers.
There are many other myths associated with Caulbearers.
In Scotland and Scandanavia, the Caulbearer is attributed with psychic powers.
Tibetan Buddhists seek out Caulbearers as future Dalai Lamas, whilst in Egypt, the caul-child is considered to be a mystic.
The Hmong people believe that Caulbearers are reincarnated monarchs, the sac being part of their past attire, and they will aim to return the preserved caul to the original bearer at their funeral to pass good luck to future incarnation.
Not all cultures consider the Caulbearer to be blessed.
In Eastern Europe, it is feared that the caul-child will rise as a vampire after death, or transform into a werewolf.
To prevent such a fate, the caul might be dried, ground, and fed to the child on its seventh birthday.
Alternatively, the preserved caul could be nailed to the front door in order that prowling monsters would recognise a fellow cursed soul and leave the household in peace.
Whilst caul births are rare at the best of times, they are especially so in modern societies where the majority of babies are delivered in hospitals.
Today, if the amniotic sac does not rupture naturally, it is routinely broken with an amni-hook (a hooked, wooden spatula) in the belief that it will hasten the birth.
Whether there is any truth in the legends is debatable.
My son hasn't yet displayed any preternatural abilities, and the only time he howls is when his older sister winds him up… but I shall be keeping a close eye on him!
Watch Caulbearer Video
Discover 6 Famous Caulbearers with Extraordinary Talents